Peyton Manning paid tribute to his parents and shared jokes about Tom Brady as he was inducted into the Pro Football Hall of Fame in Canton, Ohio, on Sunday.
The 45-year-old was enshrined into the Hall of Fame in his first year of eligibility, a fitting tribute to an extraordinary career that delivered two Super Bowl titles, five MVP crowns, 14 Pro Bowl selections as well as the Offensive Rookie of the Year and Comeback Player of the Year award.
Manning teased Ray Lewis for the length of his enshrinement speech in 2018, joking the former Baltimore Ravens linebacker had "just finished" before poking fun at Brady's social media presence.
The seven-time Super Bowl champion is a shoo-in to be inducted in the Hall of Fame as soon as he becomes eligible and Manning joked Brady, who was among his invitees, would eventually post his enshrinement speech on "his Instagram account."
Manning and Brady have been close friends for a long time, but shared an intense rivalry during their respective NFL careers.
They crossed path 17 times during 14 seasons in professional football, with Brady winning 11 times to Manning's six.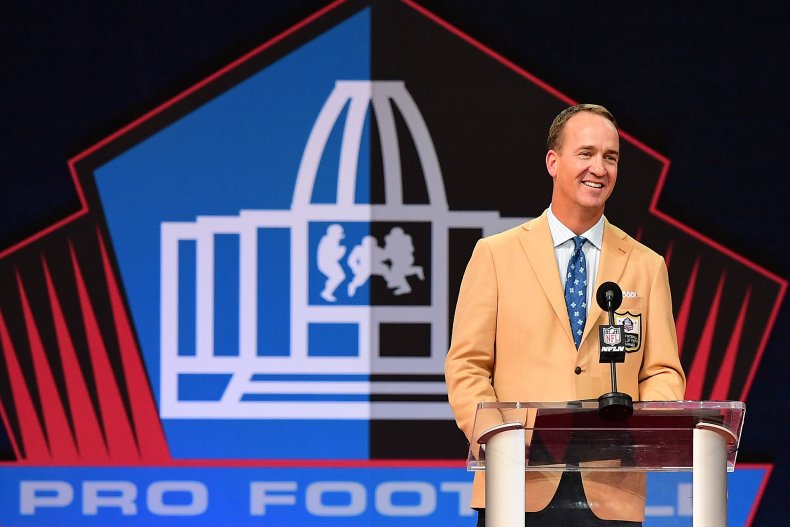 The latter, however, won three of his four meetings against Brady's New England Patriots in the AFC Championship Game—with the Indianapolis Colts in 2006 and the Denver Broncos in 2013 and 2015.
Both Brady and Manning have set single-season and career records at a rate of knots but the parallels between their careers extend beyond the statistics.
In 2012, Manning, the first overall pick of the 1998 NFL Draft, left the Colts as a free agent to sign with the Denver Broncos at the age of 36.
Eight years later, Brady also left the franchise that had drafted him and with which he had established himself as a bonafide NFL great when he swapped New England for the Tampa Bay Buccaneers.
Brady's departure from the Patriots carried the same end-of-an-era feel Manning's decision to part ways with the Colts after 13 seasons had generated eight years earlier.
And both veteran quarterbacks wasted no time in making their mark with their new franchises.
Manning took the Broncos to Super Bowl XLVIII and Super Bowl 50, winning the latter to claim his second ring after the one he won with the Colts in Super Bowl XLI.
Brady, meanwhile, won Super Bowl LV in his first season in Florida.
Earlier in the acceptance speech, Manning was presented with the yellow jacket by his father, Archie Manning, himself a former NFL quarterback.
"Dad, there's no one I would rather have or be more appropriate to present here," Manning said.
"To Jim Irsay and the Indianapolis Colts, my gratitude to you is off the charts. [...]
"To Pat Bowlen, the Bowlen family and the Denver Broncos organization, you took a chance on me at a crucial time in my life and I will never forget it."
Manning, who is third on the NFL's all-time passing touchdowns list with 539 and third on the all-time passing yards list with 71,940, then renewed his commitment to shape the future of the NFL.
"I'm not done with this game. I never will be. I'm committed to ensuring its future and I hope you will join me in that commitment. As members of this honored class, we have a responsibility to make our game stronger," he added.
"When we leave this stage tonight it is no longer about us. It is about cultivating the game that has given so much to us. It's about nurturing football to live and thrive another day, another year, decade and another generation.
"It's about guaranteeing that kids everywhere can learn, bond, grow and have fun with every flag pulled, every tackle made, every pass thrown, every run, block, sack and touchdown scored."
"The future of this game is ours to shape, we just need to take tomorrow on our shoulders as easily as we donned our pads for games. [...] God bless you and God bless football."
Uncommon Knowledge
Newsweek is committed to challenging conventional wisdom and finding connections in the search for common ground.
Newsweek is committed to challenging conventional wisdom and finding connections in the search for common ground.
About the writer
Dan Cancian is currently a reporter for Newsweek based in London, England. Prior to joining Newsweek in January 2018, he was a news and business reporter at International Business Times UK. Dan has also written for The Guardian and The Observer.