Pfizer CEO Says They've Started Developing New COVID Vaccine Amid Omicron Spread
Pfizer CEO Albert Bourla said his company has already started to develop a new coronavirus vaccine amid the spread of the new variant Omicron.
Bourla made the remarks during an appearance on CNBC's Squawk Box on Monday.
"When it comes to the vaccine, it remains to be seen," he said while discussing the Omicron variant. "I don't think the result will be the vaccines don't protect. I think the results could be, which we don't know yet, that the vaccines protect less."
Bourla said if that's the case, a new vaccine may be necessary.
"Friday we made our first DNA template, which is the first part of the development process of a new vaccine," he told the news outlet. "We have made multiple times clear that we will be able to have the vaccine in less than 100 days."
Pfizer and BioNTech's COVID-19 vaccine was the first to be authorized for emergency use in the United States by the Food and Drug Administration (FDA). Last month, the FDA also authorized the use of vaccines for children ages 5 to 11.
But questions about vaccine efficacy have arisen amid the spread of the Omicron variant, a new strain of the virus that was first detected in South Africa. No cases have been reported in the U.S. as of Monday, but the virus is now in North America with cases reported in Canada.
Omicron was declared a variant of concern by the World Health Organization (WHO) last week. WHO warned on Monday that the variant is likely to spread further and poses a "very high" global risk.
The organization described Omicron as a "highly divergent variant with a high number of mutations...some of which are concerning and may be associated with immune escape potential and higher transmissibility."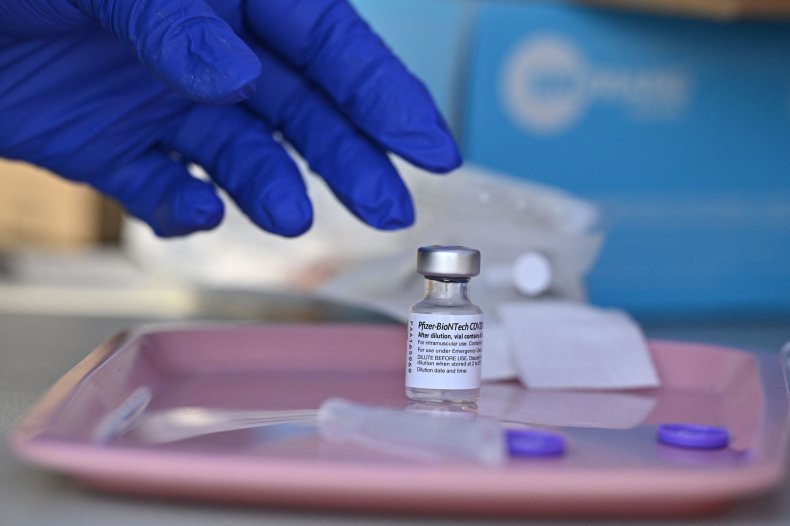 "We are beginning to run neutralization tests on the new Omicron variant of concern and expect to have initial data in the coming weeks," Keanna Ghazvini, a spokesperson for Pfizer, told Newsweek in an email.
Ghazvini added, "As always, we will continue to follow the science as we examine the best approaches to protecting people against COVID-19. In the event that a variant emerges that escapes protection of our vaccine, Pfizer and BioNTech expect to be able to develop and produce a tailor-made vaccine against that variant in approximately 100 days, subject to regulatory approval."
WHO said its working with partners to understand more about how well vaccines protect against infection but said vaccines remain "critical" to limiting severe illness and death from COVID-19.
Moderna CEO Stephane Bancel said it will take weeks to determine how much Omicron mutations have impacted the efficacy of currently available vaccines.
"Depending on how much it dropped, we might decide on the one hand to give a higher dose of the current vaccine around the world to protect people, maybe people at very high risk, the immunocompromised, and the elderly should need a fourth dose," he told CNBC on Monday.
Dr. Anthony Fauci, the nation's top infectious disease expert, advised people not to panic over Omicron during a Sunday appearance on CBS This Morning.
"We should not be freaking out. We should be doing the things we know work," Fauci said. "It's not the time to panic. We should be concerned, and our concern should spur us to do the things we know work. So rather than panicking, rather than freaking out, we should just do the right thing."
Fauci advised unvaccinated Americans to receive the shot. For those who are already inoculated, he recommended getting a booster shot.
"It appears to be spreading very readily," Fauci said of the variant. "The things that we don't know right now is whether the people who do get infected have a severe form of disease."