Pfizer COVID Pill Could Be Dangerous for Some High Risk Americans
PAXLOVID, a drug cocktail designed to help prevent a person from being hospitalized with COVID-19, could have serious side effects for its target demographic: high-risk Americans.
The Food and Drug Administration (FDA) identified more than 30 medications that could have significant interactions with PAXLOVID, including blood thinners and drugs for lowering cholesterol and treating gout, a common form of arthritis. In some cases, patients are advised not to take the medications at the same time and others are warned that PAXLOVID could either decrease the strength of the drug or increase it to the point of potentially being toxic.
"The challenge is that patients on these medications are going to be high-risk patients and the whole purpose of medications is so they aren't ending up in the hospital," Dr. Panagis Galiatsatos, a pulmonary physician and professor at Johns Hopkins Hospital, told Newsweek. "It's a conversation that gets to the heart of what it means to be a doctor; you weigh the risk and benefits of what you're doing to do for your patient."
The FDA authorized PAXLOVID for emergency use on Wednesday and many are hopeful that it'll help reduce the strain on hospitals. Pfizer's pills are the first COVID-19 outpatient therapeutic that doesn't require a health care professional to administer and its feasibility with storage and transportation could help increase accessibility. When taken within five days of symptom onset, it's shown in studies to reduce hospitalization or death by 88 percent.
But, there are no perfect treatments and the COVID pill could have significant problems for some high-risk Americans. Ritonavir, an antiretroviral used to help treat HIV, is known for causing drug-drug interactions and requires careful monitoring of patients who take other medications.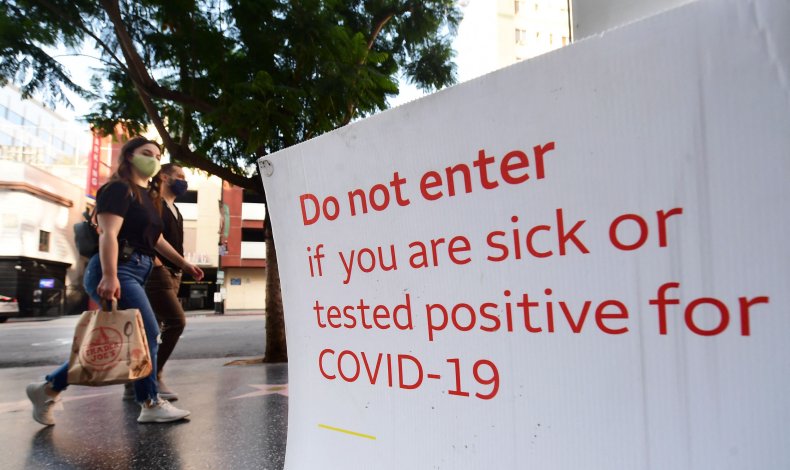 Those on rivaroxaban, an anticoagulant, could have an increased risk of bleeding, so they're advised not to take PAXLOVID and rivaroxaban at the same time. People taking colchicine are also advised to stop usage while taking PAXLOVID because of the potential for "life-threatening" reactions.
Drug-drug interactions are "nothing new," according to Dr. Mahdee Sobhanie, an infectious disease physician at Ohio State University Wexner Medical Center. Sobhanie said it comes down to weighing the risk of COVID-19 with the potential for side effects. For many people with comorbidities and those taking anti-rejection drugs for an organ transplant, he said the benefits of PAXLOVID will likely outweigh the risk.
But, it means that health care providers also need to have a plan in place to ensure patients are being monitored for the entirety of their five-day treatment and a few days after. Fortunately, if a person has no side effects seven to 10 days after starting their treatment, they're likely not going to have an adverse reaction, according to experts.
"I'm excited about these pills and I don't have any reservations with patients administering them at home. I just want to make sure they have a way of contacting me," Galiatsatos said. "The challenge it has is that I've never prescribed them, so from my standpoint, it's getting used to using them in combination with other medications so I can take the research-level data and transform [it] into clinical comfort."
Lovastatin and simvastatin, two drugs used to treat high cholesterol and reduce a person's risk of heart disease, should be discontinued at least 12 hours prior to taking PAXLOVID, according to the FDA.
Unfortunately, since the drug has to be given within five days of symptom onset to be effective, there may be "no wiggle room" for stopping a certain medication to take PAXLOVID, according to Dr. Robert Lahita, director of the Institute for Autoimmune and Rheumatic Disease at Saint Joseph Health and author of the upcoming book Immunity Strong. Lahita noted that taking the drugs together could cause someone to experience severe muscle pain and a person could confuse the drug-drug interaction with a symptom of COVID-19.
Despite the potential for side effects, Sobhanie praised the development of oral antivirals because there are even vaccinated people who won't mount an immune response and need a boost if they get COVID-19. Plus, monoclonal antibody treatments that are effective against Omicron are in short supply.
However, experts have warned that COVID-19 pills will only be as good as America's testing system. Galiatsatos said the pills are going to expose the existing gaps in our system because if people can't get tests in a timely fashion and their results quickly, the pills won't be effective because the window of opportunity could be closed.
Experts also advocated for open lines of communication with pharmacists to ensure patients know what the side effects they could face and that everyone is on the same page.
"If you're really suffering with COVID symptoms and it's a matter of life and death, you may have to weather the medication side effects," Lahita said.