Pfizer COVID Shot Is Fastest Ever Vaccine to Be Approved in the West, First Licensed mRNA Jab in History
The Pfizer/BioNTech COVID-19 vaccine was given the green light by United Kingdom public health authorities on Wednesday, setting a new record for the shortest time taken to develop an entirely new vaccine and approve it for widespread, commercial use.
Prior to this achievement, the mumps vaccine was the fastest ever brought to market, with authorities approving the shot in 1967 following more than four years of development.
Typically, new vaccines can take a decade or more to develop, but it has only been 10 months since American pharmaceutical giant Pfizer and German biotech firm BioNTech began working on their coronavirus shot.
Approval from the U.K. government—following a review by the country's independent Medicines and Healthcare products Regulatory Agency (MHRA)—came just 12 months after the first cases of COVID-19 were recorded in China.
"This is a historic day and an important moment at the end of an incredibly difficult year. For a vaccine to be developed, receive emergency approval and be ready to roll out in less than a year for a new virus is completely unprecedented," Charlie Weller, Head of Vaccines at the Wellcome Trust, said in a statement.
"The speed of development for this and other vaccine candidates is testament to an extraordinary, collaborative, global research effort. This emergency use authorization from the MHRA is a significant milestone and is very encouraging. This decision, independent from government or other external influence, begins to clear the path for this vaccine to be rolled out to a wider population."
The vaccine, which is reportedly 95 percent effective against COVID-19, is also the first based on "mRNA" technology to be approved for use in humans, in a development that has been welcomed by scientists. The mRNA vaccine inserts tiny fragments of genetic code from the SARS-CoV-2 virus, which causes COVID-19, into the body, enabling the immune system to build up defenses against the disease.
"This is the first mRNA vaccine ever to be approved and this technology puts us in a much better position to develop other vaccine candidates and vaccines, including vaccines against currently unknown viral pathogens," Zoltán Kis, from the Future Vaccine Manufacturing Hub at Imperial College London, said in a statement.
The COVID-19 vaccine being developed American pharmaceutical firm Moderna is also based on mRNA technology. The company is currently seeking regulatory approval from authorities around the world for the vaccine, which is reportedly around 95 percent effective as well.
Two COVID-19 vaccines have already been approved for limited use in Russia, but the decision to begin administering these shots to small sections of the country's population has been widely criticized by experts given that Phase III clinical trials assessing the candidate have yet to be completed.
Phase III clinical trials are large studies involving tens of thousands of people that are designed to evaluate the safety and efficacy of drugs or vaccines. They are typically required before any vaccine or medication is approved.
China has also approved a vaccine for use by its military although this candidates has undergone Phase III clinical trials either.
Despite the fact that the Pfizer vaccine has been developed and approved for use in such a short amount of time, experts say that U.K. regulators have cut no corners in the review process.
"The news that the Pfizer/BioNtech vaccine has received MHRA approval is welcome indeed. It reflects amazing progress in advancing a vaccine through to use in humans and surely sets a new standard for what can be achieved when sufficient resource and scientific focus is applied to global health," Dr. Stephen Griffin, Associate Professor in the School of Medicine at University of Leeds, said in a statement.
The graphic below, provided by Statista, shows how many COVID-19 vaccine doses the U.K. has secured.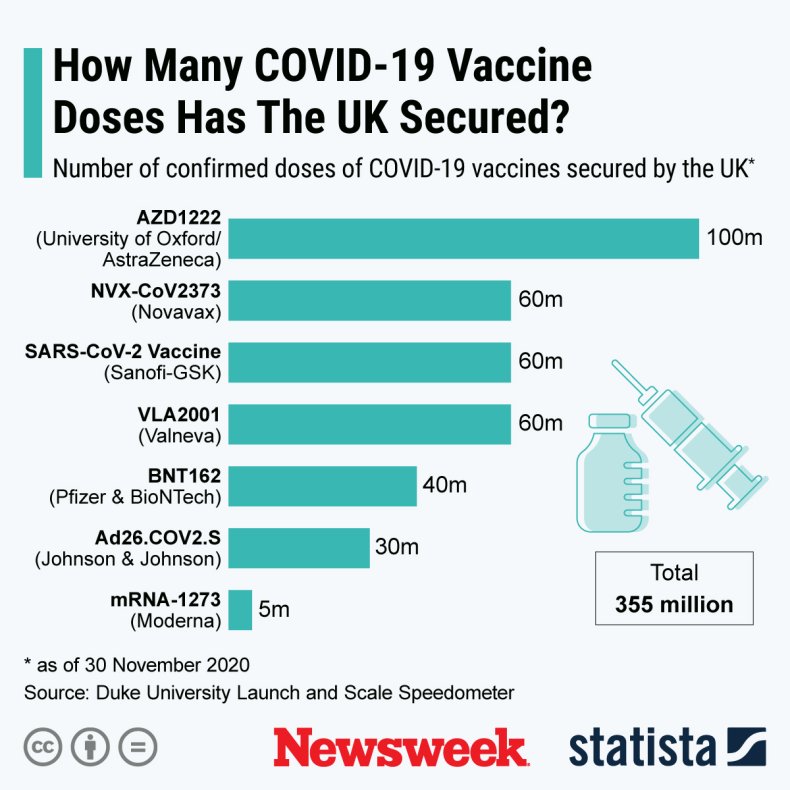 "Importantly, whilst the administrative side of regulation has been accelerated, no corners whatsoever have been cut in terms of assessing the safety of this, or the other vaccines in the pipeline. It is critical that a clear message is sent to quash the unhelpful and unfounded rumour mill that has already started churning out misinformation."
The U.K. Medicines and Healthcare products Regulatory Agency (MHRA) concluded on Wednesday that the vaccine had "met its strict standards of safety, quality and effectiveness."
The agency has been reviewing data from the Pfizer/BioNTech vaccine trials for months, although the full dataset has not yet been made public. The European Medicines Agency has also been reviewing data on the vaccine, while the Food and Drug Administration is set to discuss whether or not the approve the shot in the United States on December 10.
While experts have welcomed the latest news, many warn that there are still significant logistical challenges to overcome in the months ahead.
"This announcement is not the end of the story and there is still much work to do," Arne Akbar, President of the British Society for Immunology, said in a statement.
"Roll out of the vaccine is going to be a logistical challenge and rely on our dedicated healthcare professionals around the country. Additionally, building public confidence in the vaccine is going to be crucial in ensuring the high uptake needed to stop the spread of SARS-CoV-2 within our communities."
In addition, scientists in the U.K. are warning that public health measures such as social distancing and mask-wearing will still be necessary for some time to come, even as the vaccine is rolled out.