Pfizer, Merck COVID Pills Could Be Key to Ending Pandemic
COVID-19 oral antivirals from Pfizer and Merck could be a key to returning to normal life, as they have the potential to prevent hospital systems from being overwhelmed.
Pfizer announced on Friday its oral antiviral showed to be 89 percent effective at preventing hospitalizations, a rate about 30 percent more effective than Merck's pill. Both companies plan to ask the Food and Drug Administration (FDA) for emergency use authorizations and the oral antivirals would be the first authorized COVID-19 therapeutic that a person could administer themselves at home.
Dr. Scott Gottlieb, the former FDA commissioner, told CNBC's Squawk Box Pfizer's trial results put the "end of the pandemic" in sight for the U.S. While therapeutics like the Merck and Pfizer pills won't have an impact on the current Delta wave, but Gottlieb noted those treatments could be a vital addition to America's arsenal of weapons to fight COVID in the future.
One of the biggest problems health care professionals have faced since the beginning of the pandemic is having the resources to care for patients during COVID surges. Health care systems largely weren't designed to operate at or over capacity for extended times and shortages in beds, health care professionals and ventilators meant patients weren't receiving the care they needed, if they were able to be treated at all.
Some patients have had to be flown to hospitals hundreds of miles away because of a lack of resources and in August, Dallas County Judge Clay Jenkins warned parents that if their child needed an ICU bed they'll have to "wait for another child to die" because the state was out of beds. Colorado Governor Jared Polis also recently announced that hospitals are now allowed to turn away new admissions because they're being strained amid a new surge in cases.
While the hope was that vaccines would alleviate the stress on hospitals and bring an end to the pandemic, vaccine hesitancy remains high and the U.S. added more cases this year than last. The bulk of hospitalizations involve unvaccinated people, as vaccines have proven to be effective at preventing serious illness. Barring a surge in vaccinations, oral antivirals could be America's next best bet in returning to normal because they could reduce the strain on health care systems.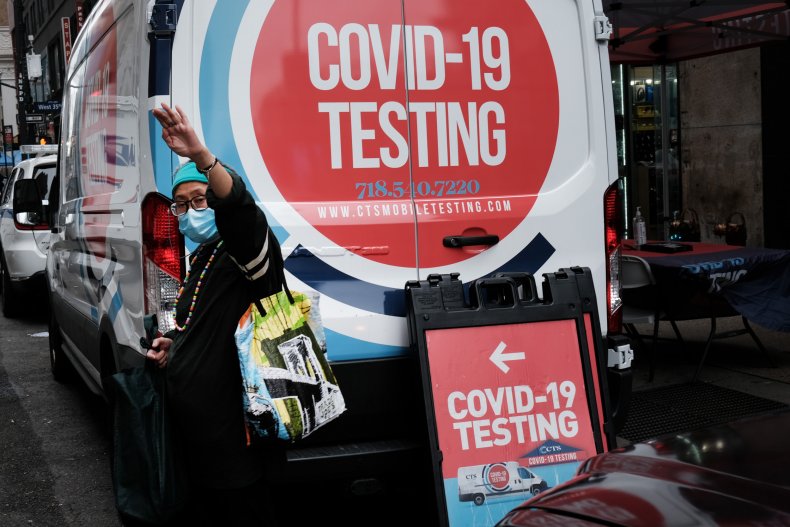 Oral antivirals are easy to store, transport and administer, which bodes well for expanding access to the treatment. That is the edge a pill has over monoclonal antibodies, a treatment that's shown to be effective at preventing serious illness, but requires a health care professional to administer.
"When we get into crisis mode as hospitals, I think our ability to care for patients will impact outcomes regardless of what drugs we have," Dr. Adarsh Bhimraj, a physician at the Cleveland Clinic's infectious disease department, previously told Newsweek. "That is why I like the idea of a pill you could take early at home so people don't progress to the point they need hospitalization. I think that's a promising area."
Bhimraj added that in his experience, vaccine and drug hesitancy don't go hand in hand. So, a person who's reluctant to get the COVID-19 vaccine may be more inclined to take an oral antiviral instead of hoping to recover at home and then needing hospitalization.
Oral antivirals are also vital for people who cannot be vaccinated or are vaccinated but don't produce a strong enough antibody response to defend against infection. Gottlieb told SquawkBox that increasing vaccinations is still critical and oral antivirals shouldn't be seen as an "either, or" situation.
While the current focus is on using oral antivirals after a person gets infected, Merck is also testing the effectiveness of the pill in preventing infection. Researchers are studying if the oral antiviral could prevent a person from testing positive if they live in a household with a COVID-positive person.
"We do that in other areas. To prevent an HIV infection we give people prophylactics," Bhimraj said. "A vaccine also depends on your own body developing a reaction. A drug is not dependent on the patient. It's going to take care of the virus itself."