Pfizer Accused of 'Obscene' COVID Profits After Posting Record Revenues
Pharmaceutical giant Pfizer has been accused of making an "obscene profit" from the coronavirus pandemic after it posted record revenue of more than $100 billion for 2022, a rise of 23 percent on the previous year.
The company's COVID products Comirnaty, an mRNA vaccine and Paxlovid, an oral antiviral, accounted for over $56.7 billion of the company's worldwide revenue. Sales of the two drugs in the U.S. alone accounted for around $19.3 billion, its January 31 financial results revealed, with the company having an estimated market share of 64 percent for the vaccine in America.
Pfizer's net income after expenses was almost $31.4 billion, of which $11 billion will be going directly to shareholders in the form of dividends and share buybacks, it stated. The company said in its financial statement that growth was "driven primarily" by global sales of Paxlovid and a "strong" increase in sales of Comirnaty in "developed markets."
"2022 was a record-breaking year for Pfizer, not only in terms of revenue and earnings per share, which were the highest in our long history, but more importantly, in terms of the percentage of patients who have a positive perception of Pfizer and the work we do," Pfizer CEO Albert Bourla said in a statement.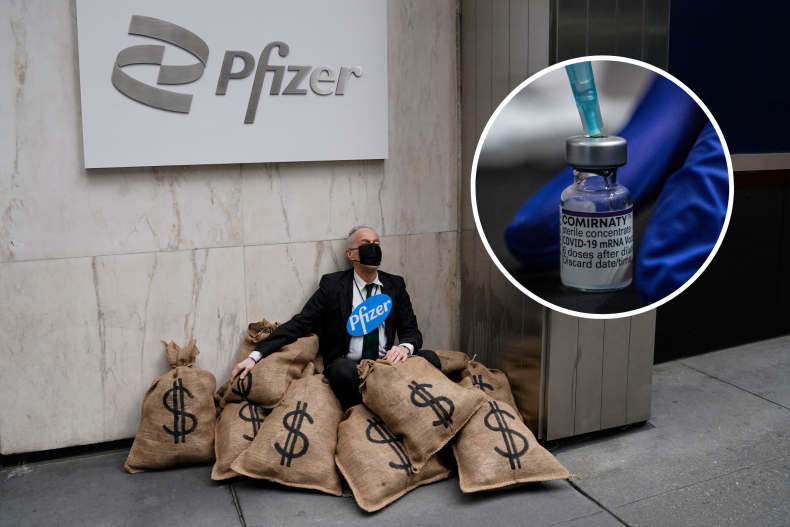 The financial results came just days after Moderna—the other major producer of mRNA Covid vaccines—announced its intention to charge between $110 and $130 a dose. Pfizer announced a similar move in October.
Both proposed hikes have prompted concern from lawmakers in the U.K. and U.S. of corporate greed. Pfizer has cited weaker demand as a factor in its decision, and increased production costs due to inflation and supply chain issues may have contributed.
"Pfizer has made an obscene profit from the pandemic," Mohga Kamal-Yanni, policy co-lead at the People's Vaccine Alliance, told Newsweek. "History is littered with egregious examples of pharmaceutical companies exploiting crises for profit, but none have been as lucrative as the COVID-19 pandemic.
"Pfizer has become behemoth in this pandemic. And it has done so while treating access for people in developing countries as little more than a PR exercise. It's disgusting," she added.
A Pfizer spokesperson said the company had delivered 4.3 billion vaccines to 181 countries, with more than 1.6 billion going to 112 low- and middle-income nations, as well as 39 million courses of Paxlovid to 56 countries.
"Pfizer has been committed to accelerating efforts to reach people all around the world since the start of the pandemic with an equitable access strategy focused on low-income and middle-income economies," they added.
The pharmaceutical firm has pledged to supply up to 930 million doses to infants and young children in developing nations at an "affordable" price into 2027. Demand for its vaccine in the U.S. alone in 2022 was for 92 million doses, its figures show.
Pfizer told investors to expect revenue in 2023 to drop by as much as 33 percent; it expects total revenue for the year to be between $67 billion and $71 billion as demand for COVID-related drugs falls off.
"Company revenues are anticipated to be lower in 2023 than in 2022 due entirely to expected revenue declines for Pfizer's COVID-19 products," it stated.
Sales of its COVID vaccine are expected to fall by 64 percent in 2023 to $13.5 billion, while Paxlovid sales are expected to drop 58 percent to $8 billion.
The expected decline in revenues for the year gives credence to the notion that it has done well out of the pandemic, but that the honeymoon may be over.
"Pfizer might complain about a slight drop in the extraordinary profit it is making from COVID-19 products, but the company has already announced it is jacking up its prices in rich countries," Kamal-Yanni noted.
She added that there was a "huge worry" that the record earnings will set a benchmark for future growth.
"As we turn to 2023, we expect to once again set records, with potentially the largest number of new product and indication launches that we've ever had in such a short period of time," Bourla said, adding that the launches have "the potential to set the company up for continued robust growth through the rest of this decade and beyond."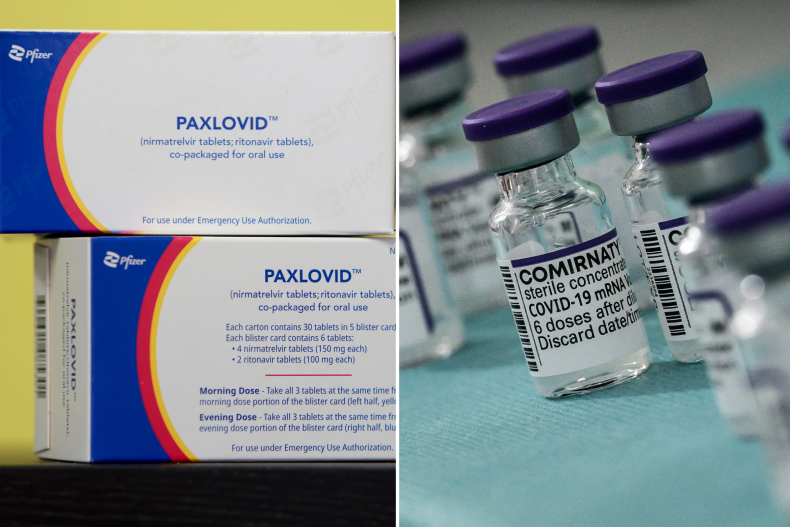 As justification for its quadrupling of the price of its vaccine, Pfizer has said it risked $2 billion in developing Comirnaty and "received no government funding for the program." But the company acknowledges on its website the work of Katalin Karikó and Drew Weissman at the University of Pennsylvania in mRNA vaccine research, which itself was developed with U.S. federal grants.
"Decades of publicly-funded research went into the mRNA technology behind the vaccine," Kamal-Yanni commented, when asked if it was fair for Pfizer to profit from science that was already, in part, funded by the U.S. taxpayer. "Public money went into vaccine development, and huge advance purchase orders de-risked R&D [research and development]. This is the people's vaccine, but governments have let companies like Pfizer monopolize the technology."
She urged those such as the U.S. government to "set conditions on public funding, so that any resulting technology is not monopolized by pharmaceutical companies."
The Pfizer spokesperson noted the $2 billion vaccine investment, and said: "We received no public funding, meaning if the vaccine did not work, Pfizer would have borne the cost. This decision was made so we could move as quickly as possible and with the scale required to play a meaningful role in vaccinating the world."
"As COVID-19 remains a global threat to health, we will continue to work closely with governments and partners all around the world to supply doses in alignment with demand through our agreements with governments and international partners," they added.
Newsweek has contacted the U.S. Department of Health and Human Services for comment.
Update 02/02/23 at 9:20 a.m. ET: This article was updated to include Pfizer's net income and information on dividends and buybacks.
Update 02/02/23 at 12:24 p.m. ET: This article was updated to include comments from Pfizer.