Pfizer Says COVID Vaccine Safe and 'Robust' for Children Aged 5 to 11
The Pfizer-BioNTech COVID-19 vaccine is safe and works for children ages 5 to 11, the companies announced on Monday.
In a news release on Monday, Pfizer said its two-dose vaccine showed a "favorable safety profile and robust neutralizing antibody responses" in the age group.
The companies now plan to seek authorization from the U.S Food and Drug Administration to use the vaccine in these children.
The Pfizer-BioNTech is already available for anyone aged 12 and over, but many patients are keen to vaccinate hunger children with the highly contagious Delta variant driving a surge in pediatric infections.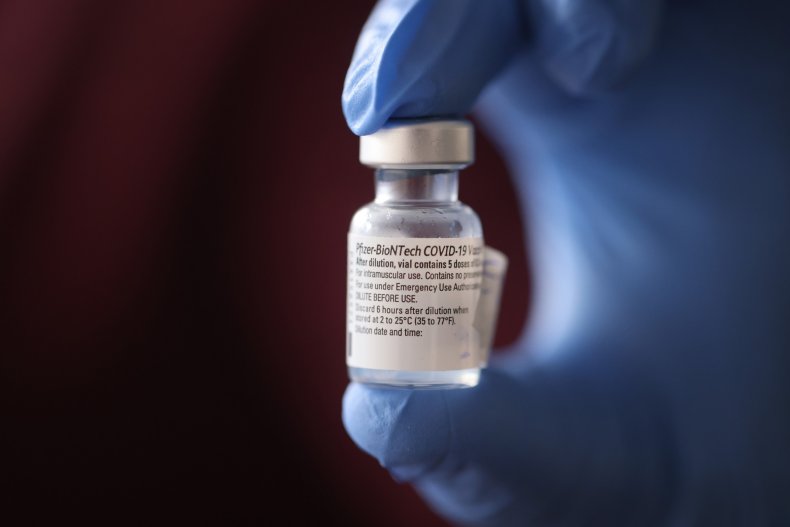 Pfizer's trial included 2,268 children ages 5 to 11. It tested a much lower dose—a third of the amount in each shot given now—and found children developed coronavirus-fighting antibody levels just as strong as teenagers and young adults, Dr. Bill Gruber, a Pfizer senior vice president, told The Associated Press.
The kid dosage also showed similar or fewer temporary side effects—such as sore arms, fever or achiness—that teenagers experience, he said.
Trial results for children under 5 are not expected until the fourth quarter of this year at the earliest.
"Over the past nine months, hundreds of millions of people ages 12 and older from around the world have received our COVID-19 vaccine," Pfizer CEO Albert Bourla said in a statement.
"We are eager to extend the protection afforded by the vaccine to this younger population, subject to regulatory authorization, especially as we track the spread of the Delta variant and the substantial threat it poses to children.
"Since July, pediatric cases of COVID-19 have risen by about 240 percent in the U.S.—underscoring the public health need for vaccination. These trial results provide a strong foundation for seeking authorization of our vaccine for children 5 to 11 years old, and we plan to submit them to the FDA and other regulators with urgency."
Dr. Uğur Şahin, CEO and co-founder of BioNTech, added: "We are pleased to be able to submit data to regulatory authorities for this group of school-aged children before the start of the winter season.
"The safety profile and immunogenicity data in children aged 5 to 11 years vaccinated at a lower dose are consistent with those we have observed with our vaccine in other older populations at a higher dose."
Earlier in September, the FDA said it would "follow the science" regarding the vaccine for younger children.
"It's important that the public recognize that, because young children are still growing and developing, it's critical that thorough and robust clinical trials of adequate size are completed to evaluate the safety and the immune response to a COVID-19 vaccine in this population," Acting FDA Commissioner Janet Woodcock and Peter Marks, director of the FDA's Center for Biologics Research and Evaluation, said in a joint statement.
"Children are not small adults—and issues that may be addressed in pediatric vaccine trials can include whether there is a need for different doses or different strength formulations of vaccines already used for adults."
UPDATE 9/20/21 10:20 a.m. ET: This article was updated with additional information.