PG&E Power Outage Update, Shutoff Map as More Than 800,000 California Customers Left in the Dark Due to Wildfire Risk
Hundreds of thousands of people across northern and central California are without power following a planned outage to protect residents from wildfire risks.
The Pacific Gas and Electric Company (PG&E) confirmed that as many as 800,000 customers could be affected by the Public Safety Power Shutoff (PSPS) in 34 northern, central and coastal counties.
The company said the majority of the cuts will begin just after midnight local time on Wednesday, October 9. PG&E said the power will be turned off in stages beginning in the north, depending on local timing of the severe wind conditions.
PG&E has hosted a map on its website where customers can check affected areas. The website has frequently been crashing due to the high number of people attempting to access it.
The outages could last around than 48 hours, although PG&E suggests customers prepare for outages that "could last several days". Napa County officials warned power in the county could be out for as long as five days.
The move is for safety reasons to help prevent the spread of wildfires during a period of strong winds in the area.
The National Weather Service has issued a series of Red Flag Warnings for large areas of northern California from Wednesday to Thursday.
"The strongest winds of the season up to this point are forecast for early Wednesday morning through Thursday for much of interior Northern California due to a low pressure system digging into the Great Basin region," an NWS forecast said. "Daytime minimum relative humidities will be very low, mainly in the teens, with poor overnight recoveries Wednesday night.
"These will lead to extreme fire weather conditions for the northern Coastal Range and foothills, the Sacramento Valley, the northern San Joaquin Valley, and the Northern Sierra Nevada and foothills below 6000 feet."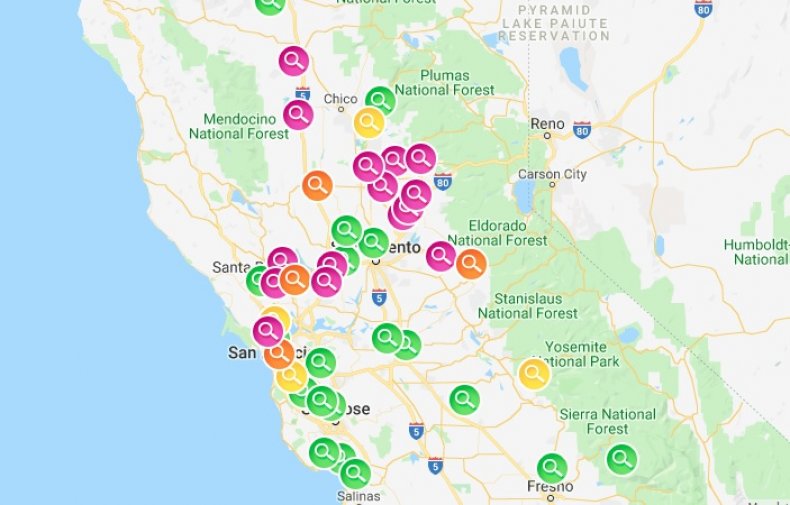 Customers in areas which are not experiencing extreme winds could still see their power shut off. "This is because the electric system relies on power lines working together to provide electricity across cities, counties and regions," PG&E said in a statement.
Speaking to the Los Angeles Times, Sonoma County Supervisor David Rabbitt, described the mass power outages as a "very blunt way" of handling the situation.
"But at the same time, there's an understanding of why it's being undertaken," he added. "We have vulnerable populations, our elderly and young children. We're mostly concerned about them."
Some of the most affected counties in the outage include El Dorado, (51, 396 customers), Humboldt (62, 393), Nevada, (43,217) and Sonoma (66, 289).
"The safety of our customers and the communities we serve is our most important responsibility, which is why PG&E has decided to turn power off to customers during this widespread, severe wind event," Michael Lewis, PG&E's senior vice president of Electric Operations said in a statement.
"We understand the effects this event will have on our customers and appreciate the public's patience as we do what is necessary to keep our communities safe and reduce the risk of wildfire."