California residents continue to be in the dark for the second day after Pacific Gas and Electric shut power off to 34 counties in light of dangerous fire conditions across the state.
The power shut offs began at midnight (PST) Wednesday night and was estimated to affect nearly 800,000 residents. Some residents have already had their power restored, but many could be facing two to five days without power.
Phase two of the Public Safety Power Shutoff began Wednesday afternoon with power shutoffs affecting an additional 234,000 customers in 10 counties. PG&E also announced that 50,000 customers had their power restored in the Sierra Foothills.
PG&E acknowledged the inconvenience but promised to keep residents informed. "We understand that this power shutoff is difficult for our customers and communities. Please check on your neighbors, friends, and family and know that we will work safely, and quickly as possible, to restore power across the region," said Sumeet Singh, vice president, PG&E Community Wildfire Safety Program. "Our meteorological and operations teams are actively monitoring the weather and this evolving situation, and we are working directly with state and local agencies to help our customers and communities through this event safely."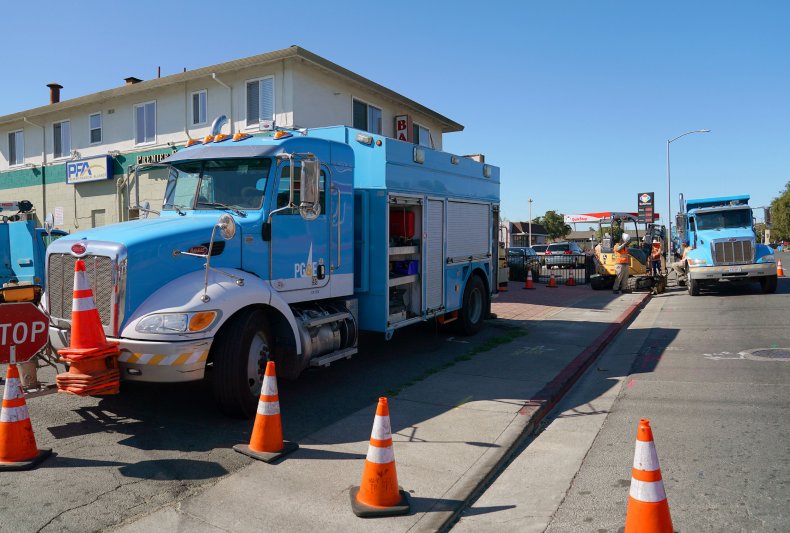 PG&E has provided a website for those experiencing outages, but the website has been crashing due to high traffic.
Many of the areas affected are rural and are struggling to continue without power. Some are going without water, as their water pumps are electric. Others are using generators to power their refrigerators and charge their phones. Customer resource centers have been set up to accommodate those that were unprepared for the outages.
PG&E announced the shutoffs in light of high fire risks across the county created by high winds and hot, dry weather conditions. The utility company announced power shutoffs under similar conditions last month, but on a much smaller scale. Shuts off were anticipated to affect nine counties, but ended up being less.
Despite precautions, wildfires have broken out across California. As of 7 a.m. local time, Cal Fire reported seven active fires, three of which Cal Fire is responding to. The Briceburg Fire near Yosemite National Park is the largest, affecting 4900 acres, and only 25 percent contained.
The unprecedented scale of power outages have caused dissatisfaction among California residents, who are unhappy with PG&E's handling of maintenance and fire safety in the last few years.
Cal Fire found PG&E liable for the 2018 Camp Fire, which killed 85 people and destroyed nearly 19,000 buildings. The company filed for bankruptcy in January 2019, after paying damages.
According to KQED, a San Francisco federal judge ruled that the company needed to do more maintenance to prevent wildfires, or it would not be allowed to pay dividends to shareholders. This includes updating old power lines and trimming trees in close proximity to lines.
Judge William Alsup claimed, "PG&E pumped out $4.5 billion in dividends and let the tree budget wither."