Former pharmaceutical company executive Martin Shkreli will serve seven years in jail, a judge announced in a federal court on Friday. The sentence, reported by CNBC, ends a years-long, occasionally wild legal battle between federal prosecutors and the man better known as "Pharma Bro." He will get credit for the six months he has already served in the Metropolitan Detention Center in Brooklyn.
Shkreli was convicted in August of lying to investors about the performance of his hedge funds, MSMB Capital and MSMB Healthcare. But Shkreli became infamous in the general public for his company's decision to hike the price of an old drug, Daraprim, by 5,000 percent, sending the price from $13.50 to $750 per pill. The drug treats toxoplasmosis, which is particularly risky for people who have HIV/AIDS or have received an organ transplant as their immune systems are compromised.
The criminal convictions, for the record, weren't about the price hike; he was convicted of securities fraud, conspiring to commit securities fraud and conspiring to commit wire fraud.
Technically, sentencing guidelines would have allowed the court to order Shkreli to serve more than 27 years in prison—but no one expected it would come even close to that. Seven years is almost precisely between what Shkreli's lawyers and prosecutors had asked for. Lawyers for the federal government had asked for a sentence of 15 years in jail. "At its core, this case is about Shkreli's deception of people who trusted him," the prosecutors wrote in their sentencing memo. "He has no respect for the law and exhibits no remorse for his actions," they further stated, adding that Shkreli is "likely to commit similar crimes in the future.
Shkreli's lawyers disagreed. In their own sentencing memo, they asked for a sentence of 12-18 months in jail, "followed by court-mandated therapy and 2000 hours of community service."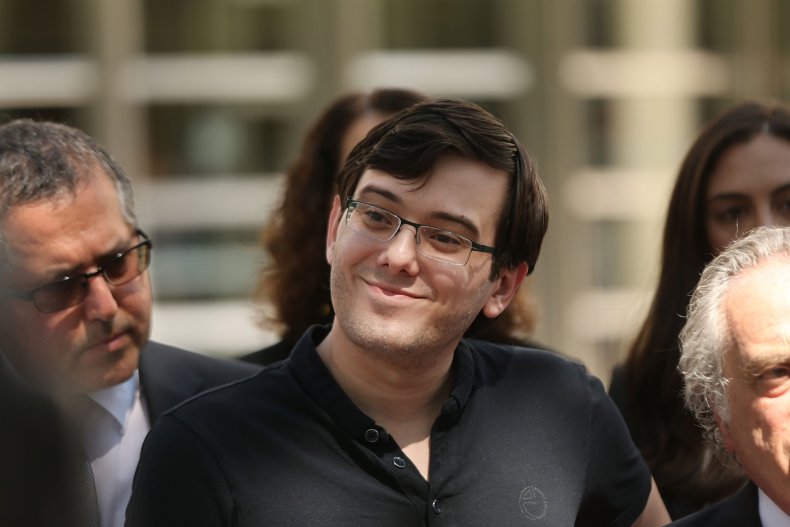 The case, which began when Shkreli was indicted in December 2015, has been quite odd all the way through. Shkreli was charged with fraud, though he has often said that none of his investors actually lost any money when all was said and done. According to a table included in Shkreli's sentencing memo, investors did see a positive return on their investment; one is listed as having received $1.9 million on an initial $400,000 investment. (The court made a different calculation, stating that people lost more than $9 million in total according to the government sentencing memo.)
While awaiting sentencing, he tweeted that if someone "[grabbed] a hair" from Hillary Clinton's head when she was on a book tour, he'd pay them $5,000 per hair—which made the court revoke his bail in September. Shkreli said hours later that he meant it as "satire," the prosecution's sentencing memo noted. The judge cited this specific incident when delivering the sentence, according to WCBS 800 reporter Ethan Harp.
Finally, a Wu-Tang Clan album has now become property of the federal government in March because Shkreli has been ordered to forfeit more than $7 million.