Pharmacy Employee Allegedly Handles Pills With Bare Hands in Video Viewed 23 Million Times
In a TikTok viewed more than 23 million times, an employee at a CVS Pharmacy is seen pouring pills into her bare hands to fill a customer's prescription, sparking concerned comments left by viewers.
"This woman just came from running the window register, straight to fill my medicine. This is the final straw CVS," the text over TikTok user @jessica.lasirena's video read.
Commenters shared their shock under the video.
"I previously worked at a pharmacy and this is unacceptable," one viewer wrote. "Not proper counting procedure."
A commenter who claimed to be a former CVS pharmacy technician said there isn't a reason for the employee to touch the pills while putting them into a pill counter.
"I was a tech for 10 years and never counted pills with my hands," another wrote. "We used a tray even if we needed to count 100 pills."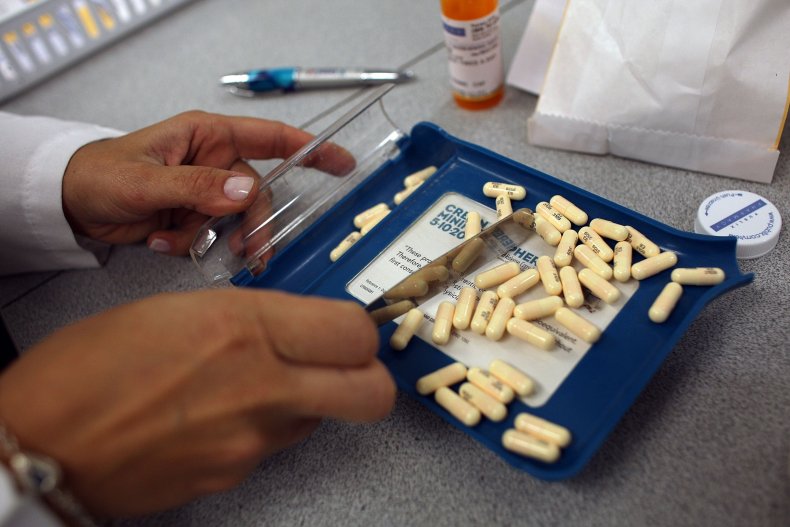 Jessica told Newsweek that she intended to pick up a specific prescription from CVS, but when she arrived, the employee in the video gave her a different medication that she was not there for.
After typing on the computer, Jessica said the employee told her to wait before grabbing some baskets and moving some items around the counter. The employee then started to bottle her medication, which was the moment Jessica started recording the employee.
The employee then went to the front register inside the store, and Jessica asked another pharmacy employee for the pharmacist, who was wearing gloves, to fill her prescription directly.
"The pharmacist came over and did this dramatic show of how she was changing her gloves," she told Newsweek.
After handing the prescription to Jessica, she said the pharmacist walked away without providing counsel on either of the medications, which were prescriptions she had never taken before.
Jessica said she did not expect the video to go viral and simply wanted to get some feedback from her friends about whether she overreacted.
"I realize this is bigger than my small video, with all the stories that are being shared," she said. "It's clearly a CVS problem and they need to address their protocols for everyone's safety, including their employees."
A spokesperson with CVS told Newsweek that there are policies in place to keep patients and employees safe while filling prescriptions. The spokesperson noted that these policies will be reinforced with team members.
"Our pharmacists and technicians have access to tools that allow them to fill prescriptions without having to touch medications with their hands," the spokesperson said. "It's our policy that these tools should be used when filling prescriptions."
Jessica said she heard from a representative who told her they will reach out to the leadership team at her CVS location and offered a callback number. However, she is not satisfied with their response.
"I want CVS to really hear what consumers are saying and address it," she said. "Our health is literally in their hands. Having to take prescription medication is stressful enough, the last thing I want to worry about is if this medication is going to make me sick because of cross-contamination and cutting corners."