A new navigation app wants to make your commute safer, while also making it feel a little more like a video game. Phiar (pronounced "fire") uses augmented reality to take directions and put them right on the streets.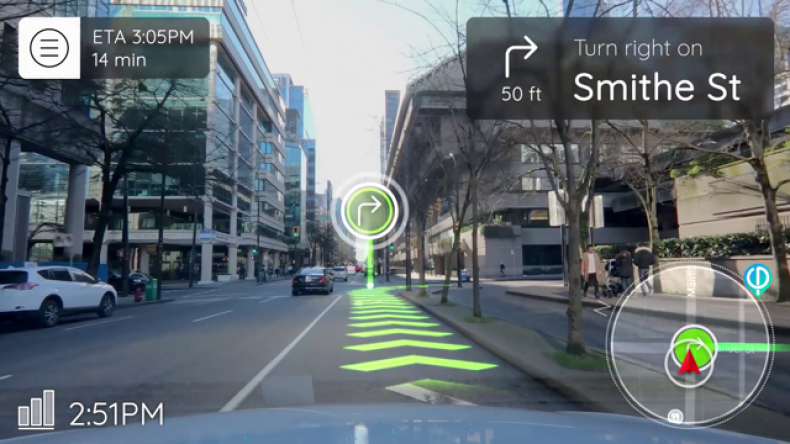 Phiar is designed for a dashboard-mounted phone. The phone's camera can pick up a video feed of the road ahead. Using augmented reality technology, Phiar takes the directions for your destination and lays them over your phone's video feed, making it look like a racing game telling you where to turn. It was developed as a safer alternative to current navigation apps. A demo of the app in action can be seen above.
"The idea came after taking too many wrong turns on the streets of Boston," Co-founder and CEO Dr. Chen-Ping Yu said in a press statement. "Trying to interpret directions from a two-dimensional map, especially at high speeds, is as difficult as it is dangerous. Navigation should be convenient and straightforward, and what we're building is going to help people get to their destination faster and safer."
Phiar is planned to release sometime in mid-2019, but developers have not confirmed an official date just yet. Platforms also haven't been confirmed for Phiar at this time, but it's safe to assume we'll see the app on the iOS and Android app stores eventually.
"We want our users to keep their eyes on the road, looking at the real world rather than a 2D rendering of it," Ivy Li, Co-founder and CTO at Phiar, said in the statement. "What makes the experience so unique is the live AR path overlays, made possible by our super-efficient computer vision and deep learning AI that runs on your smartphone. This augments your surroundings rather than distracting you from them."
For now, Phiar will focus on smartphones, but the team has bigger aspirations to coincide with the growth of augmented reality technology. The team predicts Google Glass-like AR glasses will be common soon, and anticipates offering Phiar for driving and on-foot modes to accommodate these devices. The development team also anticipates Phiar becoming a useful tool for self-driving vehicles. Of course, the focus right now is getting a working product ready for smartphones first.
So what do you think? Are you interested in following along with the development and launch of Phiar? What other augmented reality apps have you used? Let us know your thoughts in the comments section below.