Phil Mickelson Wins PGA Championship, Becomes Oldest to Ever Win a Major
Phil Mickelson didn't shoot the best round of golf in his life on Sunday, but he made shots when it counted, and it was good enough to give him a PGA Championship and go down in history that no golfer has ever done.
Mickelson shot at 1-over par on Sunday to capture the 2021 PGA Championship at The Ocean Course at Kiawah Island (S.C) Golf Resort. It's Mickelson's first major title since winning The Open title in 2013, and it broke a 16-year drought at the PGA Championship, which he also won in 2005. He now has six major titles, which include three Masters (2004, 2006, 2010).
Mickelson on Sunday not only became the oldest golfer to ever win a major title, he became the first player at least 50-years-old to win a major. Lefty, as he's commonly know, was tied for the lead this weekend after 36 holes, and he was alone in the lead after 54 holes.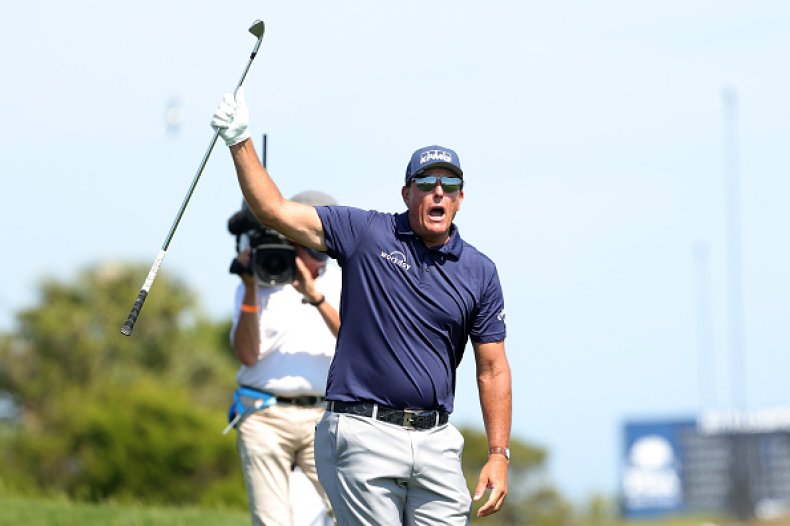 On Sunday, he was paired with fellow American Brooks Koepka, who was one stroke back when the day started. The two immediately flipped spots after the first hole, which Mickelson bogeyed and Koepka made birdie. They switched spots again on the second when Mickelson birdied and Koepka made double-bogey.
That put Mickelson at 7-under par, and he never trailed again. He did make it interesting, though. He made bogey at 3 and 6, and hit birdie at 5, 7 and 10 to bring him to 8-under par and a four-stroke lead over Koepka and Louis Oosthuizen. He took a five-stroke lead over Koepka andOosthuizen with six holes left to play.
He quickly dropped to 6-under par and a three shot lead after bogeys on the 13th and 14th holes. He came up just short of a birdie on the 15th, leaving him a tap-in for par. Oosthuizen, meanwhile, chipped into Mickelson's lead, cutting it to two strokes with three holes remaining.
Mickelson made a remarkable third shot to set up a birdie on the par-5 16th, giving him a three-shot lead over Koepka and Oosthuizen with two holes to go.
Lefty found himself in a rough patch, literally, on the 17th hole when his ball landed in some weeds that were almost as tall as his kneecaps. He knocked the ball onto the green, but missed a 23-foot putt just wide to the left that would have been par. He made bogey on a short putt to bring him back to 6-under, and a two-stroke lead.
His tee shot on the 18th went array, bouncing into a row of lined-off spectators. He used a 9 iron to send the ball within a few feet of the hole on the par-4 that's 505 yards. He waded through throngs of excited spectators, who were catching their memories through their phones, and lined up for the final shot. If he three-putted, he would likely win.
The crowd chanted, "Lefty, Lefty" as he approached his shot. The first missed, and then he sank the birdie for the title.
Mickelson then shook hands and gave hugs on his way to the accept the Wanamaker Trophy. Koepka and Oosthuizen finished in a two-way tie for second.
The shot of the day came from Mickelson on the par-3 fifth hole, when he found himself in a sandy area after his first shot. He took a wedge and chipped the ball onto the green, where it took a couple of hops and into the hole, sending the already-raucous crowd into a frenzy.
-