Murphy, McAuliffe Go to Polls Without Much Help From Democrats in Washington
As Terry McAuliffe and Phil Murphy's gubernatorial races come to an end, they might have hoped to be able to point to the achievements and standing of Democrats in Washington to give them a final boost.
Incumbent New Jersey Governor Murphy has held a lead over his rival Jack Ciattarelli, though the gap has been placed in the single digits. In the Virginia race, polls have shown the race to be tight, with one recently indicating McAuliffe had fallen slightly behind Glenn Youngkin.
With the races tight—particularly in Virginia—any extra boost would prove welcome to the candidates.
Ultimately, focus will mainly be on candidates' campaigns when the race is over and results are assessed. But should the numbers be as tight as polls suggest, the wider picture is sure to be looked at—particularly if narrow gains could have made the difference.
If that is the case, the impact of the situation in Washington might be one of those points which draws attention.
Had Democrats reached agreement on President Joe Biden's spending bills, McAuliffe and Murphy's hopes might have been buoyed—able to point to the achievements of Democrats in power in Washington.
But with talks ongoing, as a split between moderates and progressives persists, Democratic voters' views of Congress have plummeted of late.
David Richards, chair of the political science department at the University of Lynchburg, told Newsweek the impact of agreement having been reached is hard to determine—but it would have at least been something Democrats could somewhat attempt to take credit for.
"I think that no deal has hurt them a little—certainly given the Republicans a talking point. It adds to the general feeling things are not going a swell as people hoped," Lynchburg said.
"Had there been a deal, even a month ago say, not sure how much bounce it would have given either candidate. Most of the benefits will take months to years to become apparent to the average voter. But at least they could have taken some credit."
Thomas Gift, founding director of University College London's Centre on U.S. Politics, similarly suggested that a wider boost for the Democrats could have lifted those in these races—though he also couched this.
"It's generally fair to say that a rising political tide within a party 'lifts all boats,'" Gift said. "If Democrats could've passed their major spending bills in Washington earlier, it's definitely plausible that extra bit of momentum would've paid dividends for McAuliffe in Virginia and Murphy in New Jersey."
However, he did couch this somewhat—stating how the candidates themselves are viewed would be a more determinative factor.
"It's important not to overstate this kind of effect—and to resist the temptation tie everything to national politics. Although we won't know the counterfactual, at best we'd probably be talking about a couple percentage point impact," Gift said. "Ultimately, the two races will be decided predominantly by how voters view the candidates themselves and the internal dynamics of state-wide politics."
Aside from the deals, which have seen Biden's plans stall, there is the view of voters over the president himself. Each candidate would likely hope to be able to point to a Democrat in the White House, less than a year after his own election victory. Biden stumped for McAuliffe in Virginia last week, but his standing might impact the effect of that—with his approval having slumped of late.
Polling has shown approval of the Democratic Party dip, coinciding with the trajectory of Biden's popularity. If his position similarly impacts McAuliffe and Murphy, that could explain some tightening of their respective races.
David McLennan, professor of political science at Meredith College, told Newsweek: "The Virginia governor's race, in particular, seems very close. Republicans have done a good job of making the race into a referendum on President Biden and about parental involvement in K-12 education. The Democrats have tried to make the race into a referendum on former President Trump.
"The issue of whether the Democrats can push through one or both of the large bills being considered in Congress seems secondary to approval of the current and former presidents. Biden's declining poll numbers have clearly affected Democratic voters and, perhaps, McAuliffe's chances on Tuesday, but it seems to be larger than just the infrastructure or social services bills.
"The New Jersey governor's race seems a little safer for Democrats, but a Republican wave turnout could make that race closer than most experts believe."
Thought it is McAuliffe and Murphy on the ballots, part of the race could also be framed as another clash between Biden and former President Donald Trump.
Whatever the outcomes, their impacts are sure to be scrutinized once the results are in—as might the sway of political events in Washington.
Asked for comment, a Democratic National Committee (DNC) spokesperson told Newsweek: "In 2020, the American people overwhelmingly voted for President Biden's and Democrats' agenda, and our leaders have delivered. In just two months, they passed the American Rescue Plan into law to help provide more good-paying jobs, COVID-19 vaccine shots in arms, and to help get our kids safely back into the classroom. And we're on the verge of making historic investments in America's competitiveness, our kids, and our climate with President Biden's Build Back Better Framework and Bipartisan Infrastructure Deal.
"Ahead of Election Day, the DNC is all gas, no brakes on ensuring that Americans in New Jersey, Virginia, and across the country are represented by leaders like Phil Murphy and Terry McAuliffe who will continue to build on that progress."
Newsweek has contacted McAuliffe and Murphy's campaigns for comment.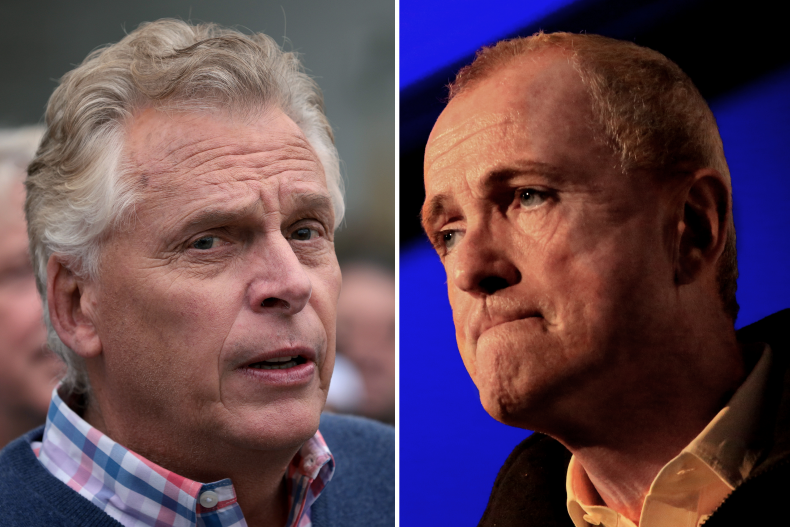 Update 11/1/2021, 12:10 a.m. ET: This article has been updated with comment from a DNC spokesperson.