Isaiah Thomas Headlines a Wave of Sub-Six-Foot Scoring Stars in Basketball
Last November, Phil Taylor became a victim of mistaken identity. A 5-foot-10-inch guard at Division II Shorter University in Rome, Georgia, Taylor was attending a women's basketball game on campus when a cheerleader approached him. She thought Taylor looked familiar, but could not place him. "Aren't you the mop boy who cleans the court?"
"Yes, I am," said Taylor, flashing a knowing grin to his friends. A few nights later, Taylor racked up 62 points, the highest total at any level of college basketball this season. Afterward, that cheerleader tracked down Taylor and by way of apology said, "I see you had your mop out tonight."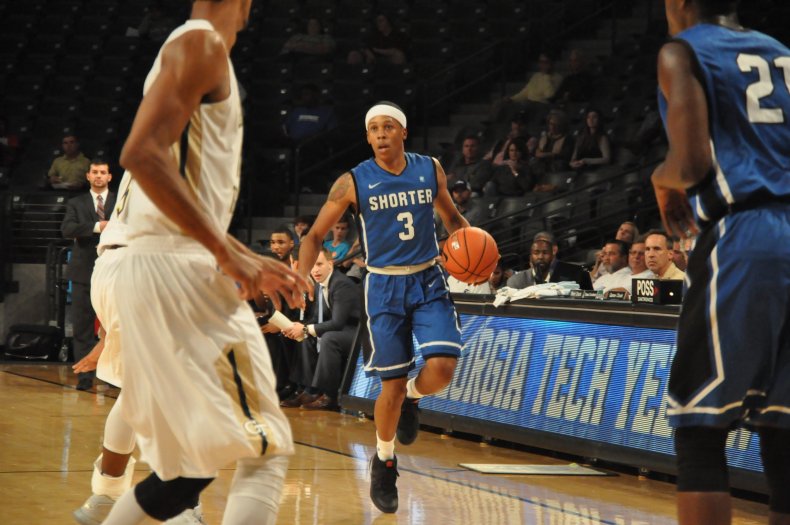 Taylor, who averages 36.0 points per game, is the most prolific scorer at any level of college hoops this season. "It's a little man's world now," beams Taylor, who is no relation to former Grinnell guard Jack Taylor, a 5-foot-10-inch marksman who scored an NCAA-record 138 points in a 2102 game. "We're taking over."
In Division I, 5-foot-9-inch Marcus Keene of Central Michigan leads all scorers (29.3 points per game), five points better than anyone else at college basketball's highest level. At Lehman College in the Bronx, 5-foot-5-inch Amely Del Rosario leads Division III women's basketball in scoring (25.2 points per game), despite being the tiniest player on any court where she competes. In Division III men's basketball, 14 of the top 15 scorers in the nation are 6'2" or below.
The lilliputians have won. Dr. Naismith's incredible experiment no longer prohibitively favors the big and tall. Basketball's Jurassic Period, where giants such as Wilt Chamberlain and Kareem Abdul-Jabbar roamed the Earth and ruled the hardwood, is over.
Two weeks ago, 5-foot-9-inch Boston Celtics guard Isaiah Thomas redefined heat against the visitors from Miami, scoring 29 fourth-quarter points. Thomas put up 52 for the game, becoming the first player under 5 feet 10 inches tall to eclipse 50 since Hall of Famer Calvin Murphy did so in 1979. Since that night, Thomas has scored 38 twice and is fourth in the NBA in scoring at 28.2 points per game.
And across the Pacific Ocean, former BYU All-American Jimmer Fredette, who stands a blade of grass over six feet, is averaging 38.4 points per game for the Shanghai Sharks of the Chinese Basketball Association. Fredette has put together nine consecutive 30-point games this season, breaking the CBA record set by 7-foot-6-inch Chinese national icon Yao Ming.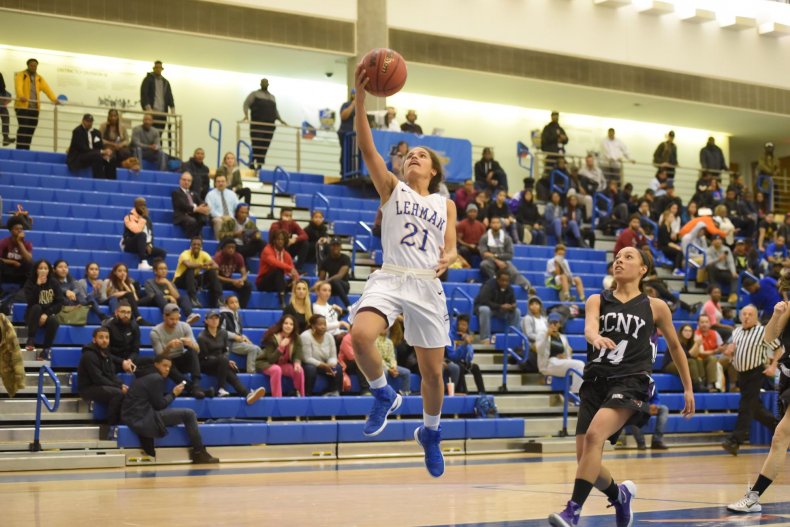 Yao appeared in eight NBA All-Star Games. Thomas, who is 21 inches shorter, made his All-Star debut last season, matching Murphy as the shortest player to score such an achievement. Murphy appeared once, in 1979; Thomas is headed for his second All-Star Game come February, an exhibition that will feature at most one true low-post big man: DeMarcus Cousins of the Sacramento Kings.
Basketball is getting shorter, and not just at Shorter. As the introduction of the rifle forever changed the field of combat, nullifying the advantage of strength and size in a storm of swords, so too has the three-pointer minimized the advantage of height in hoops. The three has taken the game back below the peach basket. "Our coaches compare it to David and Goliath," says Grinnell's 5-foot-11-inch Julian Marx, who leads Division III in three-pointers (72) this season.
Related Content: Hello, Neumann
In contemporary basketball, David (or Stephen Curry) is Goliath. And the three-point shot is basketball's slingshot. The average adult male is 5 feet 10 inches tall, so it stands to reason that far more men are between 5 feet 9 inches and 5 feet 11 inches than, say, 6 feet 3 inches and 6 feet 5 inches tall. Since the three-pointer, unlike the dunk, confers no advantage to the shooter based on height, there is a larger potential pool of fantastic shooters who are the height of 5-foot-9-inch film director Ron Howard, as opposed to Atlanta Hawks center Dwight Howard (6 feet 11 inches). For hoops hopefuls suffering from arrested development, happy days are here again. "I've been concentrating on the three-pointer since fourth grade," says Marx, who in junior high and high school would shoot 100 threes every morning before school. "I've known for years that that shot was my ticket to playing at Grinnell."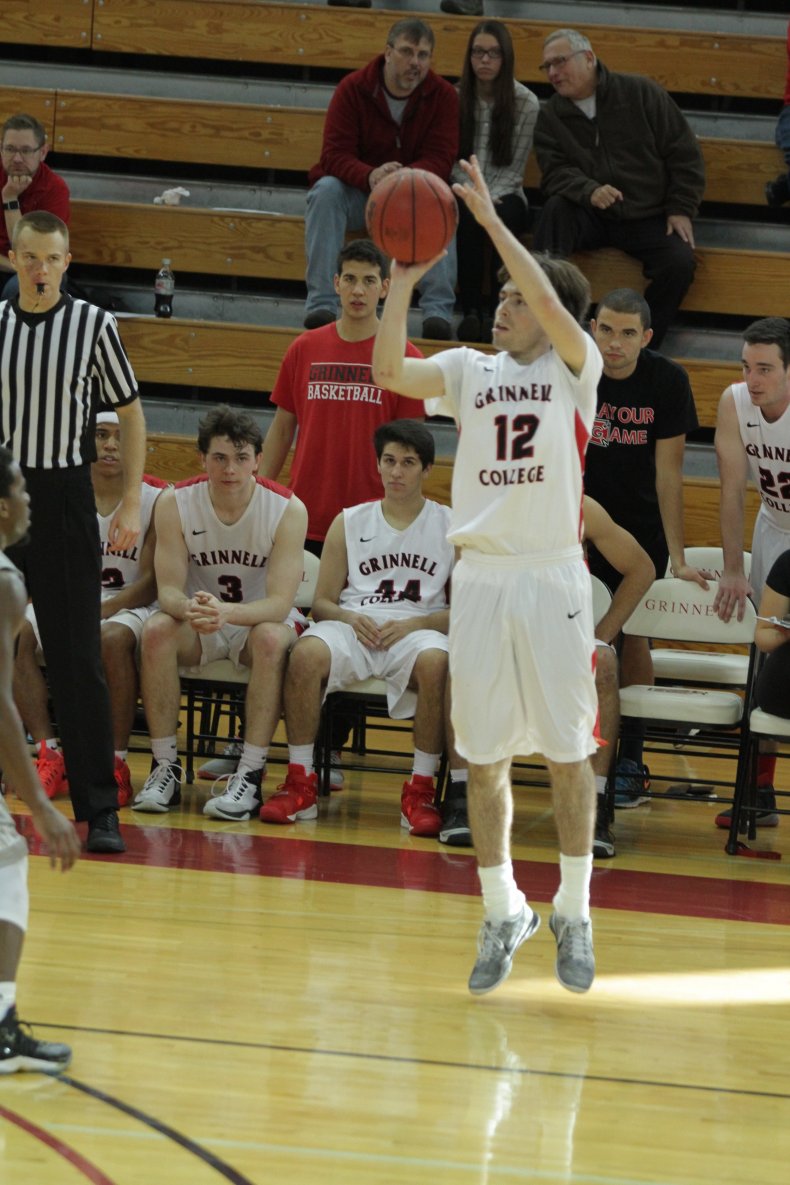 Not only has the three-pointer leveled the court vertically, it has opened it up. Because players must be defended farther away from the basket, the lane is far less congested, which opens up opportunities for guards who are explosive to the hoop. "My game is to take the three or to drive and draw contact," says Shorter's Taylor, who also leads all of college basketball in free throws made this season. "I knew I wasn't going to be able to go to the hole and dunk on anyone."
Jerry: "You're a chucker. Every time you get the ball, you shoot."
George: "I can't believe you called me a chucker. No way I'm a chucker. I do not chuck. Never chucked...Kramer, am I a chucker?"
Kramer: "Oh, you're a chucker."
At Division III Greenville College in Illinois, each practice begins with music blaring and every player shooting 200 three-pointers. "In recruiting, I tell my assistants, 'We're not even looking at any big guys,'" says coach George Barber, whose Panthers average an astounding 133.4 points per game. "What do we want them for?"
Two years ago, after Barber lost his top-two post players, he opted to model his program after that of notorious Division III spree-shooters at Iowa's Grinnell. "Two years ago, we averaged 75 points per game," says Barber. "Since then, we've led the nation, averaging 112 and now 133. What was I thinking all those years before this?"
"We're a little mad at George," kids Grinnell coach David Arseneault Jr., whose father, David, helped pioneer the style of up-tempo hoops laced with a barrage of three-pointers that led to Grinnell leading all collegiate levels in scoring for 16 of the past 18 years. "My dad taught him too well."
Last November 19, Grinnell scored 167 points (and won), attempting 80 of its 125 shots from beyond the arc and converting 29. Three nights later, Greenville put up 178 points by making 37 of the 72 threes it attempted out of a total of 107 shots. The pace is breathless by design. "We don't go back and forth," Barber says. "We go forth and forth and forth."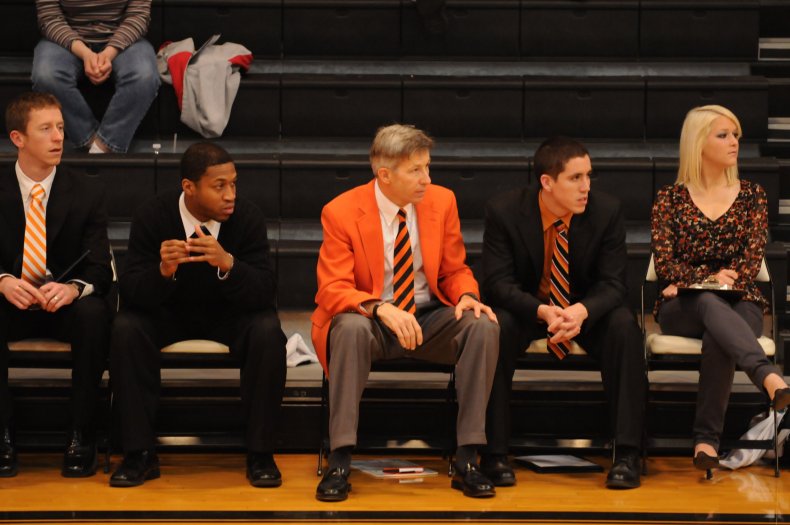 After a recent Grinnell loss in which Marx attempted nine three-pointers, Arseneault Jr., pulled his sniper aside. "This is entirely unacceptable," Arseneault Jr. said. "You should be attempting twice that many!"
"The game is so different now," says Mike Bratz, scouting director for the Sacramento Kings, who in 1981 led the NBA in three-pointers with 57 (midway through the current NBA season, 68 players had exceeded that total). "One game when I was with the [Golden State] Warriors, the opening tip-off, I was open in the corner beyond the arc. The ball came to me and I shot it. My teammates started calling me 'Big Balls.' My coach told me I was lucky it went in or he'd have pulled me."
Not long ago, ESPN analyst and former NBA guard Tim Legler watched a replay of Game 6 of the 1987 NBA Finals between the Boston Celtics and the Los Angeles Lakers. In the clinching contest of a series in which eight future Hall of Famers appeared, each team shot zero for five from beyond the arc. "When [the Lakers'] Michael Cooper attempted a three-pointer," says Legler, "it looked as if he was throwing up a beach ball."
Four years earlier, in 1983, the Philadelphia 76ers swept the Lakers in four games without making a single three-pointer. The Lakers connected on three. Contrast that with the 150 threes Cleveland and Golden State drained in last June's NBA Finals.
Present-day Warriors guard Stephen Curry is lauded for shooting threes from the entrance tunnel during pregame warm-ups. And why not? Curry has gone Babe Ruth on the single-season threes record, taking it from 269 (by Ray Allen) when he entered the league in 2009 to 402 last year. "The impact Curry has had on the game, as revolutionary as it is, won't fully be felt for another decade," says Legler, who was an outstanding three-point marksman (.431 in 12 NBA seasons). "Average-size kids used to migrate to another sport in junior high or high school because of height. Now they look at Curry [a wispy 6 feet 2 inches tall] and think, I don't have to look like LeBron.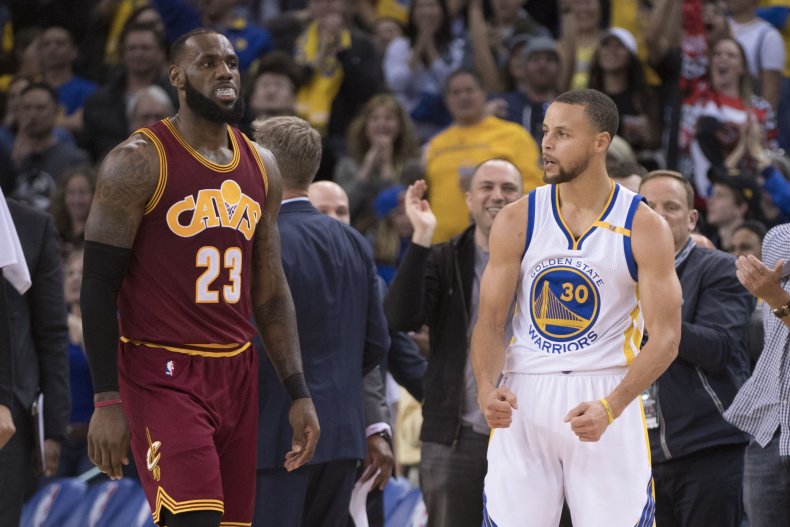 "There are coaches out there who still fight the three-point shot [as a primary offensive component]," says Legler, "but you can't. I see the nation's top 100 high school players at various events, and almost every big guy wants to play facing the basket. And if you don't let them, they'll play for another team. Low-post guys, they're unicorns."
Who should shorties from coast to coast thank for their 21st-century relevance? The game's original big man. In 1967, 6-foot-10-inch George Mikan, who led the Minneapolis Lakers to five NBA championships between 1949 and 1954, was the commissioner for a fledgling basketball league. It was Mikan who introduced the three-point shot to the American Basketball Association (ABA).
On Friday, October 13, 1967, the ABA opened play with the Oakland Oaks hosting the Anaheim Amigos. Lester "Lightning" Selvage, a 6-foot-1-inch guard who the Amigos had discovered in a rec league, offered a portent of the future. Selvage buried a game-high four three-pointers, but Anaheim lost, 134-29. In the same stadium, 49 years later—Oakland-Alameda County Coliseum is now Oracle Arena—the Splash Brothers, Stephen Curry and Klay Thompson, would gain renown for indiscriminately firing from beyond the arc.
Selvage, who never passed anything but away (in 1991), would have enjoyed the modern NBA. He once attempted 26 threes in a game and finished the ABA's inaugural season as its three-point leader with a total (147 ) that no NBA player would eclipse until its eighth season of having the three-pointer. "Les acted like if he stepped over [the three-point line], he was going to get killed or something," former Denver Rockets coach Bob Bass once said. "He didn't just shoot 25-footers—he took 30-footers. All he could do was shoot, and he shot too much. But when he was hot, he was unlike anything I had ever seen."
The year 1967 offers another bizarre intersection between erstwhile behemoths and the three-point shot. UCLA finished 30-0 and won its first of seven consecutive national championships in men's basketball (yes, the Bruins won 10 in a 12-year span). The Bruins were led by 7-foot-2-inch center Lew Alcindor (who would come to be known as Kareem Abdul-Jabbar), a low-post player of such indomitable prowess that the NCAA outlawed dunking. The muckety-mucks overseeing college hoops gerrymandered the rim, such was Alcindor's dominance.
Fifty years later, the Bruins have arguably their most talented team since those John Wooden–coached UCLA squads of low-post legends Alcindor and later Bill Walton. The Bruins, 18-1, have done a complete about-face. This year they are the most proficient three-point shooting team in the country (43.3 percent). Thirty years ago, the Bruins' coach, Steve Alford, in the first NCAA championship game ever to include the three-point arc, drained seven of them to lead Indiana to a 74-73 win over Syracuse. UCLA's most-skilled three-point shooter this season? Alford's son, Bryce, who is listed at 6 feet 3 inches tall, but appears to be at least two inches shorter.
Innovation leads to inspiration, which leads to adaptation. If analytics demonstrates that the three-pointer offers better percentages than a contested two-pointer, then seven-footers are realizing they must migrate. The bigs want their ball back.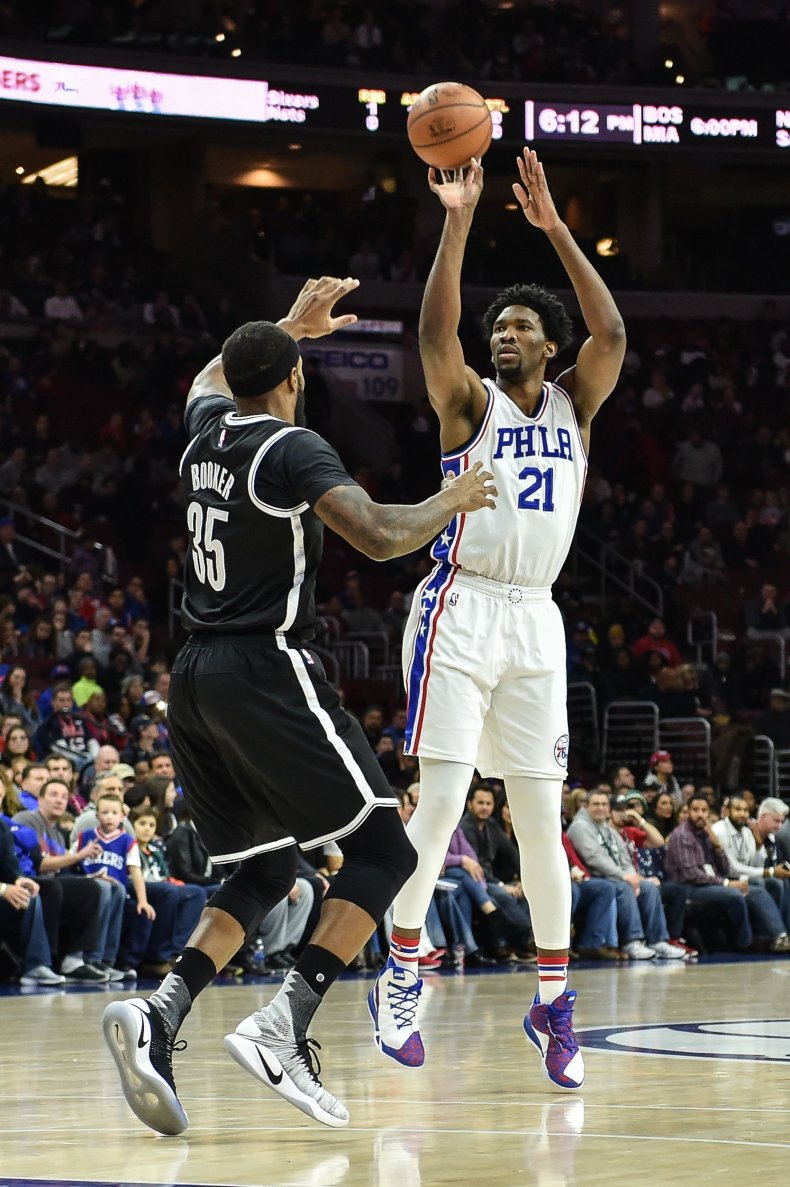 At the University of Arizona, 7-foot-1-inch freshman Lauri Markkanen of Finland has made nearly twice as many threes (40) this season as any of his teammates. Last November, seven-footer Joel Embiid of the Philadelphia 76ers made his NBA debut. "I was watching," says Legler, a Philly native. "The second shot Embiid took, he caught a pass trailing a fast break, pulled up from outside the arc and buried a three."
With that bucket, Embiid equaled the career three-point totals of both Kareem Abdul-Jabbar and Shaquille O'Neal, fellow seven-footers who are numbers one and nine, respectively, on the NBA's all-time scoring list. "The game looks completely different because of the three-point shot," says Legler. "The bigs are coming out to the arc."
As seven-footers encroach upon their newly found safe space, where will sub-six-footers such as Shorter's Taylor and Boston's Thomas head to avoid becoming sub-six-foot subs? Greenville's Barber has the answer. "I'm in favor," he says, "of a four-point shot."