Full-time employees working for the Philadelphia 76ers and the New Jersey Devils are set to have their salaries slashed by up to 20 percent as a result of the coronavirus outbreak.
Harris Blitzer Sports & Entertainment, which owns both organisations, said paid cuts will be effective from next month and employees will also be moving on a four-day working week due to the COVID-19 pandemic.
According to The New York Times, which first reported the news on Monday night, the salary cuts will affect employees making more than $50,000 a year. The report indicated the reduction was aimed at avoiding layoffs and that both health and 401K benefits remained unaffected.
"As we navigate this evolving COVID-19 environment, we are mindful of the long-term impact the suspension of live events and games will have on our organization and industry," Scott O'Neil, CEO of Harris Blitzer Sports & Entertainment, said in a statement.
"To ensure we can continue to support and operate our businesses during these uncertain times without reducing our workforce, we are asking our full-time, salaried employees to temporarily reduce their pay by up to 20 percent and move to a four-day week."
ESPN added that both teams were expected to ask contracted front-office employees to take similar cuts.
"In addition to supporting our people, we are committed to playing an ongoing role in funding efforts to help the most impacted residents in our home cities," O'Neil added.
"In the coming days, we will enter into additional partnerships in Philadelphia, Camden and Newark to assist our neighbors with food and resource distribution during this public health crisis."
The decision, however, does not apply to NBA and NHL players, who fall into a separate category.
Last week, the NBA floated the suggestion of recouping future salaries for canceled games.
In a memo sent to the 30 franchises last Friday, the league indicated it plans to pay salaries due on April 1 in full, but acknowledged their future salaries may not be guaranteed if the coronavirus-enforced lockdown stretches longer into the future.
The so-called force majeure clause of the NBA's collective bargaining agreement allows the league to withhold 1/92.6 of a player's seasonal salary per every game that has to be canceled because of catastrophic circumstances—which includes pandemics, natural disasters, and wars. Over the course of the year, the large majority of NBA players receive 24 payments, with the first half of them including a 10 percent escrow tax.
Should the regular season be completed, the players could receive their salaries at a later date if the NBA opts to exercise the force majeure clause.
The NBA suspended the season for at least 30 days on March 11 after Utah Jazz center Rudy Gobert became the first player to test positive for COVID-19.
However, recommendations released two weeks ago by the U.S. Centers for Disease Control and Prevention suggested events and gatherings of more than 50 people should be postponed or canceled for eight weeks at least, which means the NBA may not resume until mid-May at the earliest and it may well have to do so behind closed doors.
The prolonged lockdown is expected to deal a major financial blow to the NBA—as well as the MLB and the NHL—and last week ESPN reported the NBA was planning to raise its credit line to $1.2 billion to aid the league's handling of expenses.
A total of 14 NBA players or team members have tested positive to COVID-19, including Gobert's teammate Donovan Mitchell, two-time NBA Finals MVP Kevin Durant and Boston Celtics guard Marcus Smart.
A further three Brooklyn Nets players have also tested positive, as have two Los Angeles Lakers players and members of both the Sixers and the Denver Nuggets.
As of Tuesday morning, more than 46,400 cases have been confirmed in the U.S., with 593 deaths according to Johns Hopkins University, which has been tracking the outbreak using combined data sources.
Over 16,500 people have died since the outbreak of coronavirus began in Wuhan, a city located in China's central Hubei province, late last year. There are over 382,000 cases globally, with almost 102,000 recovered.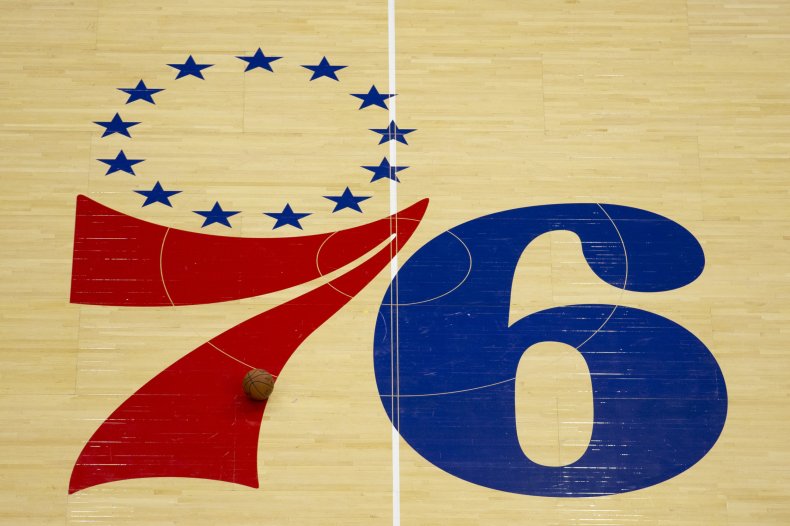 Uncommon Knowledge
Newsweek is committed to challenging conventional wisdom and finding connections in the search for common ground.
Newsweek is committed to challenging conventional wisdom and finding connections in the search for common ground.
About the writer
Dan Cancian is currently a reporter for Newsweek based in London, England. Prior to joining Newsweek in January 2018, he was a news and business reporter at International Business Times UK. Dan has also written for The Guardian and The Observer.