Philadelphia-Area Nurses Strike Over Safety Concerns, Staffing as COVID Cases Break Record in Region
Nearly 800 Philadelphia-area nurses went on strike on Tuesday at St. Mary Medical Center in Langhorne over safety and staffing concerns as coronavirus cases break a record high in Pennsylvania.
"Today, we are standing up for our patients, for our community and ourselves," Donna Halpern, one of the nurses who walked the picket line, told television station 3 CBS Philly on November 17.
The nurses claim they're facing server staffing shortages as COVID-19 continues to surge in the Philadelphia area. They said that some nurses are caring for seven patients at a time when they should only be attending to three or four.
"What that means is the call bells are not being answered," Halpern said. "There's a human being behind that call bell with a need, and I've heard call bells ringing for a half-hour."
Over 6,210 new COVID-19 cases were reported in Pennsylvania on Monday marking a record-breaking high for the state. Over the past week, there has been an average of 5,076 new daily cases, a 122 percent increase from the average two weeks prior, according to data compiled by The New York Times.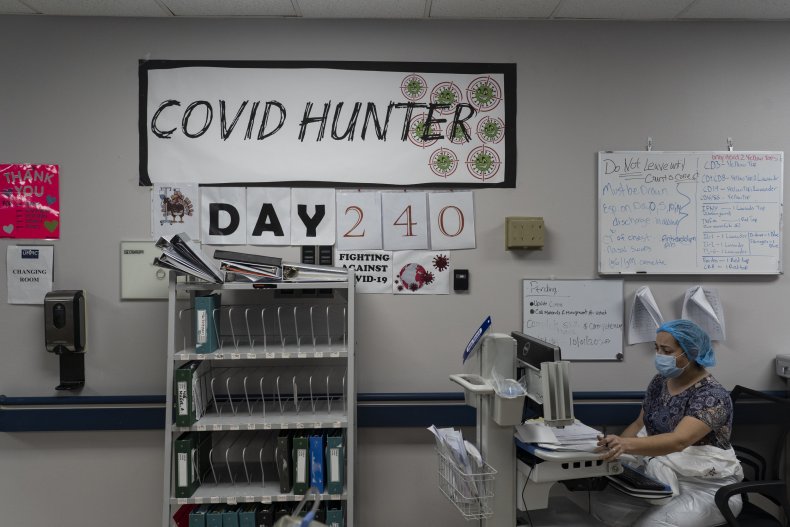 The nurses blame St. Mary's owner, Trinity Health System, for the staffing shortages.
"Trinity seems not to want to negotiate a fair contract that is safe moving forward, with benefits that we can recruit and retain staff," said Robert Bozek, another nurse who went on strike.
St. Mary hospital officials told Newsweek in an emailed statement that the nurses rejected offers for an increased wage as recently as November 13, and said they hope negotiations will resume in the near future.
"We are hearing concerns from our community that [the Pennsylvania Association of Staff Nurses and Allied Professionals] PASNAP, which has placed patient safety at the center of their platform, would choose this time—when the country and our local community contend with a COVID-19 surge—to exercise their right to strike, said Trinity Health Mid-Atlantic hospital officials. PASNAP is the union representing the nurses on strike.
They continued: "The hospital remains open, as our number one priority is providing compassionate care for our patients. We have engaged qualified and experienced professional nurses to provide safe, high-quality care for our community during the strike."
Other nurses were hired to continue to care for patients as the strike continues. The nurses on strike said, if necessary, they will be out again tomorrow.
The strike comes only a day after Philadelphia Health Commissioner Thomas Farley said the city is restricting indoor and outdoor gatherings starting November 20 to try to slow the spread of the virus. The restrictions are set to last for six weeks.
By banning indoor gatherings involving people from more than one household, the city aims to combat a lack of mask-wearing and social distancing indoors, in both public and private spaces.
The restrictions apply to indoor gatherings of any size, in any location, both public and private. These include visiting between households, indoor parties, group meals and watching sporting events as a group. Indoor weddings, funerals and baby showers are also affected.
As for outdoor gatherings, attendance is restricted to 10 percent occupancy or 10 people per 1,000 square feet. Also, no food or beverages can be served, to ensure that people are wearing their masks at all times.
With Thanksgiving right around the corner, Philadelphia officials advise dinner celebrations with immediate household members only, according to a Thursday blog post. For celebrations with extended family and friends, the city advises spending time in video conferencing and delivering meals and gifts in a way that doesn't involve direct contact, such as leaving them on a porch or doorstep.
States across the U.S., including Washington, Iowa, North Dakota and Michigan, have also imposed new restrictions ahead of the holidays, with the goal of limiting the spread of the virus.