Woman Punches Pregnant Mother for Being 'Chinese,' Police Hunt Suspect
Police are looking for a woman accused of attacking a pregnant Asian-American woman and her daughter last week in Philadelphia.
Jing Chen was walking along 13th and Walnut Streets when a woman allegedly crossed the road and started spraying water at her and her child.
Chen told ABC 6 News that she asked her "Why did you do that?" The woman then said "You (expletive), Chinese (expletive)," Chen told the outlet.
"I was like, 'You too!' She went back to me in front of my face and I asked her, 'What you gonna do I'm pregnant, are you going to hurt me?' That lady looked at my belly for two seconds, 'So what?'" Chen told ABC 6 News.
Chen said the woman then punched her in the face.
Police are searching for a woman believed to be a known local beggar in the area, but will not likely charge the suspect on the basis of ethnic intimidation.
"This is an active investigation and we have not ruled out additional charges, but there is not sufficient evidence that has been presented to us that this is a case of ethnic intimidation at this time," said the District Attorney's office in a statement.
"The assailant deliberately crossed the street and singled them out and then mentioned race during the attack," said Anna Perng, an advocate for immigrant communities and those with disabilities working with the Mayor's Office.
Instead the suspect may be charged with simple assault, harassment and recklessly endangering another person.
Chen has warned other families on social media channel WeChat about potential attacks on the Asian-American community.
"I haven't been out of the house until yesterday," said Chen. "It's made me feel so scared," continued the expecting mother.
Newsweek has contacted the Philadelphia Police Department and the Philadelphia District Attorney's Office for further comment.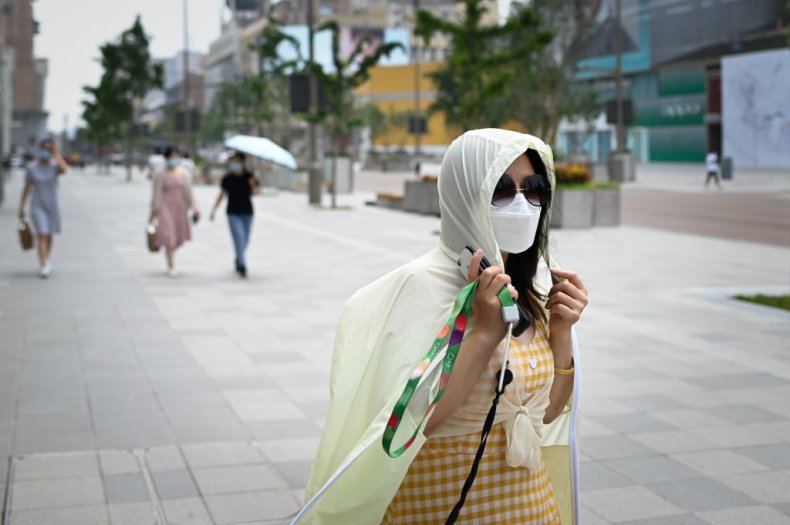 The Anti-Defamation League has claimed that since the COVID-19 pandemic, reports of anti-Asian assaults and hate crimes are on the rise. It lists around 40 reports of instances of anti-Asian abuse and assaults on its website, since the pandemic began.
In Philadelphia a hate crime is classified as a criminal act motivated by prejudice or bias directed at an individual or group because of their perceived race, color, religion, or national origin. The law also protects people based on perceived sexual orientation, gender identity, gender, or disability.
Although hate crimes are on the rise, four U.S. states ( Arkansas, Georgia, South Carolina, Wyoming) don't have laws to protect victims or penalties for offenders.
"The biggest roadblock to hate crime laws in those states is the inclusion of sexual orientation and gender identity," Jake Hyman, a spokesperson for the Anti-Defamation League, told Newsweek.