Philadelphia Democrat Threatens Removal of Black Statues if Columbus Monument Taken Down
Former Democratic South Philadelphia state Senator Vincent Fumo suggested on Thursday that statues of Black Americans in the city could be removed if the monument of Christopher Columbus is taken down.
During a Zoom meeting hosted by the Philadelphia Art Commission that lasted over five hours, a diverse crowd of Philadelphians, including Fumo spoke about the recent proposal to remove a Columbus statue from the Marconi Plaza, made by Mayor Jim Kenny.
"What will happen if the Italian Americans, who are definitely going to be angered by this, decide that they're gonna march on the [Octavius] Catto statue, which is the latest statue that had been put up on city hall?" Fumo said, referencing Philadelphia's first memorial to honor a Black man.
"I watched the mayor make his racist comments towards this monument, which is representative of Italian Americans," Fumo added during the meeting. "The mayor worked for me for 20 years plus, he was never taught to be this offensive," he continued, "somewhere along the line, he caught this disease."
Fumo, who was convicted of multiple federal corruption charges in 2009, suggested that calls for the removal of the statue came after "a bunch of middle-class, probably unemployed because of the pandemic, student-type children" decided to take issue with it."
Prior to wrapping up his comments during the meeting, Fumo added that he had never seen a bigger "kangaroo court in my life."
Fumo's comments on the statue come shortly after people around the city have called for the Columbus statue to be removed. The proposal made by Kenny is backed by a recent survey conducted in Philadelphia, that found 80 percent of respondents having negative associations with the statue. The survey used terms that included false history, racism, etc.
During the meeting, Fumo added questioned whether the survey suffered from voter fraud.
"When I look at the survey, that is now being taken as bible, first of all, I'd like to know what procedures were taken, if any, to make sure each submission came only from one person," Fumo said.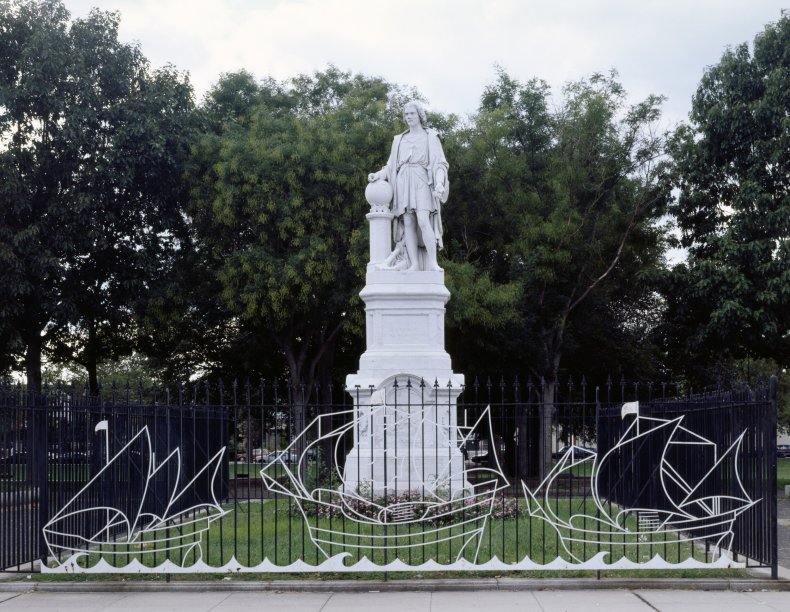 The former state senator made similar comments after Kenny decided to remove the statue of former Philadelphia Mayor Frank Rizzo. The statue was taken down on June 4, following mass protests and calls for its removal stemming from the death of George Floyd.
"You fought for this statue to be at that very location," Fumo wrote in a Facebook post. "How hypocritical of you now to remove it saying that it 'represented bigotry, hatred and oppression for too many people, for too long.'"
In a statement emailed to Newsweek, a spokesperson for the city of Philadelphia called Fumo's remarks "outrageous and offensive."
"They were particularly troubling considering the violent manner in which Octavius V. Catto was killed in 1871 over his activism and efforts to help improve life for African Americans in Philadelphia, including encouraging them to participate in the electoral process," the spokesperson said.
"On Friday, the Philadelphia Historical Commission voted into favor of removing the Columbus statue from Marconi Plaza, and now the Art Commission will take their vote, tentative scheduled for August 12," the statement added. "The administration believes we have made a strong case for the relocation of the statue and will await the final decision of the Art Commission."
Newsweek reached out to Fumo but was unable to get further comment from him in time for publication.
Updated July 27, 2020, 10:30 a.m. ET, to include a statement from a spokesperson for the city of Philadelphia.