Philadelphia District Attorney Larry Krasner Exonerates 9 People in 19 Months
Philadelphia's district attorney Larry Krasner has been in office for less than two years, but in his time so far, he's exonerated nine people who have maintained their innocence for crimes like second-degree murder, robbery and conspiracy.
Krasner told correspondent Jericka Duncan on CBS This Morning that the U.S. has prioritized punishment, not rehabilitation, and that's what he's seeking to change in Philadelphia. He's "shortening up" the probation and parole orders that are generally tacked onto the end of a jail sentence. He's also lightening sentences for nonviolent offenders. These are some of the ways he sees that he can change Philadelphia economically—as well as culturally.
Upon taking office, Krasner recognized Philadelphia had the second highest incarceration rate of the country's 10 largest cities, spending roughly $300 million a year on its prisons. Not to mention, the overcrowding, Krasner told Newsweek in 2018, sparked violence behind prisons.
"The costs," he said, "are crippling and unnecessary."
Rehabilitation services cost a fraction of incarcerating someone, and that holds true no matter how many times the person relapses and returns for more treatment, he suggested in 2018 and reiterated again on CBS This Morning. "So why," Krasner said, "when these people are nonviolent and statistically unlikely to ever be dangerous—why as a society would we not do that?"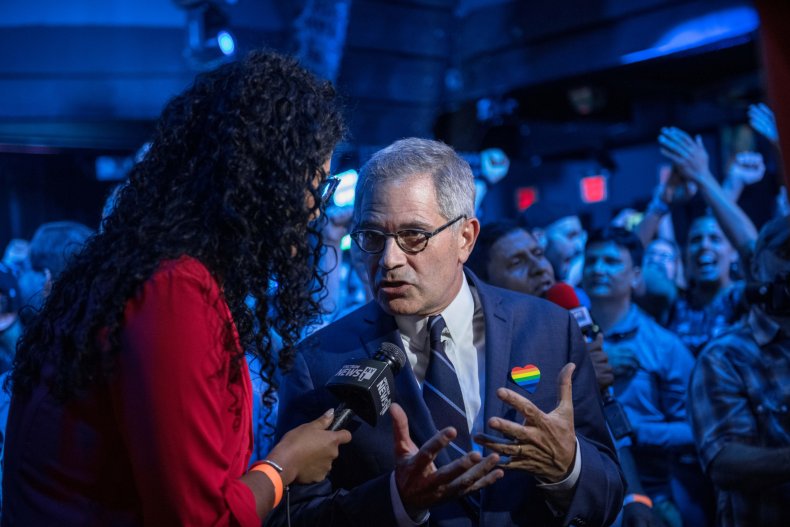 Most recently, Krasner has exonerated Chester Hollman, Terrance Lewis and Johnny Berry. Collectively, the men spent nearly 74 years in prison for crimes they said they did not commit.
"Physically, I'm free," Hollman told CBS correspondent Jericka Duncan. "But, like, it's just a lot of emotional things that I'm dealing with. I'm trying to find myself."
A judge freed Hollman in July, after prosecutors reopened his case and proved he was innocent of the 1993 murder for which he was serving life in prison, CBS News reported. Authorities had evidence that pointed to other suspects, but it was not disclosed at the time of Hollman's conviction.
Lewis told Duncan, "Personally, I haven't been home not even 90 days. Although I've been happy, and I'm grateful, it's definitely been difficult. I have been enslaved, mentally as well as physically. I'm still traumatized. This fell upon us. They uprooted our life. When I say 'they,' meaning the system as a whole."
According to CBS News, Krasner said the Conviction Integrity Unit actually rejects most of the cases it investigates, and that so far, it's overturned convictions in about 4 percent of the cases it has reexamined.
Still, Krasner is ostensibly attempting to reform sentencing practices at all levels, from trying fewer children as adults to offering more generous plea deals and handing out fewer prison sentences for nonviolent crimes.
"We are actually very, very serious about going after shootings, about going after gunpoint robberies, about going after rapes. We are focusing our attention on that," Krasner said, adding that funneling the money saved through his reforms back into public schools is how he plans to revive impoverished and crime-ridden neighborhoods.