Philadelphia Eagles Fans Climb City's Greased Poles to Celebrate Win
Philadelphia Eagles fans began celebrating in the streets after their team's NFC Championship win over the San Francisco 49ers on Sunday evening in Philadelphia. The city took one precaution by greasing light poles to prevent revelers from climbing them.
Just like the Eagles, its fans have also begun claiming wins. Fans have already begun scaling previously-greased poles.
Here are some early photos and videos from fans climbing poles in the city to celebrate after the 31-7 win over the 49ers, which puts the Philadelphia Eagles in super Bowl LVII in two weeks.
The Eagles advance to their fourth Super Bowl in team history and will face the winner of Sunday night's winner between the Cincinnati Bengals and Kansas City Chiefs.
Philadelphia last went to the Super Bowl five years ago following the 2017 season. The Eagles beat a Tom Brady-led New England Patriots, 41-33.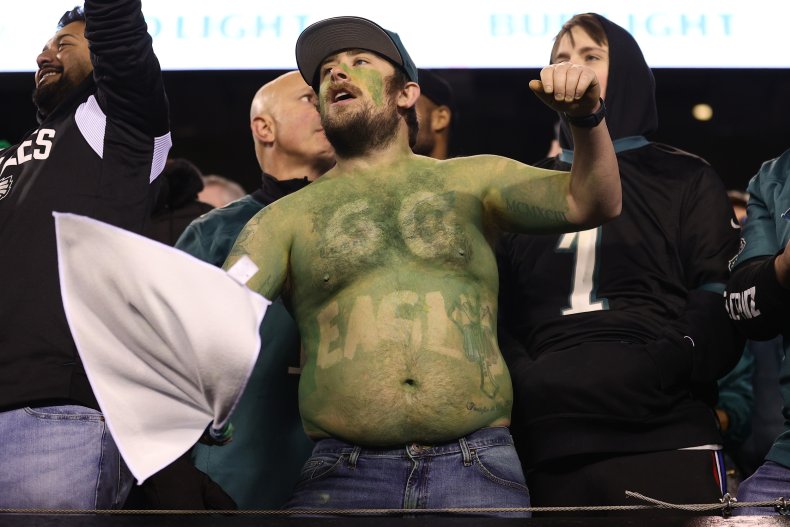 The Eagles have been dubbed the prohibitive top team in the NFL most of this season. They finished the regular season with the league's best record, first-round bye and home-field advantage through the NFC playoffs.
Ahead of Sunday's NFC Championship game against San Francisco, the City of Philadelphia made a decision to grease their poles.
Philadelphia Mayor Jim Kenney encouraged fans of his hometown team to celebrate "safely and responsibly."
"As the Mayor of this great city it is always a joy to see all Philadelphians united behind our beloved sports teams," Kenney said, according to NBC 10. "We encourage fans to cheer on safely and responsibly and wish the Eagles good luck in Sunday's NFC Championship Game."
The city's police department continued an effort to "institute the practice of 'greasing poles' as a deterrent for climbing poles and light fixtures."
Even before fans stormed the streets and began climbing poles, the city blocked off nearly an entire square mile around its City Hall.
A police officer greased a pole Sunday on the outskirts of City Hall and the city placed barricades in so-called "key locations" to help control would-be unruly fans. They also placed several "Temporary No Parking" signs along South Broad Street near City Hall.
After the game on Sunday evening, Mayor Kenney congratulated the team on making the Super Bowl but urged the city to be "safe" in its celebration.
Philadelphia culture reporter Stephanie Farr tweeted Sunday night that local police have advised fans disperse.
"Police just issued their final warning to the crowd on Broad to disperse. As the cop made the announcement, the crowd made him laugh and after he did so, the crowd cheered him on. However, not many people actually dispersed. ((sound on - the revving is an ATV doing burnouts.))