Father Injured Saving Pregnant Daughter From Wedding Day Shooting
A father has been seriously injured trying to protect his pregnant daughter following a street shooting on the day of her wedding in Philadelphia, Pennsylvania.
Police said 74-year-old Frederick Waring "took the brunt of the injuries" attempting to save the life of his 23-year-old daughter, who is five months pregnant with twins, reported KYW-TV. Waring is reported to have been shot at least 10 times and is in the hospital in critical condition.
The shootout on the day of the woman's wedding occurred around 10:30 p.m. on Sunday, May 20 in southwest Philadelphia. Detectives believe the shooting was the result of a domestic issue after the ex-wife of the groom turned up with two other men.
In a news conference, Philadelphia Police Lieutenant John Walker said there was an altercation which stemmed from "jealousy" after the man's ex-wife saw a Facebook post saying how he was about to get married again, reported Philly.com
"As that [argument] escalated, some of the males in the crowd, at least two, pulled out handguns," Walker said. "The father of the 23-year-old woman jumped in front of his daughter."
Police said the bride, who has not been named, was hit in the leg and hip but is in a stable condition. Her pregnancy hasn't been affected by the shooting.
"All too often you get a brawl, a bunch of people out there. People don't control their emotions," Walker said. "They get home. They get a gun. The next thing you know, they're firing a gun, and the end result is there's a lot of devastation."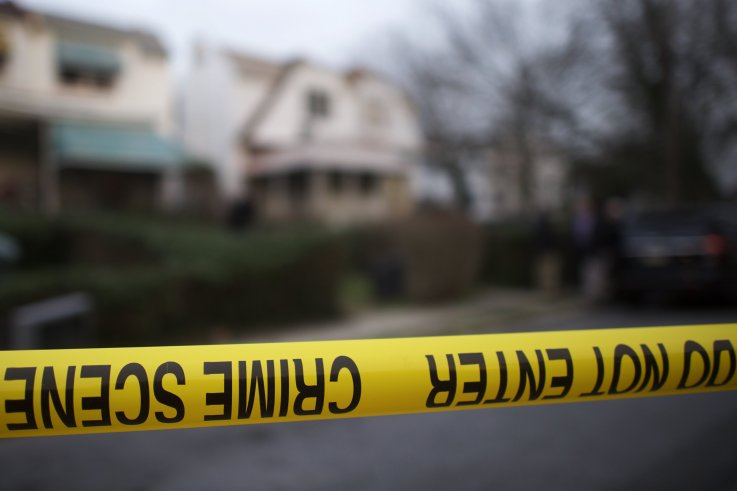 Police are now searching for the ex-wife and the two men she was with at the time of the shooting. Walker said it is in the suspect's best interests to come forward herself.
"She needs to come in and do the right thing and provide us with the information on what actually occurred here from start to finish—or not —and we will confer with the district attorney's office, and I'm sure charges will go against her," Walker told KYW-TV.
Police have already recovered the vehicle believed to belong to the ex-wife close to where the shooting occurred. It is now being tested for forensic evidence.
Father Injured Saving Pregnant Daughter From Wedding Day Shooting | U.S.