Philadelphia Investigators Still Working to Figure Out Cause of Fire That Killed 12
On Thursday, investigators were still working to figure out what caused a fire in a Philadelphia residential building Wednesday that killed 12 people, including eight children, in what authorities say is the city's deadliest fire in more than a century.
The fire occurred in a row house that officials say had four smoke detectors though none were working at the time, Axios reported.
The fire marshal said the cause of the fire is still under investigation and that help was requested from the federal Bureau of Alcohol, Tobacco, Firearms and Explosives (ATF).
Sources told FOX 29 that investigators are looking into whether a Christmas tree catching fire started the blaze.
The three-story building was converted into two units and had 26 people living there.
Deputy Fire Commissioner Craig Murphy said the unit on the second and third floors had 18 people living there while the lower unit located on the first and part of the second floor had eight people living there, FOX 29 added.
The property where the fire occurred was owned by the Philadelphia Housing Authority. Kelvin Jeremiah, the PHA president, said the battery-operated smoke detectors were properly functioning during the last inspection in May 2021, Axios reported.
At least two people were hospitalized with injuries from the fire. Family members told FOX 29 that the victim's ages ranged from 1 to 33 years old.
"This is without a doubt one of the most tragic days in our city's history," said Philadelphia Mayor Jim Kenney on Wednesday morning. "Losing so many kids is just devastating."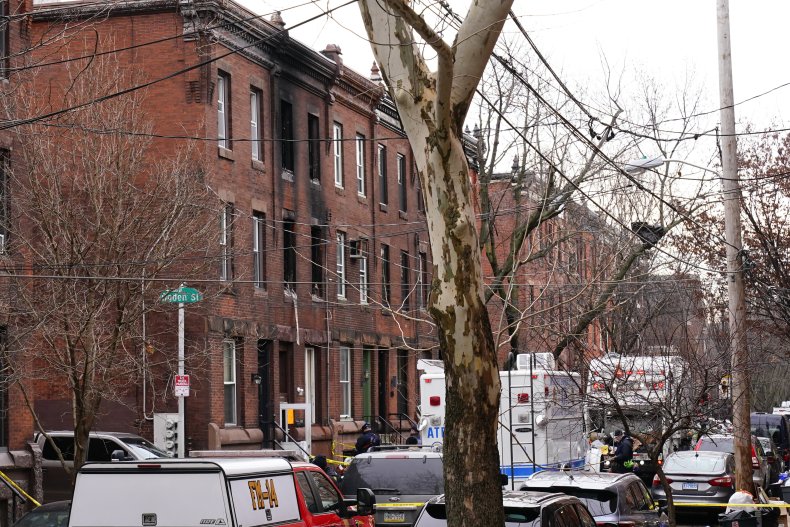 Specialists from the ATF took photos and then entered the charred, three-story brick duplex on Thursday.
The residential block otherwise remained quiet Thursday morning, with the exception of a trash truck that rumbled down the street. Few residents were out and about.
Officials did not release the names or ages of those killed in the blaze, which started before 6:30 a.m. Wednesday.
Some people were able to escape from the fire, officials said.
Family members on Facebook have identified two of the victims as sisters Rosalee McDonald, 33, and Virginia Thomas, 30. The siblings each had multiple children but it's unclear if all of them were home at the time of the fire or how many of them died. Messages were left with several people who said they knew or were related to the victims.
Fire officials initially said 13 people died, seven of them children, but those figures were updated Wednesday evening. Eight children and four adults were found dead, officials said.
The Associated Press contributed to this report.