20 Bomb Threats Against Jewish Sites Following Philadelphia Cemetery Desecration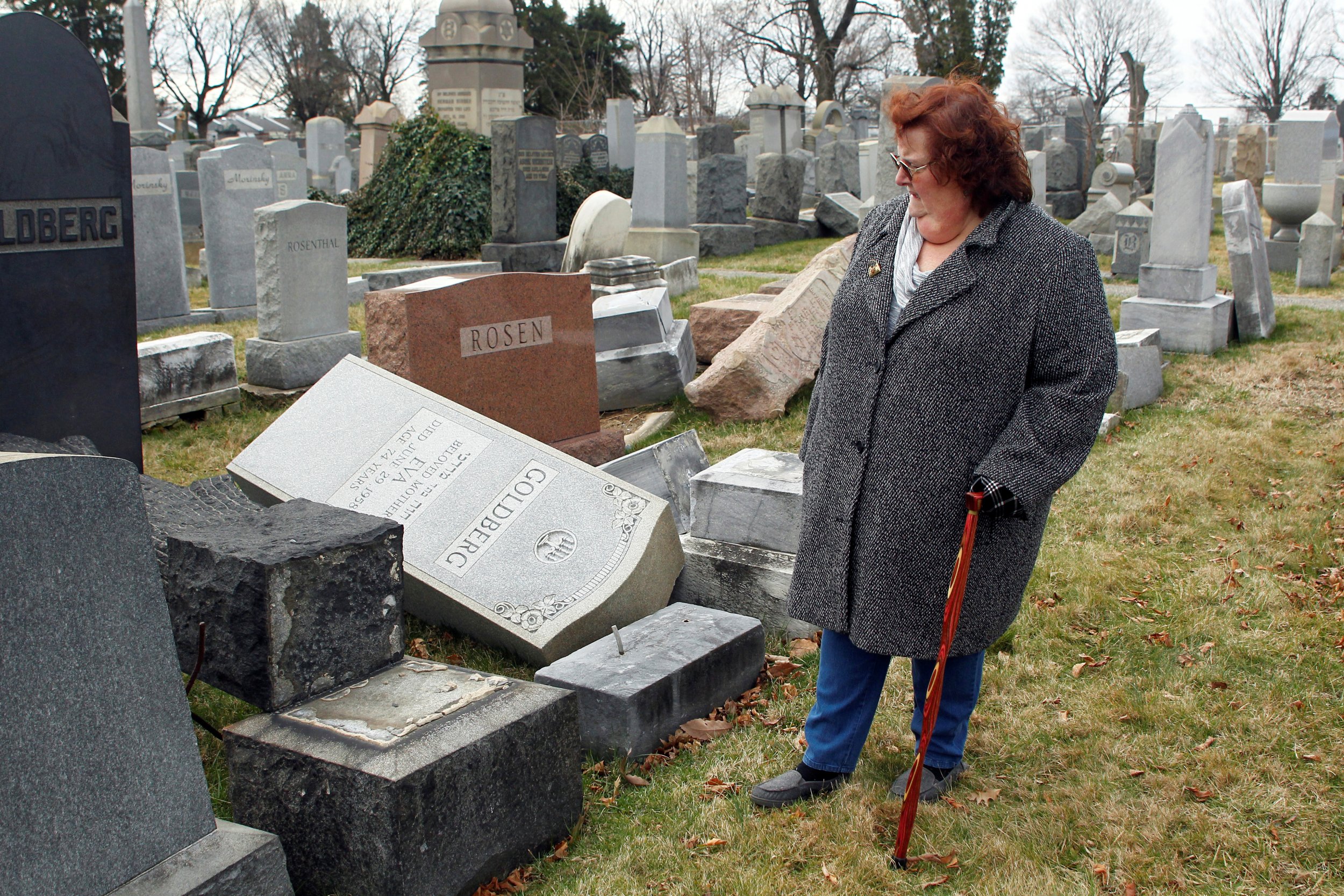 Updated | At least 20 bomb threats were made to Jewish institutions in 12 or more states on Monday, according to the Anti-Defamation League (ADL), causing the organization to issue a security advisory. The wave of threats was the fifth in recent weeks and came one day after Jewish community leaders found more than 500 headstones toppled at a Jewish cemetery in Philadelphia. A similar incident at a Jewish cemetery near St. Louis occurred days before that.
The wave of bomb threats on Monday brought the total number of such incidents in 2017 to almost 90, according to the ADL. "Unfortunately, bomb threats are not the only manifestation of anti-Semitism in recent weeks, as we have seen Jewish cemetery desecrations strike St. Louis and Philadelphia," ADL CEO Jonathan Greenblatt said in a statement.
Related: Jewish history is under siege in the Middle East and these volunteers are protecting it
The Philadelphia Police Department responded to a call about vandalism at Mount Carmel Cemetery at around 9:40 a.m. on Sunday, a department spokesperson said in an emailed statement on Monday. "We must allow the investigation to take its course before we can determine a specific motive or label as a particular type of crime," the spokesperson said. "However, this is an abominable crime that appears to target these particular headstones."
The police said the vandals had knocked over approximately 100 headstones. But Yosef Goldman, a Philadelphia rabbi who visited the cemetery on Sunday, says he and others who surveyed the vandalism counted 539 damaged plots.
Steven Rosenberg, chief marketing officer of the Jewish Federation of Greater Philadelphia, echoed the contention that the number could be around 500. The burial plots there date to the 1890s, and the cemetery is run by volunteers, according to Rosenberg. "It's possible that this was just a bunch of nudniks running through a cemetery and doing their Saturday-night defacing and this was where they chose," Rosenberg says. However, he adds, "I don't believe that."
The local Jewish federation says it has received an outpouring of support since news of the incident first broke on Sunday. In fact, so many people tried to donate funds to restore the headstones that the federation's website crashed. Rosenberg says the group received some 1,500 individual donations; he could not provide a specific dollar amount. Restoring each headstone could cost at least $450, he says.
Some of that money will likely come from a fundraising effort that a pair of Muslim Americans launched following the recent incident at the Chesed Shel Emeth Society cemetery near St. Louis. That effort raised $20,000 in three hours and has since raised more than $133,000. The organizers announced on Sunday that they would seek to offer funds to help restore the Philadelphia cemetery.
One of those organizers, Tarek El-Messidi, lives in Philadelphia and visited the cemetery on Sunday. "Many Muslims realize that this could have been a Muslim cemetery," he says. "I immediately thought of my own family…. I felt like we're in the same boat, the Muslim and Jewish community right now, with a lot of rhetoric, a lot of hate crimes, lots of threats, lots of vandalism." El-Messidi says that he has been in touch with local Jewish community leaders, and that he anticipates donating at least $50,000 from his fundraising effort.
Community members held a vigil at the cemetery on Sunday night, and an interfaith gathering in response to the incident is scheduled for Monday afternoon. "This is a time where this community has really unbelievably impressed me," Rosenberg says. "People are pissed off. They've had enough." The local Jewish federation is organizing a cleanup effort.
Despite the support, Jewish community members remain concerned about the incident and other similar ones. On Monday, the ADL said bomb threats against Jewish Community Centers and Jewish day schools occurred in Alabama, Delaware, Florida, Indiana, Maryland, Michigan, New Jersey, New York, North Carolina, Pennsylvania, Rhode Island and Virginia.
Vice President Mike Pence visited the cemetery near St. Louis to help with the cleanup efforts there. President Donald Trump said in a statement on February 21: "The anti-Semitic threats targeting our Jewish community and community centers are horrible and are painful and a very sad reminder of the work that still must be done to root out hate and prejudice and evil." Earlier, he had faced criticism for seeming unwilling to answer questions about anti-Semitic incidents, including at a press conference on February 16.
On Monday, White House Press Secretary Sean Spicer addressed the cemetery desecration. "The president continues to be deeply disappointed and concerned by the reports of further vandalism at Jewish cemeteries," he said. "The cowardly destruction in Philadelphia this weekend comes on top of similar accounts from Missouri and threats made to Jewish Community Centers around the country. The president continues to condemn these and any other form of anti-Semitic and hateful acts in the strongest terms."
Philadelphia Mayor Jim Kenney and Pennsylvania Governor Tom Wolf released statements condemning the latest cemetery incident. In another statement, the New York City–based Anne Frank Center for Mutual Respect said, "We are sickened, sickened, sickened," and called on Trump to deliver a televised prime-time speech on anti-Semitism, Islamophobia and other forms of hate that the organization claims his presidency has incited.
The National Museum of American Jewish History in Philadelphia is responding to the incident by collecting stories about the people buried at Mount Carmel and making them available online. "The desecration of the sacred site of the cemetery is really the lowest and most cowardly [act]," says the museum's CEO and Director Ivy Barsky. "It's not just about stones, it's about people and families and history and legacy and honor." Barsky expects that project to launch this week.
This article has been updated to include information about a wave of bomb threats made to Jewish centers and schools on February 27 and a security advisory that the Anti-Defamation League issued. It has also been updated to include a statement by White House Press Secretary Sean Spicer. A quote by National Museum of American Jewish History CEO and Director Ivy Barsky has also been updated.