Philadelphia Mayor Calls Trump 'Fragile Egomaniac Obsessed With Crowd Size' After Uninviting Eagles
Jim Kenny, the mayor of Philadelphia, criticised President Donald Trump Tuesday as a "scary guy" who had led the United States into "a bad time in our country."
"Hopefully by the time he's gone, we can recover from this mess," Kenny told CNN's New Day. "But this is a bad time in our country." Kenny's remarks came after Trump disinvited the Super Bowl Champion Philadelphia Eagles from coming to the White House to be honored for their win.
"The Philadelphia Eagles are unable to come to the White House with their full team to be celebrated tomorrow," a statement from the Office of the Press Secretary said. "They disagree with their President because he insists that they proudly stand for the National Anthem, hand on heart, in honor of the great men and women of our military and the people of our country."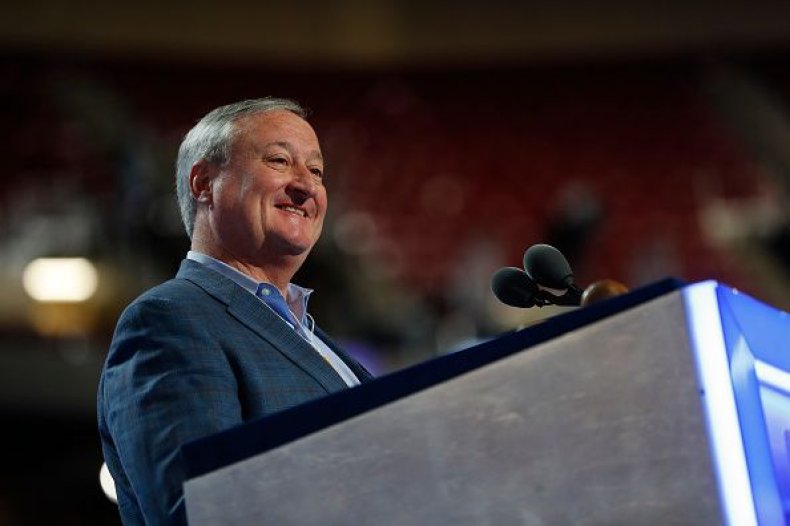 Trump added to the remarks on Twitter Wednesday. "The Philadelphia Eagles Football team was invited to the White House," he wrote. "Unfortunately, only a small number of players decided to come, and we canceled the event. Staying in the Locker Room for the playing of our National Anthem is as disrespectful to our country as kneeling. Sorry!"
The Eagles released their own statement on Twitter but didn't address the president uninviting the team to the White House. "It has been incredibly thrilling to celebrate our first Super Bowl Championship. Watching the entire Eagles community come together has been an inspiration," the statement said in part.
Kenny said in a statement Monday that Trump's decision to stop the Eagles White House celebration proved him to be a "fragile egomaniac."
"Disinviting them from the White house only proves that our President is not a true patriot, but a fragile egomaniac obsessed with crowd size and afraid of the embarrassment of throwing a party to which no one wants to attend," he said.
"I'm equally proud of the Eagles' activism off the field," he added. "These are players who stand up for the causes they believe in and who contribute in meaningful ways to their community. They represent the diversity of our nation—a nation in which we are free to express our opinions."