Philadelphia Protecting Its Law-Abiding Immigrants By Limiting Cooperation With ICE, Refusing Access to Police Database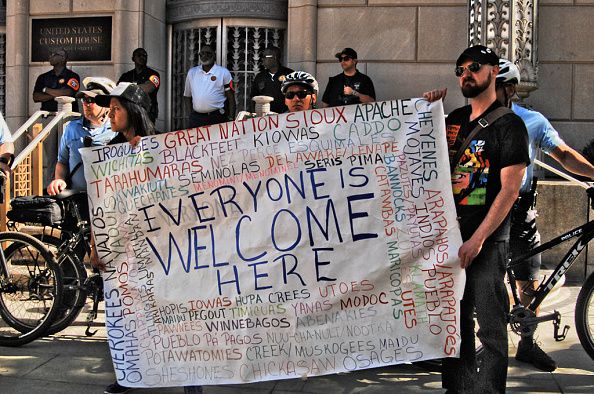 As Immigration and Customs Enforcement continues to face scrutiny for its handling of the Trump administration's "zero tolerance" policy, the city of Philadelphia has announced that it will be limiting its cooperation with the government agency.
Philadelphia Mayor Jim Kenney said on Friday that he will not renew a contract that requires the city to allow ICE agents access to PARS, a law enforcement database that alerts the federal agency of real-time arrests and has often been used against people who are in the country illegally but have not been accused of any crimes.
Kenney told the Philadelphia Inquirer that he could not "in good conscience allow the agreement to continue." The mayor also told the crowd at the press conference that "all of us have ancestors who were once immigrants." The contract is set to expire at the end of the month.
The news comes as ICE has drawn criticism for arresting undocumented immigrants who do not have any record of criminal convictions. Data released by ICE shows that the immigrants arrested between October 2017 and April 2018, during which attorney general Jeff Sessions announced the "zero tolerance" policy, nearly two-thirds of all immigrants arrested were law-abiding and had no criminal records. The data represented a 21 percent rise from the same period in 2016 to 2017, during which the transition was made from the Obama administration to the Trump administration.
Philadelphia's commitment to being a sanctuary city for immigrants comes as Donald Trump continues to crack down on immigration policy. The president has come under fire for statements during his visit to the United Kingdom earlier this month, when he said that immigrants were ruining European culture.
"I think what has happened to Europe is a shame. Allowing the immigration to take place in Europe is a shame. I think it changed the fabric of Europe and, unless you act very quickly, it's never going to be what it was and I don't mean that in a positive way. So I think allowing millions and millions of people to come into Europe is very, very sad," Trump said in an interview with The Sun.
The president has continued that rhetoric about sanctuary cities, tweeting that they are "crime infested" and have a "breeding concept." The use of the word "breeding" in the social media post was highly criticized for being seen as racist and dehumanizing term.
But Philadelphia has often boasted about how its immigrant population has been a positive thing for the city. According to a Pew study, the city had more than 232,000 residents who were born abroad, which was an increase of nearly 70 percent since 2000.
These immigrants have helped drive the city's population forward, and in the 16-year span Philadelphia's population grew for the first time in 50 years. The study also found that one in five people in the city's labor force in 2016 was an immigrant, with the biggest number working in service jobs in education, health care and hospitality industries.
On July Fourth, Kenney took a moment to celebrate immigrants having a positive effect on American history, tweeting that "we forget that immigrants built our beautiful country."