Philadelphia Riots, Looting Breaks Out As Walmart and Other Stores Ransacked
Protesters in Philadelphia looted stores and clashed with police on Tuesday evening in a second successive night of unrest sparked by the police killing of Walter Wallace, a Black man.
Footage aired by local news channel KYW-TV showed people entering a Foot Locker store and a Walmart in the Port Richmond neighborhood, northeast of the city center, before re-emerging armed with televisions and other goods.
Police said that up to 1,000 people were involved in the looting and issued a warning for others to avoid the area of Castor and Aramingo altogether as a result of the developments.
The Philadelphia Office of Emergency Management also urged people to steer clear of the vicinity, saying authorities had requested residents in several districts "remain indoors except when necessary."
"The Philadelphia Police Department is requesting that all residents in the 12, 16, 18, 19, 24, 25, and 26th Districts remain indoors except when necessary," the agency tweeted. "These areas are experiencing widespread demonstrations that have turned violent with looting."
Elijah Schaffer, a reporter for right-wing media outlet BlazeTV, claimed to have been attacked by those taking part in the looting, alleging he was targeted by "rioters while they were looting more than a dozen stores."
"Though in pain, I didn't stop reporting because Americans need to see what the corporate media refuses to show," he tweeted.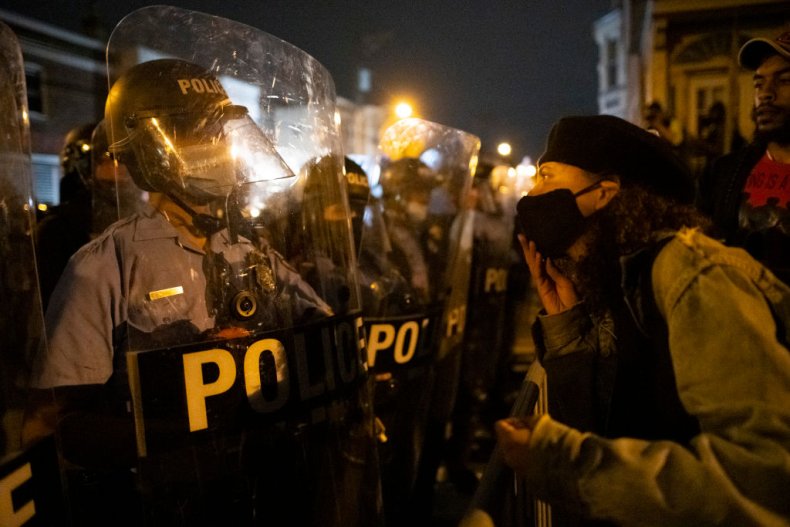 Elsewhere on Tuesday, police and protesters clashed in the western part of Philadelphia, where Wallace was killed on Monday afternoon after allegedly approaching officers while holding a knife.
A protest in the area that had started with a largely peaceful march later turned violent near a police precinct as demonstrators encountered a handful of officers.
Several of the protesters subsequently threw bricks, lightbulbs and rocks at the police, leaving one officer injured, according to CNN crew.
For the most part, Tuesday's clashes appeared to be smaller in scale and intensity than those on Monday, which left 30 officers injured and resulted in more than 90 arrests.
Pennsylvania Governor Tom Wolf, a Democrat, had mobilized the state's National Guard on Tuesday to assist police in patrolling the demonstrations and maintaining order.
The ongoing upheaval initially erupted hours after a bystander's video footage was posted on social media on Monday showing two police officers opening fire on Wallace after warning him to put down the knife he was holding.
In the video, the officers can be seen backing up before the camera cuts briefly away as gunfire erupts and Wallace collapses.
Police were responding to an emergency call from Wallace's family, who said the 27-year-old was having a mental health episode.
A lawyer for Wallace's family said he had suffered from bipolar disorder and that his condition was relayed by his wife to the officers who encountered him before the shooting.
Philadelphia Mayor Jim Kenney said footage of the incident presented "difficult questions" about the actions of the officers involved.
"Last night we saw further evidence of the anguish of Black and brown residents of our city who have struggled their entire lives under systemic racism," he told a news briefing.
Kenney also expressed sympathy for police officers injured in the protests and for the business owners whose shops were damaged amid the unrest.
"Vandalism and looting is not an acceptable form of First Amendment expression," he said, citing the constitutional right to free speech.
The Philadelphia District Attorney's Office is currently investigating the shooting of Wallace jointly with the police unit tasked with investigating officer-involved shootings.