Philadelphia Woman Allegedly Told to 'Go Back to Where You Came From' in Front of Her Kids During Recorded Incident at Amusement Park
A black woman born and raised in West Philadelphia said she was told to "go back to where you came from" by a white woman during a visit to a children's theme park.
Zafirah Moore, 26, posted footage of the incident to her Instagram this week, showing some of the unidentified woman's behavior following the alleged racist remark. They had been waiting in line on Monday at Sesame Place, a water park based in Langhorne, Bucks County.
"This is horrible," Moore can be heard saying in the brief clip. "She told me to 'Go back to where I came from.' Wow. At Sesame Place!" In response, the woman aggressively shouts back, gestures with her middle finger and begins loudly cursing in front of a large group of kids.
"Go f**k yourself you b***h," the woman who was being recorded shouts at one point. She later grabbed at the camera, yelling "don't take no pictures of me" multiples times as the children weep.
Moore's video has been viewed more than 8,000 times on her Instagram account alone but has since been widely shared across other sites, including Facebook and Twitter. The white woman was dubbed "Sesame Place Sallie" by some social media users who spread the video.
Moore told CBS 3 she was wearing Muslim clothing during the altercation and said the woman's comments may have been a result of President Donald Trump's anti-immigrant rhetoric. "I just want to tell her that I'm a person," Moore noted. I don't look like everyone else, I don't dress like everyone else, but I am a person. You can't just go around saying anything to anybody."
The footage does not contain the woman telling Moore to "go back." A witness who was close to the scene told CBS 3 a person next to her claimed to have heard the words being said.
The alleged remark came as Moore, who was there with her two children, stepped in during a separate disagreement the white woman was having with another black family, The Philadelphia Tribune reported. Park staff stepped in and removed the white woman from the area. Moore said it appeared she had been given tickets to return another time—but that has been denied.
"The guest depicted in that video was promptly removed from the park and will not be permitted to return," a Sesame Place spokesperson said in a statement yesterday.
"Creating safe and enjoyable experiences for all guests is our top priority. Our team deeply regrets that any park guest would have this experience in our park. It runs counter to everything we stand for. To be clear, the guest depicted in that video was not given tickets and will not be permitted to return to the park." Moore told CBS 3 that she intends to press charges.
Lt. Steve Forman, of the Middletown Township Police Department, told Inquirer.com the white woman remains unidentified and appealed for the public to come forward with information. "We would like to hear from the other party involved to get both sides of it," Forman said.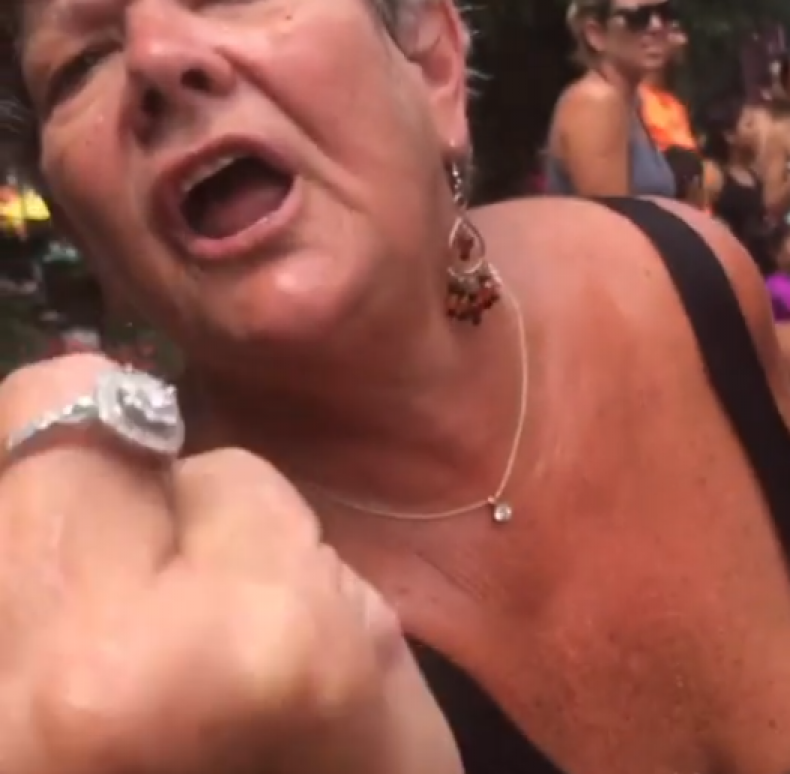 Last month, President Trump used similar rhetoric to lash out at Democratic congresswomen Alexandria Ocasio-Cortez, Ilhan Omar, Rashida Tlaib and Ayanna S. Pressley. As reported by The New York Times, only Omar was born outside of the U.S.
Via his personal Twitter account, the president wrote: "So interesting to see "Progressive" Democrat Congresswomen, who originally came from countries whose governments are a complete and total catastrophe, the worst, most corrupt and inept anywhere in the world (if they even have a functioning government at all), now loudly and viciously telling the people of the United States, the greatest and most powerful Nation on earth, how our government is to be run.
"Why don't they go back and help fix the totally broken and crime infested places from which they came. Then come back and show us how it is done. These places need your help badly, you can't leave fast enough." The president's statement was quickly condemned as "xenophobic" by House Speaker Nancy Pelosi, who added: "Our diversity is our strength and our unity is our power."