How Temple University is Dealing With Philadelphia Shooting After Maurice Hill Allegedly Wounds 6 Police Officers
After multiple police officers were shot in Philadelphia near Temple University's Health Sciences Center campus, the university reminded people of its motto.
On Wednesday, during an hours-long standoff with a gunman, who had hostages in a home in the Philadelphia neighborhood of Nicetown-Tioga, six police officers were shot. The officers, who sustained non-life threatening injuries, were taken to Temple University Hospital and Einstein Medical Center.
Temple University issued a lockdown order for the Health Sciences Center Campus, telling people to seek shelter, secure doors and be silent and still. The main campus, located about two miles away, was not impacted, but the Health Sciences Center Campus remained on lockdown for about two hours. Hours after lifting the lockdown, the all-clear was given and people in the area were able to resume their normal activity.
"In difficult moments like these, we remember our motto, 'Perseverance Conquers,'" Temple University posted on Twitter. "Our gratitude to [the Philadelphia Police Department] and the hospital personnel is immeasurable, and we know the resilience of North Philadelphia will shine through, because perseverance always conquers."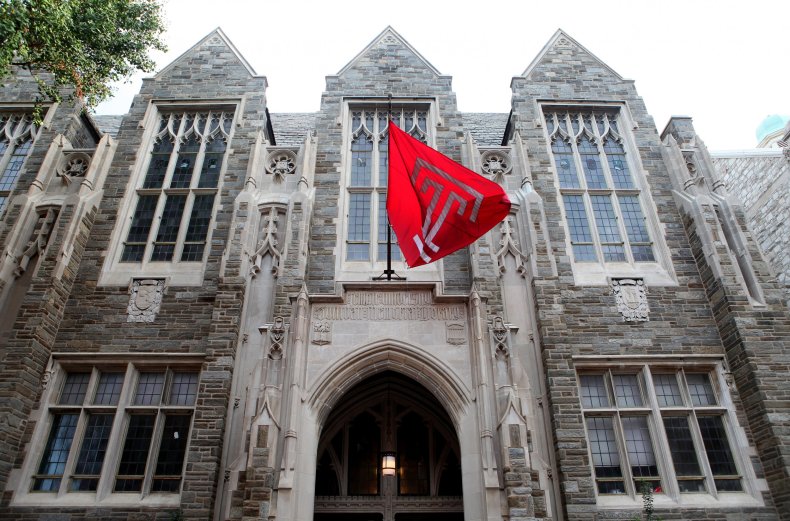 Officers were first called to the scene to deliver a narcotics warrant and Maurice Hill, identified as the suspect, allegedly opened fire on them. Two officers were trapped on the second floor and there were three other hostages in the home, all of whom were released.
Hill's lawyer Shaka Johnson told KYW-TV that Hill called him "in a panic" and didn't want the situation to end violently. Johnson explained that he told Hill he had to surrender.
The standoff lasted more than seven hours and after a SWAT team member fired a tear gas canister into the house, the suspect walked out and was apprehended.
"It was a narcotics warrant that went awry almost immediately," Philadelphia Police Commissioner Richard Ross said. "It's nothing short of a miracle that we don't have multiple officers killed today."
Ross told reporters that officers likely didn't expect Hill to be as heavily armed as he was given that it was a narcotics incident. It's unclear if Hill was the subject of the warrant and Ross noted that if he wasn't on the deed of the house, where it was suspected drugs were being sold, that officers may not have even known he lived there.
"Let's be clear, the police did an awesome job today. They were very patient, this had been going on for hours," Johnson told KYW-TV. "Commissioner Ross could have pushed a button long before he did, quite frankly. So I want to give credit to the police for having some sort of patience with all of this ... This could have gone very badly earlier in the day."
All six officers who were shot were released from the hospital. However, Ross said on Thursday morning he wasn't sure if a seventh officer, who was injured during a car accident while responding to the scene, was still receiving treatment.
Hill had, by his own admission according to Ross, an "extensive" criminal history and just as Johnson applauded Ross' decisions, the police commissioner credited Johnson for helping to bring an end to the situation.