The Philadelphia Department of Public Health warned residents on Monday to avoid unauthorized pop-up tents providing COVID-19 tests in the city.
The department said it was notified last week of two pop-up tents that offered free COVID-19 testing in the Center City neighborhood.
"The staff who worked at these sites claimed they were funded by FEMA [Federal Emergency Management Agency]," the health department said in a statement. "Over the weekend, it was confirmed that these sites were not funded by FEMA."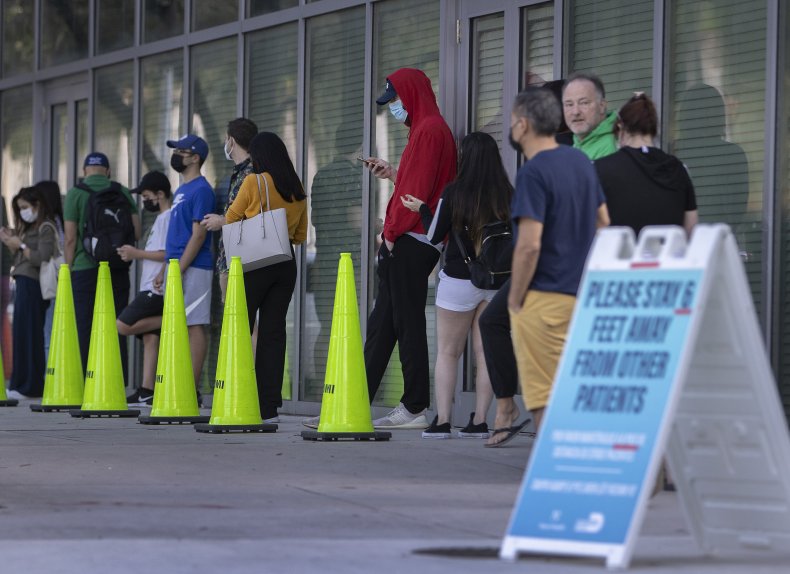 The health department said it's not clear if unauthorized pop-up sites offer legitimate testing. However, residents are advised to avoid them and call the health department at (215) 685-5488 to report such sites.
"When we confirmed with FEMA that they're not funding anything like this, we sent a warning out to the public to let them know to be careful about where they're getting tested," James Garrow, a spokesman for the Department of Public Health, told local ABC affiliate WPVI-TV.
A spokesperson from FEMA told Newsweek that the agency has been in contact with Philadelphia officials on the matter.
"The City of Philadelphia is correct," the spokesperson said. "FEMA is not affiliated with the sites being reported."
The city's health department posted about the pop-up sites on its official Twitter account Monday.
According to The Philadelphia Inquirer, the unauthorized sites in question were operated by Lab Elite, a Chicago-based company that reportedly had multiple tents set up in Center City as of late December.
Two pop-up tents were reportedly closed after the president of Lab Elite was advised that a worker at one of the sites allegedly claimed to be a FEMA affiliate.
Newsweek contacted Lab Elite for comment but did not receive a response from either as of press time. Lab Elite's president, Zishan Alvi, did offer a comment to WPVI-TV.
"Saying that Lab Elite was hired by FEMA to do the testing over there, that information is incorrect," Alvi said.
Garrow said that the city can't recommend residents use such sites because proper vetting hasn't been conducted.
"Even if these places are legitimate, we don't know about them, and it's tough for us to be able to separate a legitimate organization from a non-legitimate organization," Garrow said, per WPVI-TV.
The Philadelphia Department of Public Health maintains a list of authorized testing sites, as well as an online locator to help people find available testing options. The department has advised residents that getting a COVID test may be difficult due to the high demand and that anyone experiencing symptoms who cannot find testing should behave as if they are already positive.
Philadelphia currently has an average of 2,654 new cases of COVID-19 per day over the last two weeks, which officials attribute to the emergence of the Omicron variant, cold weather forcing people indoors, and holiday gatherings.
Newsweek also contacted the Philadelphia Department of Health for more information but did not hear back in time for publication.
Update 01/04/22, 3:00 p.m. ET: with comments from a FEMA spokesperson.