Philip Rivers Passes Dan Marino and Joe Flacco Leaps Joe Montana on Vaunted QB Career Passing List
So, the year 2020 has worked its way into weird NFL statistics. Joe Flacco and Philip Rivers most likely don't come to mind when it comes to all-time quarterback greats. But in a span of four days, they each passed all-time greats who are enshrined in the Professional Football Hall of Fame.
In Thursday night's game between the Indianapolis Colts and Tennessee Titans, Colts quarterback Philip Rivers moved into fifth all time in career passing yards, passing Dan Marino. Philips completed an 11-yard pass to Jonathan Taylor to take the fifth spot past Marino.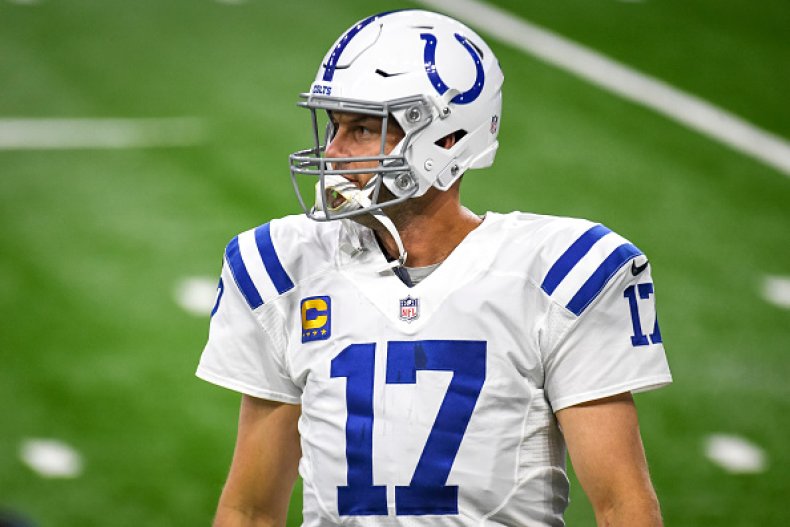 Marino finished his career with 61,361 career passing yards, which is now sixth in NFL history. Philips, who trailed Marino by just three yards entering Thursday night's game, is now fifth—the game was still in the first quarter at time of this publication. The top four on the list are Drew Brees (79,536), Tom Brady (76,969), Payton Manning (71,940) and Brett Favre (71,838).
Just last Sunday, Flacco scooted past Joe Montana on this same list during a New York Jets loss to the New England Patriots. Flacco is now 20th all time with 40,726 passing yards in a career, passing Montana's 40,551.
Here are the NFL's top 25 leaders in career passing yards. (Bold-active, * Hall of Fame inductee, + during Thursday night game)
79,536 — Drew Brees
76,969 — Tom Brady
71,940 — Peyton Manning
71,838 — Brett Favre*
61,SGS — Philip Rivers+
61,361 — Dan Marino*
58,479 — Ben Roethlisberger
57,023 — Eli Manning
53,932 — Matt Ryan
51,475 — John Elway*
49,325 — Warren Moon*
49,199 — Aaron Rodgers
47,003 — Fran Tarkenton*
46,247 — Carson Palmer
46,233 — Vinny Testaverde
44,611 — Drew Bledsoe
43,152 — Matthew Stafford
43,040 — Dan Fouts*
40,922 — Kerry Collins
40,726 — Joe Flacco
40,551 — Joe Montana*
40,239 — Johnny Unitas*
38,147 — Dave Krieg
37,920 — Boomer Esiason
37,276 — Donovan McNabb
Rivers spent his entire career with the San Diego Chargers (and eventual Los Angeles Chargers) before signing with the Colts during the offseason.
Flacco spent most of his career with the Baltimore Ravens, but now starts with the New York Jets after previous starter Sam Darnold's injury.