Philip Rivers Quietly Having Best Season of Hall of Fame Career | Opinion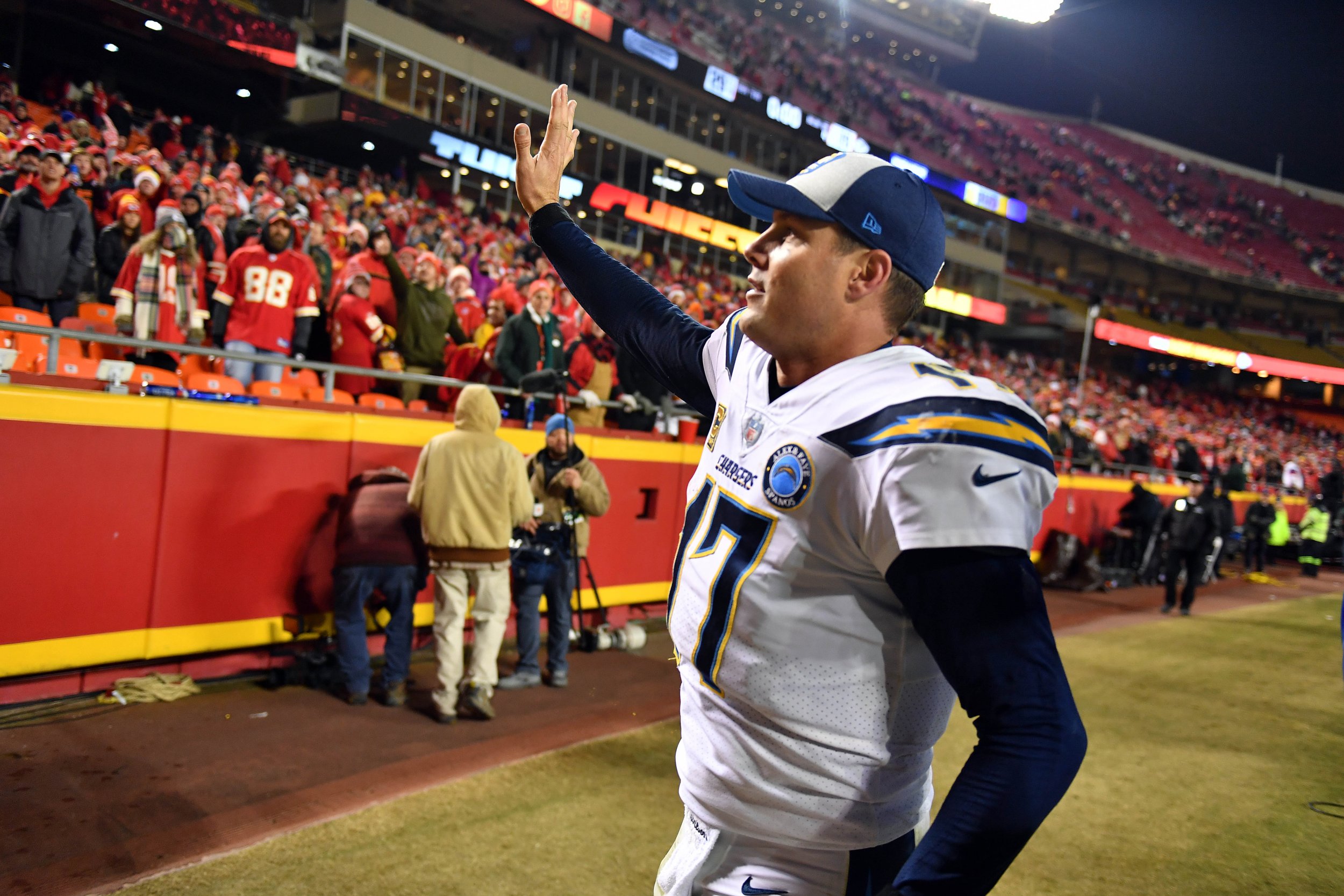 The Los Angeles Chargers' improbable win on Thursday night was symbolic. Much like their season, the Chargers never led the Kansas City Chiefs throughout the entire contest until pulling ahead in the game's final seconds.
Fittingly, as time expired, Los Angeles grabbed a share of first place in the AFC West Division standings for the first time in 2018. The Chargers lost their first matchup against the Chiefs, 38-28, in Week 1 and had been have been chasing Kansas City all season until Thursday night's victory.
Once again, veteran quarterback Philip Rivers led the charge.
After throwing two interceptions early, Rivers finished with 313 yards and two touchdowns on 26 of 38 passing, which included rallying back from a 14-point deficit midway through the fourth quarter to score 15 unananswered points.
The veteran led eight-play, 60-yard drive in the final 2:33 to tie the game at 28 with four seconds remaining. Rather than playing for overtime, he connected with Mike Williams on a successful two-point conversion pass to give Los Angeles its first lead of the game.
Rivers is quietly having a career season, which is saying something considering he's put together a Hall of Fame career. The veteran ranks fourth in passing yards (3,951), third in passing touchdowns (31) and third among NFL starting quarterbacks in passer rating (112.4).
But, much like his career, Rivers' brilliant performance has been overshadowed by others. His opponent on Thursday, Patrick Mahomes, will most likely win the MVP award with a historic first season as the Chiefs' starting quarterback. Drew Brees of the New Orleans Saints is also getting more love than the Chargers quarterback as the veteran passer defying father time and putting up big numbers for a legitimate Super Bowl contender.
It's what we've always seen with Rivers. He's been overshadowed by fellow first-rounders from the 2004 NFL Draft, Eli Manning and Ben Roethlisberger, throughout his career. While Rivers (4-5 career playoff record) has seen little postseason success, Manning and Roethlisberger each have two Super Bowl victories, which has secured their respective legacies.
However, Rivers has the most career touchdowns (371), highest passer rating (96.0), completion percentage (64.6) and least amount of interceptions thrown (172) among the three quarterbacks. He also has the same amount of career wins as Manning, despite appearing in 20 less games.
Rivers deserves more credit for putting together a Hall of Fame-caliber career and having arguably his best season in his 15th year. But postseason success is the one thing that's always alluded him.
However, this year's Chargers team might be the most talented that Rivers has played on. Mike Williams, who recorded three touchdowns on Thursday and Keenan Allen have been excellent options at wide receiver, while tight end Antonio Gates is still among the league's best at his position.
Los Angeles will eventually get running back Melvin Gordon back from injury, but his replacements have provided enough help to keep the team's winning streak alive. The Chargers defense is continuing to improve and managed to keep Mahomes out of the end zone during the second half.
This season could be Rivers' best chance at making a deep playoff run, which would be the feel-good story of the NFL postseason and provide the perfect validation for a Hall of Fame worthy career.