Who Is Philipp Plein? German Designer Accused of Fat Shaming Fashion Writer Who Criticized His 2019 NYFW Show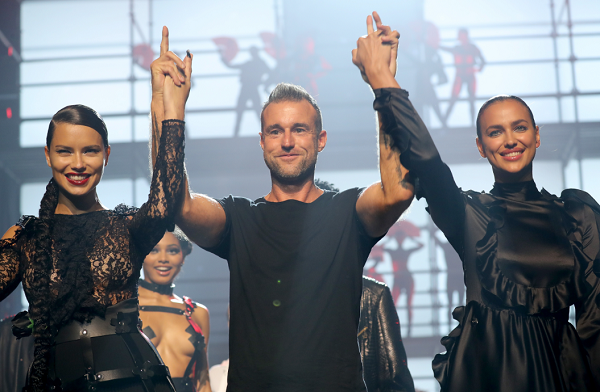 Fashion designer Philipp Plein is facing a wave of criticism and it's not because of his latest showcase at New York Fashion Week or the botched Kanye West performance attendees were promised, which apparently never actually occurred. It's because of his latest retaliation against a fashion writer, of which he reportedly fat shamed because of her "admittedly harsh" review of his show.
Journalist Alexandra Mondalek wrote a spicy exposé about Plein's 2019 "dinner show event" for Fashionista with the headline: "Philipp Plein's Fall 2019 Show Was Just As Tragic As The Kanye West Scam That Surrounded It." Mondalek's hot take, in which she ridiculed the mismanaged event, was published on the fashion news site on Tuesday, a day after the anticipated Plein show.
The advertised West performance that never happened was the least of Mondalek's criticism of the fashion show. "With a disorganized 'black tie' dinner and a collection more disappointing than the event itself, it's about time we stop giving Plein ours once and for all," Mondalek wrote.
Mondalek noted the event's swanky venue, The Grill in Manhattan, was flooded with a bevy of celebrities, including Paris Hilton, Johnathan Cheban, Coco Rocha, EJ Johnson and several others. However, the majority of the people invited to the show were forced to stand. There was not enough seating for all the guests, unlike what she was initially told. "To be clear, it was a humiliating hoodwink, upon which I'd unknowingly entered a Plein-approved caste system, relegated to the bottom, where I wasted my night overlooking a hodgepodge of rich people, C-list celebrities, social media starlets, models and has-beens—both on and off the runway," she wrote.
It didn't take long for Plein to catch wind of the unforgiving review, which resulted in the German designer trolling Mondalek on his Instagram Story with comments questioning her journalistic integrity and making remarks suggestive of the writer's weight. Mondalek took screenshots of all the posts, which she later shared on her own Instagram account as well as Twitter. "Oh my god I'm getting fat shamed by Philipp Plein on Instagram."
In one of Plein's post shared to his 1.6 million followers, he uploaded an old picture of the writer with the caption: "Next time I make sure that you will get enough food ! I promise ……"
Mondalek replied noting the photo was "on BFA 25 lbs ago."
The designer also posted a photo of Amanda Bynes, making another dig about food. "And he confused me for Amanda Bynes? Like congrats dude you found an awful photo of me on BFA but your collection still sucks," Mondalek wrote.
In a final post, Mondalek wrote, "Talk about professionalism! Plein attacked me on such a disgusting personal level because I said his event was mishandled + his clothes were ugly. Body shamming is NEVER ok and especially not from someone with a platform like his."
Plein deleted the posts and later issued a statement to Mondalek on his Instagram Story on Wednesday. "I'm reaching out to you because I really wanted to make a few things clear," he said. "I got really really upset when I saw your article and your tweets, which you put up online yesterday, because I don't really know if you [are] aware of how much work and how much energy you put in such a production and such a show."
"I feel very upset if someone attacks me in such an aggressive and bad way, and I felt like your article was not really based on facts. It was more like very emotional, so I got very emotional also, affected," he continued before noting that he was wrong for his response to her.
"This is where I probably made a mistake—not probably, definitely made a mistake—by putting up a picture of you and food because you were talking about food [in the article]. If you were talking about chairs, I would have put up chairs," he said. "I have no problem with overweight [people]. I've used overweight models in my fashion shows and even my campaigns. You can look it up."
Plein ended by inviting the writer to his next show.