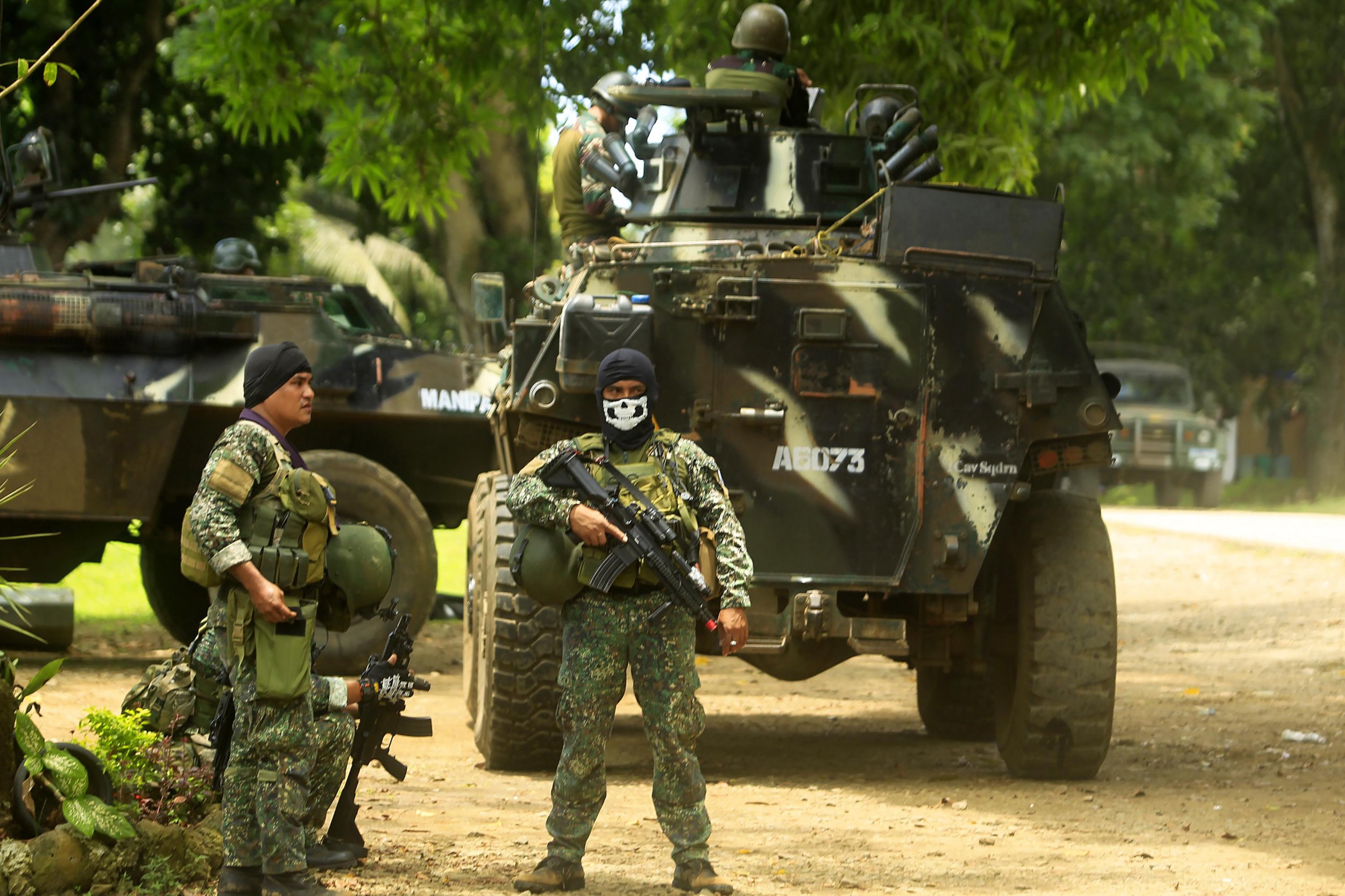 The Philippine military has launched a new air and ground offensive on radical Islamist militants, wounding its top target, an extremist identified as the leader of the Islamic State militant group (ISIS) in the country, officials said Friday.
Airstrikes, coupled with a ground offensive, killed at least four suspects and wounded Isnilon Hapilon, the leader of the Abu Sayyaf militia that has pledged allegiance to ISIS, the Philippine Defense Secretary Delfin Lorenzana told the Associated Press (AP).
"Army troops are still in hot pursuit," Lorenzana said, after Hapilon fled a camp in the mountainous area of Butig town in the southern Lanao del Sur province, located more than 500 miles south of the capital, Manila.
Hapilon, also known as Abu Abdullah, appeared in the video in which Abu Sayyaf pledged allegiance to ISIS in June 2016. It was ISIS's first acceptance of a Southeast Asian jihadi group.
U.S. security services have placed a bounty of $5 million on Hapilon's head. He is on the FBI's most wanted list for his part in the kidnapping of 17 Filipinos and three Americans in 2001.
He had established a base in the southern island of Basilan but in December moved to Butig to set up a new stronghold for the ISIS affiliate, AP reported.
Read more: Who Are the Filipino Militant Group Abu Sayyaf?
Meanwhile, Friday President Rodrigo Duterte called on Muslim separatist groups to refuse shelter to ISIS-linked militants. He warned that the "contamination" of Islam could lead to a war that would lead to a significant loss of civilian life.
"I am earnestly asking, I am pleading to the MNLF and the MILF, do not provide sanctuary to the terrorists in your areas," he told troops in the southern Philippine region of Mindanao, referring to two separatist groups, the Moro Islamic Liberation Front and the Moro National Liberation Front.
Abu Sayyaf, which stands for "bearer of the sword," uses kidnap and ransom demands to fund its activities. It has kidnapped more than a dozen Indonesian and Malaysian sailors this year, boarding boats off the Philippine coast, and seven people remain in its possession, alongside a Dutch national, a German national and seven Filipinos.
Last year it beheaded Canadian national John Ridsdel in April in the southern province of Sulu after a ransom deadline passed, and also beheaded his fellow countryman Robert Hall in June. Canada has a policy of not paying the ransom demands of extremists.
But the group is also responsible for the most deadly extremist attack in Filipino history: the 2004 Superferry 14 bombing that left 116 people dead. The U.S. has designated the group as an extremist organization.