Philippines Arrests Top Female ISIS Recruiter of Foreign Fighters for Marawi Battle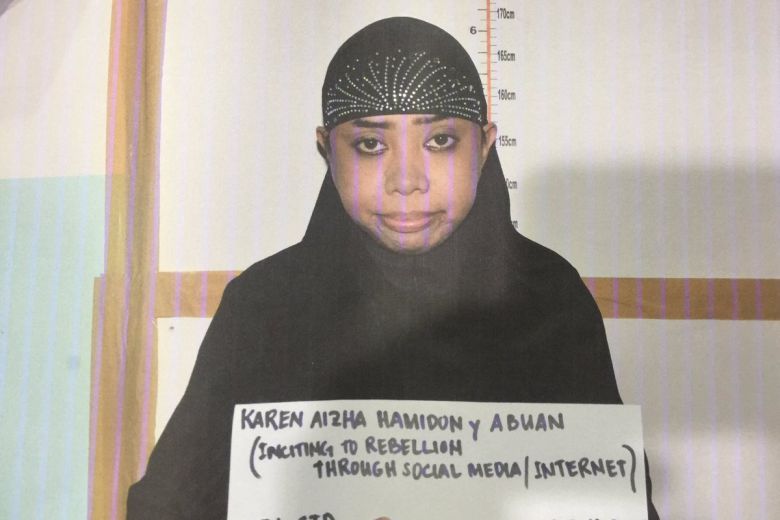 Philippine authorities have arrested an alleged top female recruiter for the Islamic State militant group (ISIS), one who is suspected of drawing foreign fighters from around the world to the southern city of Marawi, where jihadis have waged a five-month offensive.
Karen Aizha Hamidon, 36, is accused of using social media to try to attract militants to help ISIS-linked groups in the Philippines, Abu Sayyaf and the Maute group, to wrest the city from Philippine authorities. Authorities claim she is connected to 296 social media posts that were aimed at recruiting to the ranks of the ISIS-affiliated Muslim militants in the southern city.
"It is very clear that her actions are in conspiracy, or in sync, with actions of the rebels. While her companions are fighting in Marawi, her part is to further recruit fighters to assist in the Marawi siege by the ISIS and Maute groups," Justice Secretary Vitaliano Aguirre II said in a press conference Wednesday.
"So in my opinion, she should be charged not only of inciting to rebellion but of the crime of rebellion itself," he added.
He said Hamidon gained international notoriety in mid-2016, when she successfully attracted several Indian nationals to the Philippines to join the radical Islamists in the southern province of Mindanao.
In the press conference at the National Bureau of Investigation in Manila, the justice secretary showed a mug shot of Hamidon, clad in a burqa.
She was married to two notorious jihadis, one now dead and one arrested, both with links to the Islamist group. She was the wife of Singaporean Muhammad Shamin Mohamed Sidek, arrested in his home country for his connection to ISIS.
Hamidon was also wed to Mohammad Jaafar Maguid, who led a radical Islamist group linked to ISIS known as Ansar al-Khilafah Philippines. The country's police killed him in January.
The five months of fighting in Marawi has killed hundreds, many in fierce street-to-street battles. President Rodrigo Duterte this week said the siege had ended, despite ongoing battles. The militants hoped to turn the southern province into a de facto Islamic state as an extension of the jihadi group's self-styled caliphate in Iraq and Syria.
Evidence has surfaced that suggests the jihadis laying siege to the city are not simply acting on the inspiration of ISIS, but that the group's central command in Syria has been funneling funds to Asian militants to help the offensive.
The battle for Marawi, which began in May 23, was the most significant capture of Asian territory by an ISIS-linked group, and the most notable seizure outside Iraq and Syria since ISIS seized the Libyan central coastal city of Sirte in mid-2015.