The Philippines Declares Dengue Epidemic As Deaths Surge To 622 Since January
The Philippines declared the country's outbreak of dengue to be a national epidemic on Tuesday as the flare-up of the mosquito-borne disease has caused 622 deaths since January.
The Philippines Department of Health said it had recorded 146,062 cases of dengue from January through July 20, 98 percent more than during that same period in 2018, according to the Associated Press.
The agency said Health Secretary Francisco Duque made the declaration so that officials can identify areas in need of emergency attention, and improve the response to the outbreak by allowing local governments to draw on a special Quick Response Fund.
"As part of our data, is 5,100 cases per week average," said Duque at a press conference about the epidemic on Wednesday. "This is really staggering. This is going to be a record number."
The infection causes a flu-like illness but occasionally becomes more severe. The disease can lead to hemorrhaging and organ failure in severe cases and there is no specific treatment for the illness. The global incidence of dengue has grown dramatically in recent decades, according to the World Health Organization.
The outbreak follows a nationwide ban in February on the sale and distribution of the Dengvaxia vaccine, a dengue vaccine made by French pharmaceutical firm Sanofi Pasteur. Reporting from The Guardian on Wednesday shows that the company had been at the center of a scandal in the Philippines in late 2017 and 2018 when dozens of children given the vaccine as part of a nationwide immunization program died.
Dengvaxia is currently the only dengue vaccination available on the market, but the WHO recommends that it should only be given to those in high risk areas who have already been exposed to the virus. It is rarely used in mass immunization campaigns.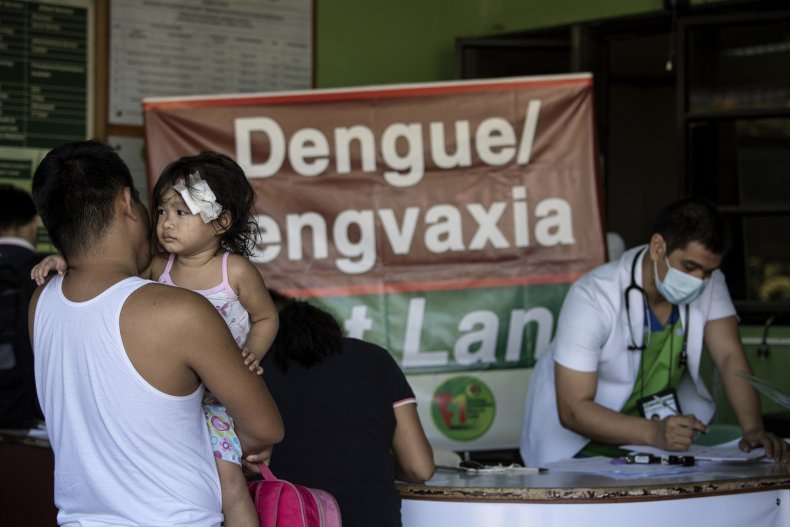 Nationwide panic and widespread mistrust of vaccines caused by the Dengvaxia scandal led immunization rates for both dengue and measles to rapidly decrease in the Philippines, which resulted in an ongoing measles epidemic across the country and now the dengue epidemic.
These spikes aren't isolated to just the Philippines. Last week, more than 1,000 people in Bangladesh were diagnosed with dengue in a 24-hour period, and hospitals are now overflowing with patients.
Dengue fever affects more than 400 million people each year around the world, according to the BBC, and most of them live in tropical areas. Most cases of severe infection are detected in children.
While there is no preventative treatment for Dengue, it can be avoided by wearing insect repellent and clothes that cover the skin.