Philippines' Duterte Approves $5.6 Billion Military Upgrade Bill to Boost Domestic, International Security
Philippines' President Rodrigo Duterte has approved a $5.6 billion bill to upgrade the country's outdated military equipment, some of which dates to World War II, defense officials said Wednesday.
The president's approval will provide the military with a range of new equipment as the government attempts to prevent future Islamic State-inspired uprisings, like the one that roiled Marawi last year. The upgrade occurs as the country attempts to reinforce claims in the strategically valuable South China Sea.
The government had already drafted plans to purchase four submarines. With the new funding, defense department spokesman Arsenio Andolong said, this plan could be accelerated. Duterte also earmarked $1 billion for helicopters and tanks.
Although the previous president, Benigno Aquino, oversaw the purchase of $1.7 billion in military equipment, much of this money was spent on used ships and planes. Duterte's five-year plan will allow the military to decrease reliance on outdated ships and helicopters.
"We have the go signal now to buy brand-new equipment, like fighters, drones, light tanks, radar, an additional frigate and a submarine to boost our defense capability," an anonymous defense official told Reuters.
An anonymous senior general told Reuters that the president had already approved 33 different projects to upgrade and modernize military capacities. The general said these projects prioritize domestic security and protection of the country's maritime borders.
"We're putting a premium on unmanned aerial vehicles, long-range patrol aircraft, offshore patrol ships and an electric-diesel submarine," the senior general said.
Last year, a fierce battle between Islamic-State inspired fighters and government forces consumed Marawi, the Philippines' largest Muslim city, for nearly five months. More than 1,000 people died in the fighting and in May, a year after the violence began, tens of thousands of Marawi residents still could not return to their homes.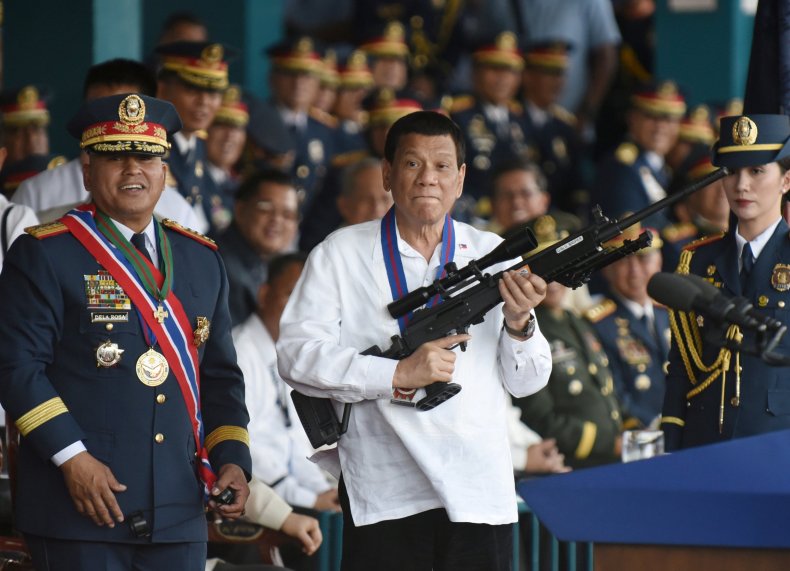 The potential threat of another uprising deeply concerns the government and preventing further large-scale fighting is a major focus of domestic security efforts.
The military upgrades come as Manila is raising territorial claims in the contentious South China Sea, which contains large oil reserves and has $5 trillion worth of trade products flow through it each year. China claims control of a large part of the sea and has recently made aggressive military overtures that reinforce the country's presence in the contested passage. Brunei, Malaysia, Taiwan and Vietnam also assert territorial claims in the sea.
Two senior government officials said last month that Duterte would go to war over the South China Sea if provoked.