Philippines's Duterte Needs 'Psychiatric' Test after Listing Human Rights Investigator as Terrorist: Top U.N. Official
U.N. High Commissioner for Human Rights Zeid Ra'ad al-Hussein strongly condemned Philippines President Rodrigo Duterte on Friday for his government's decision to include a U.N. investigator on a list of 600 people declared to be Communist terrorists.
Victoria Tauli-Corpuz, U.N. special rapporteur on the rights of indigenous peoples, was named in a government petition presented to a court in Manila last month. The petition accuses her of terrorism and alleged membership of the New People's Army (NPA) and the Communist Party of the Philippines (CCP). A former Philippine lawmaker and four former Catholic priests were also included on the list.
"These attacks cannot go unanswered. The U.N. Human Rights Council must take a position," al-Hussein said at a news conference Friday. "The president of the Philippines needs to submit himself to some sort of psychiatric evaluation. This sort of comment really is unacceptable, unacceptable."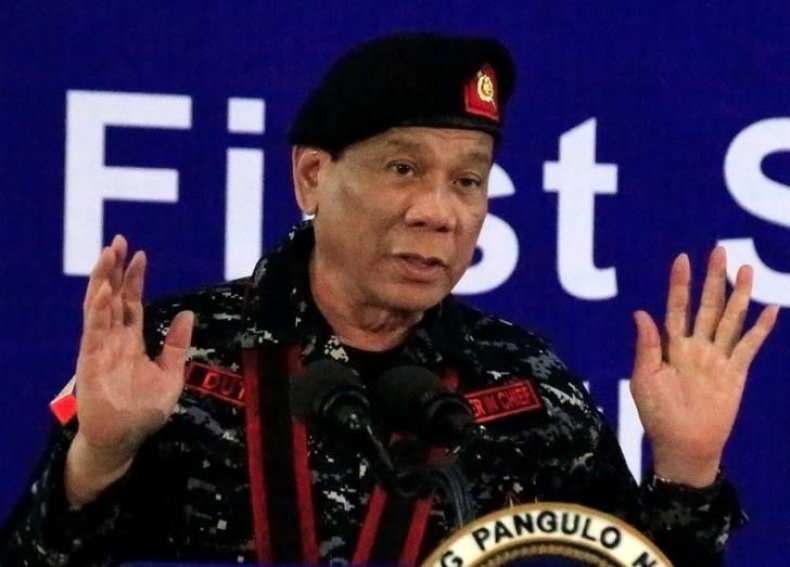 His comments add to the outrage felt by Tauli-Corpuz's fellow rapporteurs. "We are shocked that the special rapporteur is being targeted because of her work defending the rights of indigenous peoples," said Michel Forst, special rapporteur on the situation of human rights defenders, and Catalina Devandas Aguilar, chairperson of the Coordination Committee of the Special Procedures, in a joint statement. "This accusation is considered as an act of retaliation."
Tauli-Corpuz called the inclusion of her name "baseless, malicious and irresponsible" in a statement issued on Thursday, when she became aware of the list. "I am consulting my lawyers on what legal courses of action to take to clear my names and even make accountable those who put my life and security at risk," she wrote.
In October, Duterte said an offensive in the city of Marawi, linked to the Islamic State militant group (ISIS), was over. He then turned his attention to Communist insurgents. Duterte ditched intermittent peace talks with Maoist-led rebels a month later and designated the NPA and the CCP terrorist organizations in December.
The firebrand president made international headlines in February after saying during a speech that female fighters who join the NPA should be shot "in the vagina." Philippine women's rights group Gabriela accused Duterte of promoting violence against women with his comments and led a demonstration against the president on Thursday for International Women's Day.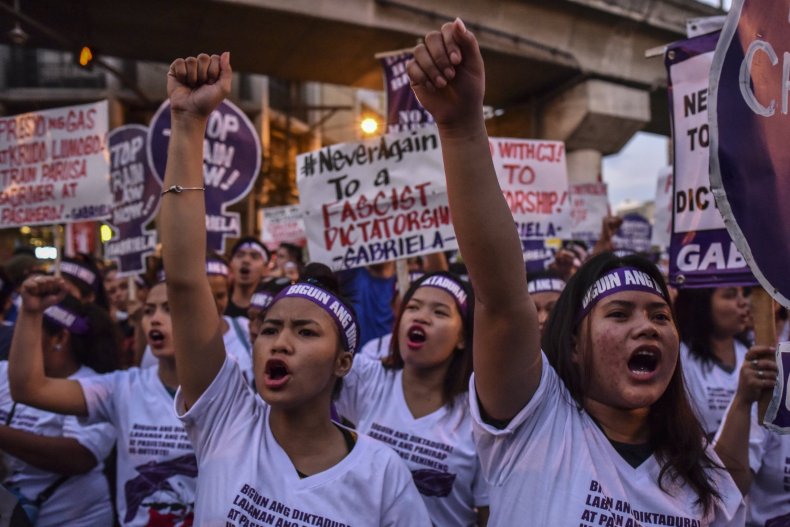 "The current administration of President Duterte...has proven to be perhaps the most macho-fascist presidency that the Philippines has ever had. A presidency that has made a joke of women's existence," Gabriela Secretary-General Joms Salvador told the crowd at the march, as quoted by Reuters.
Demonstrators held posters saying an impeachment process from Duterte's congressional allies against Supreme Court Chief Justice Maria Lourdes Sereno was "tyranny." Sereno told a meeting of women judges she would fight "lies, threats, harassment and bullying," Reuters reported.
Duterte has often brushed off accusations of human rights abuses in his country, particularly in relation to the extrajudicial killings of thousands of people suspected of being drug users or traffickers perpetrated during a so-called "war on drugs."
"When it comes to human rights, or whoever rapporteur it is, my order to you: Do not answer. Do not bother," Duterte said in a speech to elite forces on March 1 following news that the International Criminal Court was opening a probe into the drug war.