Philippines Duterte: Rapes Will Continue 'As Long As There Are Many Beautiful Women'
Philippines President Rodrigo Duterte, whose propensity for inappropriate and offensive comments have already made him infamous, is now blaming women for high rates of rape in the archipelago nation.
At a speech in the central city of Cebu Thursday night, the president claimed the beauty of local women was behind the high rate of rape in Davao City, where he once served as mayor.
"They say there are many rape cases in Davao," Duterte told his audience, according to The New York Times. "Well, for as long as there are many beautiful women, there will be many rape cases, too," he said.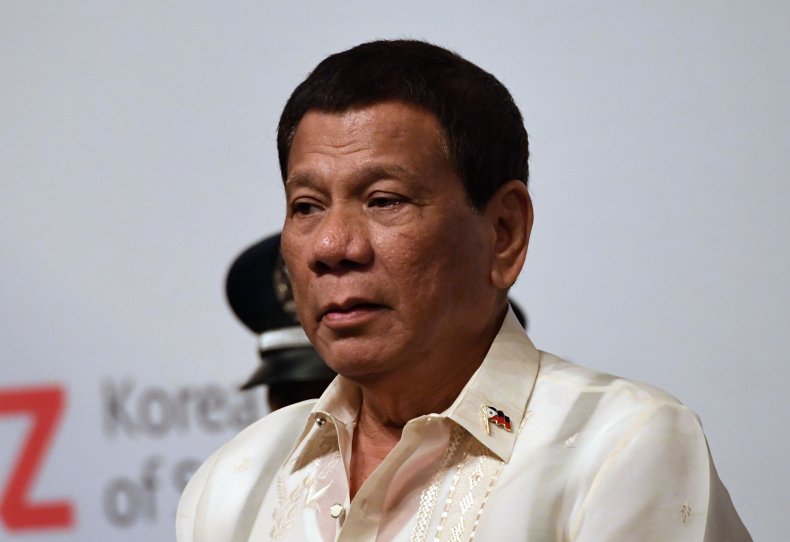 In a rambling series of apparent jokes, the 73-year-old also said women rarely agree to sexual advances "on the first try." As the audience laughed along, Duterte asked, "Who agrees to do it on the first request anyway? Will the woman allow it? No. 'Don't, no, ahhh.' Nobody agrees to do it on the first try. That is rape."
"Even when they're inside the cinema, she will push him away. 'No, don't.' There are so many beautiful women. But if you happen to sit beside someone toothless, would you still want to do that?" he continued.
Women's rights activists spoke out against the president's comments Friday. A coalition of women's groups called #BabaeAko—meaning I Am Woman—said in a statement, "Instead of seriously addressing the problem, the misogynist Duterte has added insult to the scars of rape survivors."
The group said the president was victim-shaming women, and stressed, "Rape is a heinous crime based on entitlement and on the false assumption that women are chattel, to be owned, to be punished according to the whims of men."
Davao had the second highest number of reported rapes in the country in the second quarter of 2018, with 42 offenses recorded. Between 2010 and 2015, the city had the second largest number of rape cases in the Philippines at 843, according to Philippine National Police data.
Duterte has attacked women many times during speeches in recent years. On the presidential campaign trail, he made jokes about the gang rape and murder of an Australian missionary during a prison riot in Davao in 1989. "I was mad she was raped but she was so beautiful. I thought, the mayor should have been first," he said.
In July 2017, he suggested it would be acceptable for someone to rape the winner of the Miss Universe Beauty pageant, while earlier that year he joked with soldiers that they would be allowed to rape three women without consequence.
In February, the president warned female communist rebel fights, "We will not kill you. We will just shoot you in the vagina." He then suggested that these women would then be "useless."
Then, in June, Duterte demanded an on-stage kiss from a married woman at a meet and greet event with the Filipino community in South Korea. As the embarrassed woman left the stage, Duterte told the audience, "Don't take it seriously. It's just for fun, a gimmick."