Philippines' Duterte Thinks the U.S. Is Trying to Kill Him and Takes Free Weapons From Russia and China Instead
Philippine President Rodrigo Duterte warned Thursday that the U.S. may be out to get him after he considered turning to its top competitors for weapons.
While addressing an audience gathered at Malacañang Palace in Manila, Duterte blasted Washington's decision to block arms sales to the Philippines over concerns regarding the ongoing, violent war on drugs there. He said his decision to instead receive weapons from China and Russia may prove to be fatal.
Related: Philippines' Duterte Says He Will Step Down Early Because He's 'Old' and 'Would Like to Rest'
"The fact is, the Americans really do not honor their word," Duterte told the crowd of farmers and fishermen, as translated by Al Jazeera.
"At least, if ever my airplane explodes, or if some roadside bomb explodes, maybe you can ask the CIA," he added.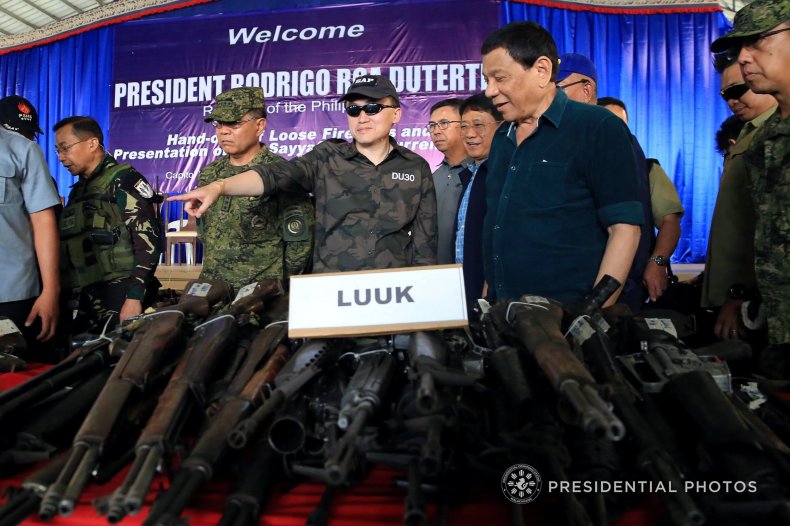 Duterte also bragged about being offered free weapons during meetings with Chinese President Xi Jinping and Russian President Vladimir Putin, two powerful heads of state who have sought to check U.S. influence in Asia, according to The Philippine Daily Inquirer. As China and Russia pledged greater military ties to one another, Duterte reportedly said he was not ready to enter into such an alliance.
Duterte did, however, receive weapons from both Russia and China as he battled a drug crisis and a growing insurgency from jihadis affiliated with the Islamic State militant group (ISIS) in the country's restive south. The Philippines, a staunch U.S. ally, has steadily drifted toward China under Duterte.
Since becoming president in 2016 and launching his war on drugs, Duterte has routinely denied accusations of human rights abuses and has even instructed his security forces to ignore international investigators. He has also issued explicit warnings to other world leaders not to get involved and has previously suggested U.S. spies may be after him.
"One day, I will just drive you away. It's either they—your cahoots here—will have to kill me, or you have to get out of my country. Choose," Duterte told Filipinos in Vietnam last October, according to the Manila Standard. "As for me, I'll be telling Filipinos: if I die, it's America [that's behind it]. It's the CIA."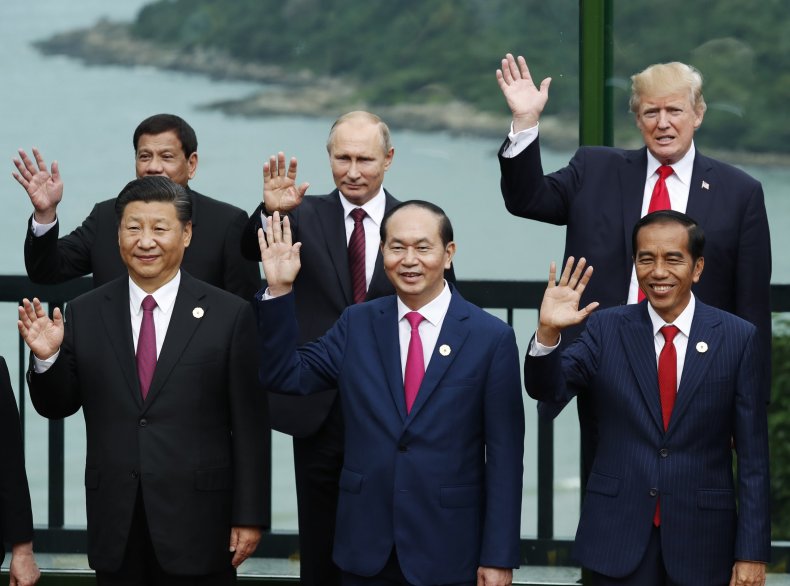 He has also threatened to have his own son killed if allegations of his links to the illegal drug trade proved to be true and, despite widespread concerns abroad, Duterte's hardline methods have remained popular at home. President Donald Trump has in the past praised the Philippine leader and his methods.
Duterte has also received support for his advocacy in trying to transform the Philippines into a federalist political system, one that proponents say would allow local governments to better address social, economic and security issues. Critics, however, suspect Duterte could use the opportunity to reform the constitution to extend his own six-year term limit, which was set to end in 2022.
Responding to this, Duterte told his military and police in January "If I overstay and wanted to become a dictator, shoot me, I am not joking." Duterte also said that, unlike China's decision to abolish presidential term limits in the constitution, he would step down early by 2020, due to his age and lack of ambition and because he "really would like to rest."