Philippines' President Rodrigo Duterte is celebrating his one-year anniversary as leader of the Southeast Asian country, and the strongman's tenure has not lacked controversy.
The former mayor of Davao City became known for his outrageous statements in the run up to being elected yesterday, and has criticized global figures from the pope to former President Barack Obama. He has also gained infamy for instigating an aggressive war on drugs in which at least 2,000 people have died, with police investigating the deaths of 7,000 more people.
Since coming to power in June 2016, Duterte has turned the Philippines' foreign policy away from long-time ally America and toward China.
His family have suggested that his antipathy toward the U.S. may be more than a reaction to western criticism of his human rights record. In a Wall Street Journal interview in October, Duterte's sister Jocellyn said that it may stem from his grandmother's influence. saying that the pair's Muslim grandmother frequently told them America was guilty of war crimes in the Philippines during the first half of the 20th century.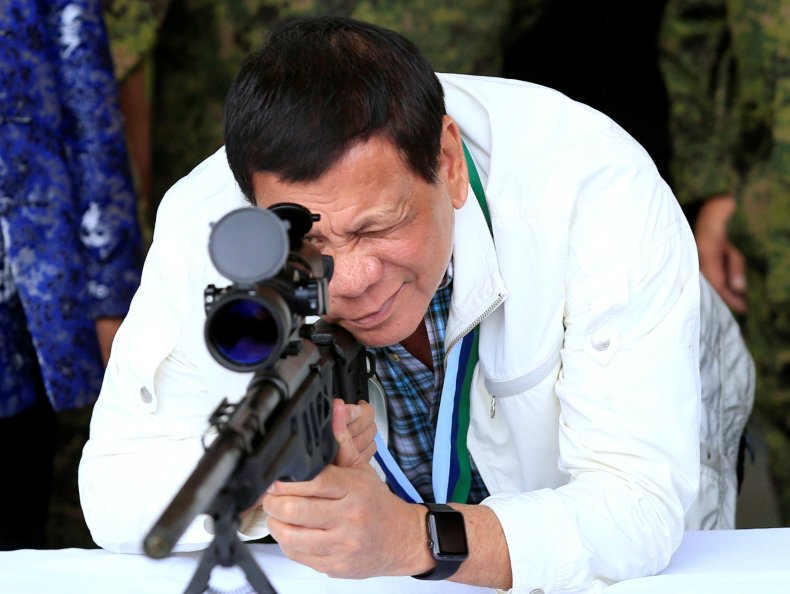 In recent years the United States has been an ally to the Philippines. American troops have assisted (and continue to assist) the Filipino government in battling Islamist insurgents, most recently in Marawi Citywhere extremists linked to the Islamic State militant group have laid siege to the Islamic city. In 2013, he U.S. government donated more than $37 million after Typhone Haiyan (known as Super Typhoon Yolanda in the Philippines) that killed over 10,000 Filipinos.
Here are six of Duterte's most controversial statements about the U.S.
Duterte on Barack Obama
In 2016, Duterte called then-President Obama a "son of a whore," after the former U.S. leader suggested he should be held to account over the escalating drug war in the Philippines. Duterte was responding to a reporter who asked what he would say should Obama question him about human rights, particuarly the extrajudicial killings in the drug way that have killed thousands in the Philippines.
"You must be respectful. Do not just throw away questions and statements. Son of a whore, I will curse you in that forum," Duterte said about Obama in the news conference before flying to Laos to attend an ASEAN summit.
Obama responded to Duterte's criticism by cancelling a meeting with the Philippines leader.
He criticized the "American character" in front of a Chinese audience
During an audience gathered in Beijing at the Great Hall of the People in October 2016, Duterte began his address by asking his audience a provocative question—what's wrong with the American character?
Nervous laughs followed, and Duterte continued: "While the Americans are a little bit loud, sometimes rowdy; and they have this volume of their voice and their larynx not well adjusted to civility."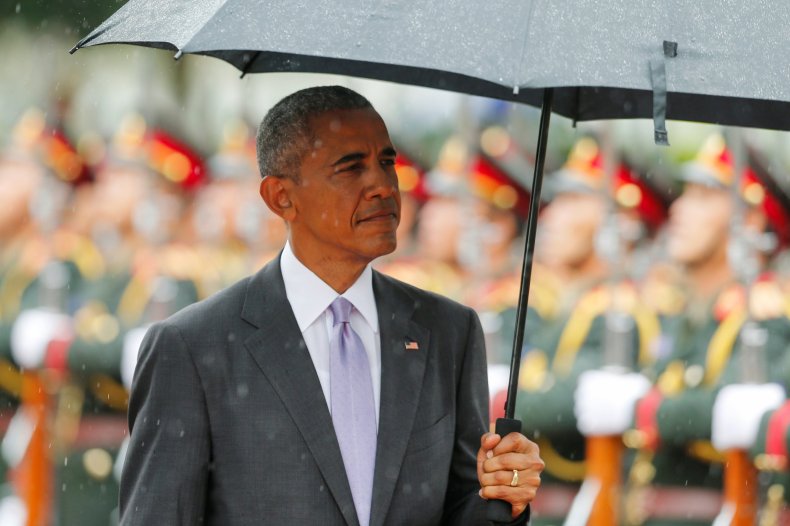 He makes racist jokes about African-Americans
During the same meeting in China, Duterte described a time he was waylaid by immigration in Miami: "You know, when I was cleared by customs, [I] was going out at the LAX airport, here comes this black guy in uniform also black, with a pistol also black, and his shoes was black and I thought that he was somebody. No slur intended. That is his original color."
Duterte said he would kick the U.S. out of the Philippines
In December 2016, Duterte told a news conference that it was time for the United States to leave the Philippines. The U.S. has troops positioned in the Philippines under the 1998 Visiting Forces Agreement (VFA) which gives legal status to thousands of U.S. troops positioned in the country. Duterte said: "We do not need you. Prepare to leave the Philippines. Prepare for the eventual repeal or abrogation of the VFA."
He added: "Bye, bye America and [sic] work on the protocols that will eventually move you out of the Philippines." Duterte also hinted again at a move toward China as a retaliation for continued U.S. criticism of the country's human rights record under his leadership.
However, he added he would wait for Donald Trump—elected in November 2016—to take office before he made his final decision on scrapping the VFA.
Duterte insulted the U.S. ambassador to the Philippines
Duterte called the U.S. Ambassador to the Philippines Philip Goldberg a "gay son of a bitch" in a speech to the country's armed forces in August 2016, while speaking in tagalog, one of the Philippines national languages. The U.S. State Department spokeswoman Elizabeth Trudeau called on the the Philippines to clarify Duterte's remarks. The president justified what he said, accusing the ambassador of election: "I was annoyed at him, for interfering in the elections, giving statements here and there. He wasn't supposed to do that."
Duterte also insulted John Kerry, calling him "crazy"
In the same speech to the armed forces, Duterte told his audience about his meeting with John Kerry. When the former Secretary of State John Kerry visited the Philippines in 2016, the Philippines' president suggested if he insulted Kerry then maybe he would get more aid: "Kerry came here, we had a meal, and he left me and [defense secretary] Delfin [Lorenzana] $33 million. I said, OK, maybe we should offend them more, so this crazy will just give more money, just to make peace. So, it's all about the money."