Philippines President Rodrigo Duterte said he will not allow students to return to school in his nation until there is a vaccine for the novel coronavirus.
"Unless I am sure that they are really safe, it's useless to be talking about opening of classes," Duterte said during a Monday evening speech, according to Agence France-Presse.
"For me, vaccine first. If the vaccine is already there, then it's OK," the president added. "If no one graduates, then so be it."
The Philippines shut down schools in March because of the pandemic. The school year in the Southeast Asian nation typically runs from June through April. But because of the ongoing public health emergency, the date to resume classes for the country's more than 25 million elementary and secondary school students had been pushed back to the end of August.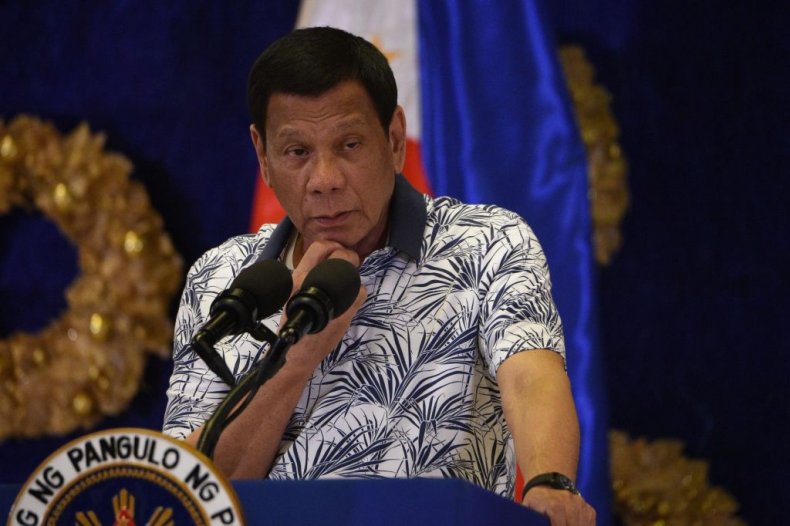 Newsweek reached out to Duterte's office for further comment about his remarks but did not hear back before publication
The Philippines has reported 14,669 confirmed cases of the virus, according to a Johns Hopkins University tracker. Of those, 886 have died. The country has implemented a strict lockdown in an effort to curb the spread of new infections.
It remains unclear when a vaccine for COVID-19, the disease caused by the virus, will be available. Many scientists and public health experts have said it would take at least 12 to 18 months to develop a vaccine. The fastest a vaccine has ever been created was four years. That was the mumps vaccine, which was released in 1967.
But scientists have also noted the unprecedented global effort among researchers to collaborate and work together toward a vaccine for the new virus. Several pharmaceutical companies around the world have already begun promising human trials of vaccine contenders. In the U.S., the Trump administration has suggested that a vaccine will be ready by the end of the year.
In early May, multinational pharmaceutical company Pfizer announced that it had begun clinical human trials with immunotherapy company BioNTech to test potential vaccines. The company pledged that tens of millions of doses would be available by October and that hundreds of millions of doses would be available by next year.
Meanwhile, Duterte's promise to keep students out of the classroom stands in contrast to President Donald Trump's words. The U.S. leader has been urging for states and municipalities to quickly reopen their economies. This past Sunday, he asserted that education should also resume as soon as possible.
"Schools in our country should be opened ASAP. Much very good information now available," Trump tweeted.