Philippines's Rodrigo Duterte Congratulates Donald Trump on Victory, Hopes For 'Enhanced' Cooperation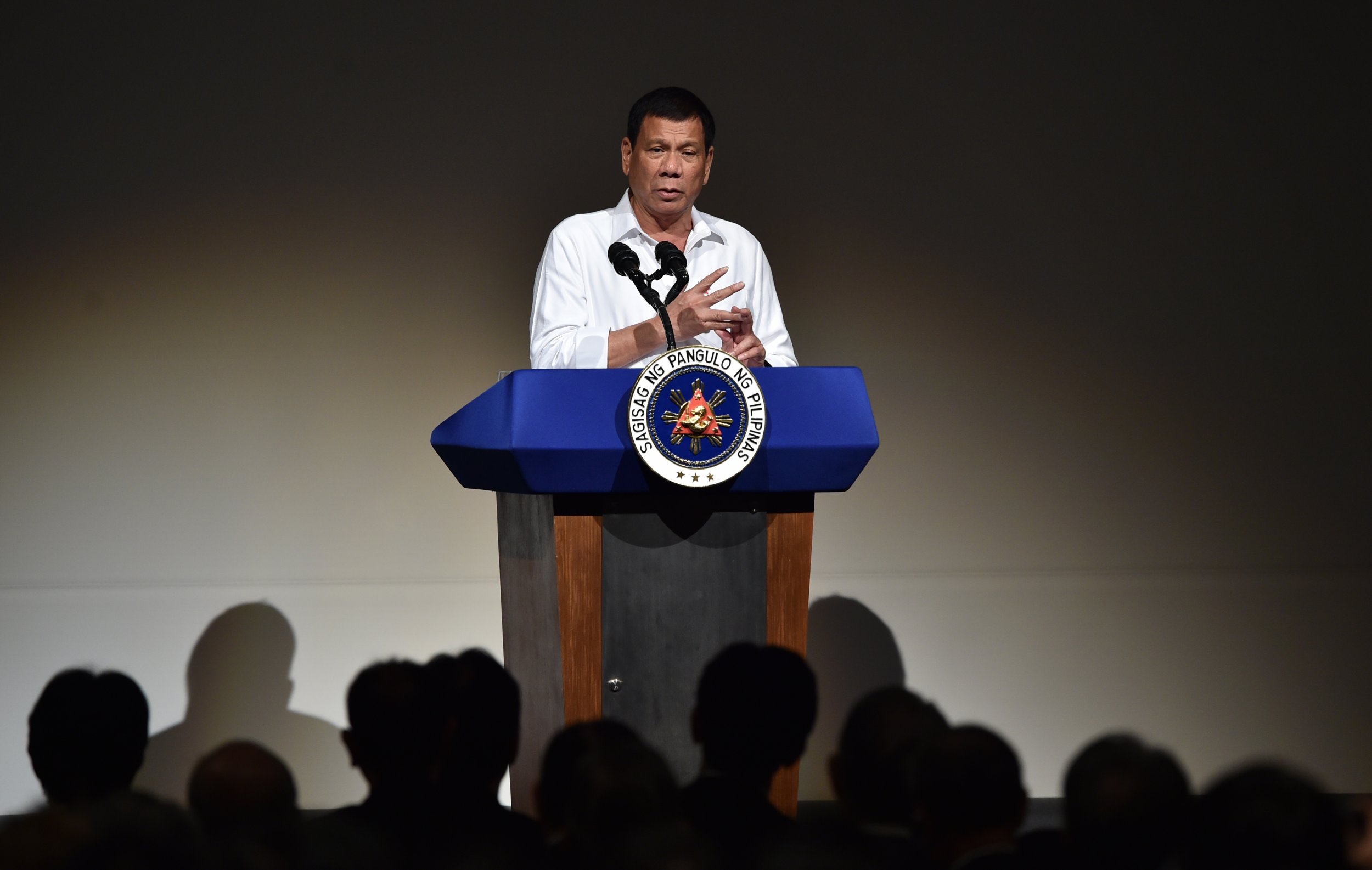 Philippine President Rodrigo Duterte congratulated U.S. President-elect Donald Trump on his election victory and is to seek better relations with Washington, a Philippine minister said Wednesday.
Duterte praised American democracy and sent his "warm congratulations" to the construction magnate on his victory, according to Presidential Communications Secretary Martin Andanar in a statement.
The Philippine leader "looks forward to working with the incoming administration for enhanced Philippines-U.S. relations anchored on mutual respect, mutual benefit and shared commitment to democratic ideals and the rule of law," he said.
Duterte reportedly said later at a gathering of Filipinos in Kuala Lumpur on Wednesday night that he "does not want to fight" with Trump before saying that the two shared characteristics.
"We both curse. For any small reason, we curse. We are kind of similar," he said, according to news site Rappler.
Duterte's relations with his American counterpart Barack Obama hit a low in recent months. The Philippine leader, elected in May, has regularly condemned the Obama administration for its criticism of his war on drug crime and drug gangs across the country.
Duterte acknowledged that Trump's victory had caused him to rethink his approach to the country's relationship with the U.S. "I don't want an enemy... they said, the election is over and Trump has won, why don't we just shut up?" he said, without specifying who had proposed that he stop his anti-U.S. tirades.
The campaign in the Philippines has left thousands dead, many at the hands of vigilante groups. The bloodshed and alleged extrajudicial murders have caused rights groups to criticize Manila for not adhering to the rule of law.
Duterte railed against such condemnation, calling Obama a "son of a whore" and telling foreign businesses to "pack their bags and leave" if they did not like his policies.
Now, 71-year-old Duterte—known as "the Punisher" or "Duterte Harry"—appears to believe that he could work with the Republican president-elect and American entrepreneur, who could be a potentially less-critical partner.
But Trump's policy view in regard to Duterte and his war on drugs remains unclear. Western media outlets have made comparisons between the pair for their controversial and abrasive comments, tough stances on crime and immigration, and populist rhetoric. While this may be overplayed, there could be a looming rapprochement between Manila and Washington in the coming months.