Philippines Set to Host Party at Trump Hotel As U.S. Considers Trade Deal
The Philippines is set to host this year's summer Independence Day party at the Trump hotel in Washington, D.C.—a decision that may reflect on the sometimes controversial admiration the leaders of both countries have expressed for one another.
President Donald Trump has struck up a cordial correspondence with Philippine President Rodrigo Duterte, whose relationship with the U.S. leader's predecessor was largely defined by insults and slurs. Trump has also expressed his interest in a potential trade deal with the Philippines, which celebrates its 120th year of independence from Spanish rule on June 12.
Related: Philippines' Duterte Thinks the U.S. is Trying to Kill Him and Takes Free Weapons From Russia and China Instead
"We consider the Trump International Hotel to be a fitting venue for celebrating this special milestone. We note that several other Embassies successfully held their National Day events in the hotel," the Philippine embassy told Newsweek in a statement.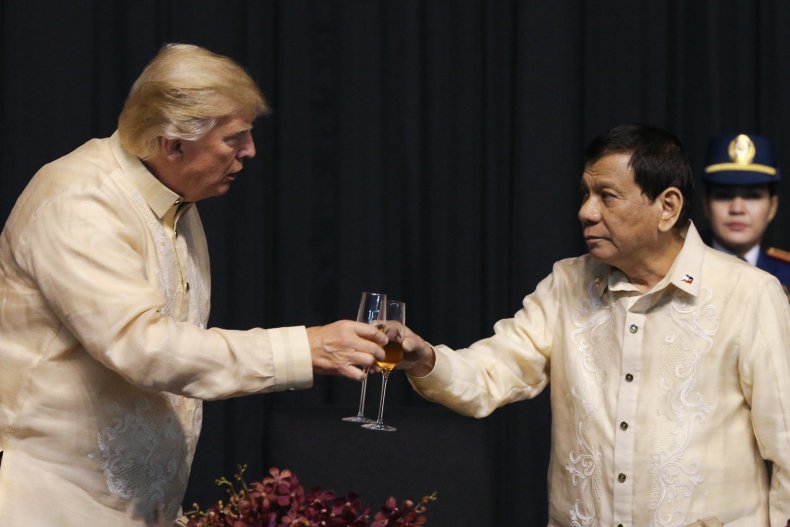 On the campaign trail, Trump blamed former President Barack Obama for Duterte's pivot toward Russia and China, away from decades of traditional close relations. Trump first spoke with the Philippine leader in April 2017 in a call described by the White House as "a very friendly conversation." A transcript, leaked by The Intercept and Philippine news outlet Rappler, showed that Trump congratulated his Philippine counterpart for his "unbelievable job on the drug problem," which Duterte described as the "scourge" of his nation.
However, international watchdogs have criticized Duterte for his deadly war on drugs, which has remained popular at home despite a mounting body count. Duterte has given his security forces the clearance to use lethal force against suspected drug dealers, and has threatened to kill them himself. He has also suggested he's done so before, but has accused the media of taking his statements out of context.
Trump, who declared opioid use a national health emergency last October, has also advocated for executing drug dealers, accusing them of killing "thousands of people during their lifetime." When Trump met Duterte for the first time during the Association of Southeast Asian Nations in November, the Philippine leader performed karaoke for his U.S. counterpart, who bragged about their "great relationship."
After their meeting, the White House published a statement last year saying, "The United States welcomed the Philippines' interest in a bilateral free trade agreement and both sides agreed to discuss the matter further through the United States-Philippines [Trade and Investment Framework Agreement]."
Nevertheless, Duterte has retained his dislike for U.S. spy agencies. He railed against a Department of National Intelligence report in February that referenced Duterte's decision to extend martial law in the formerly ISIS-held city of Mindanao throughout 2018 and other seemingly authoritarian tendencies. Duterte has also claimed on multiple occasions that he believed the CIA was trying to kill him.