Philippines Taal Volcano Update: Thousands Evacuated As Experts Warn Another Hazardous Explosive Eruption May Be Imminent
The Philippine Taal volcano has become generally weaker but volcano experts warn another hazardous explosive eruption may be imminent, as the volcano continues to shudder with earthquakes and open cracks in the road.
More than 100 tremors have been reported since Wednesday, indicating magma was still rising and the danger of an eruption remains high. Authorities are warning locals not to attempt to return to their homes during this perceived period of calm, Reuters reported.
The Philippine Institute of Volcanology and Seismology (PHIVOLCS) said the volcano has "generally waned to weak emission of steam-laden plumes [but] we are analyzing what this seeming calm of the volcano means," Maria Antonia Bornas, chief science research specialist at PHIVOLCS, told reporters.
The Alert Level 4 (the second highest on a five-tier scale) issued by PHIVOLCS remains in effect, which implies a "hazardous explosive eruption is possible within hours to days," the U.S. Embassy in the Philippines warns.
The river near the volcano and the lake inside it have dried up. Bornas said this was expected as the volcano was spewing lava the day after it coughed huge clouds of ash into the air on Sunday, Reuters reports.
But PHIVOLCS continues to advise the "total evacuation of Taal Volcano Island and additional evacuation of areas at high risk to pyroclastic density currents and volcanic tsunami within an 8.7-mile radius of Taal Main Crater."
"The public is reminded that the entire Volcano Island is a Permanent Danger Zone, and entry into the island as well as high-risk barangays of Agoncillo and Laurel is prohibited," PHIVOLCS warns, while areas in the general north of Taal Volcano are advised to guard against the effects of heavy and prolonged ashfall, according to the U.S. Embassy.
Police have blocked off towns and areas that face the greatest risk, preventing villagers from heading back into towns to retrieve some of their belongings, The Associated Press reported.
More than 53,000 residents in the surrounding area of the volcano have abandoned their homes. Thousands have been evacuated following mandatory evacuation orders issued on Wednesday across 12 towns and two cities in Batangas province, located around 40 miles south of the Philippine capital Manila.
The evacuation orders, which are in effect through Thursday, have been placed in the following towns and cities:
Talisay
Santa Teresita
Taal
San Nicolas
Mataas Na Kahoy
Malvar
Lemery
Laurel
Cuenca
Balete
Agoncillo
Alitagtag
City of Tanauan
Lipa City
Batangas has declared a state of calamity. Around 373 evacuation sites are reportedly filled with displaced locals and are in need of more supplies including ash masks, portable toilets, bottled water and sleeping mats, AP reported.
Power has been restored in parts of Tagaytay, a city near the volcano, but more outages and disruption are expected in the coming hours and days, especially should there be another eruption, in the area around the volcano, according to GardaWorld, a security company and global distributor of verified international security information.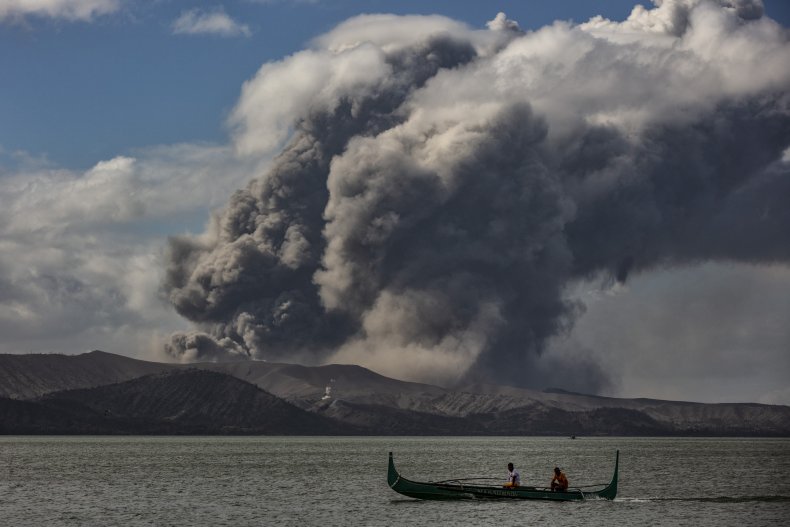 Manila's Ninoy Aquino International Airport (MNL) has reopened and resumed normal services from Wednesday, following the cancellation of hundreds of flights that left tens of thousands stranded. But residual disruptions are expected in the next few days and more cancellations could be possible.
There have been no reported deaths or major injuries since the eruption began on Sunday but many homes and farms have been damaged from the volcanic ash.
Those considering travel to the vicinity of the Taal volcano are being advised to "exercise caution" and to "monitor local media as well as the PHIVOLCS website for updates on the situation," the U.S. Embassy states.
Taal is one of the smallest volcanoes in the world, standing at an elevation level of 1,020 feet. It has erupted more than 30 times in the past five centuries, making it one of the 24 most restive active volcanoes in the Philippines.