Philippines Tells China to Back Off Its Exercises in South China Sea, Says There's No Basis to Stop Them
The Philippines told China on Wednesday to back off its military exercises in the South China Sea, saying that China has no basis to stop them.
While speaking to reporters on, Philippines Defense Secretary Delfin Lorenzana said that China has "no authority or legal basis to prevent us from conducting these [military] exercises," in the South China Sea, adding that China's claims "have no basis."
According to Reuters, the Philippine coast guard and fisheries bureau began maritime exercises in the nation's 200-mile Exclusive Economic Zone (EEZ). In a statement, the Philippine Coast Guard said that the exercises were part of efforts to secure the nation's "maritime jurisdiction." Reuters reported that the Philippine coast guard and fisheries bureau said the exercises are used to counter the "threatening" presence of Chinese boats in the area.
Philippines Department of National Defense Director Arsenio Andolong also issued a statement on the matter.
"China has no business telling the Philippines what we can and cannot do within our own waters. The arbitral award has categorically stated that the Chinese claim bounded by their so-called nine dash line according to their 'historical right' has no basis in fact," Andolong said in the statement. "Therefore, it is they who are encroaching and should desist and leave. We will continue to do what is necessary to protect our sovereign rights."
The remarks from the Philippines Defense Department come shortly after China's Foreign Ministry responded to the military exercises and called for them to end.
While speaking to reporters, Chinese Foreign Ministry spokesperson Wang Wenbin was asked if China had any comment on the Philippine Coast Guard conducting drills in the South China Sea to secure the nation's maritime jurisdiction.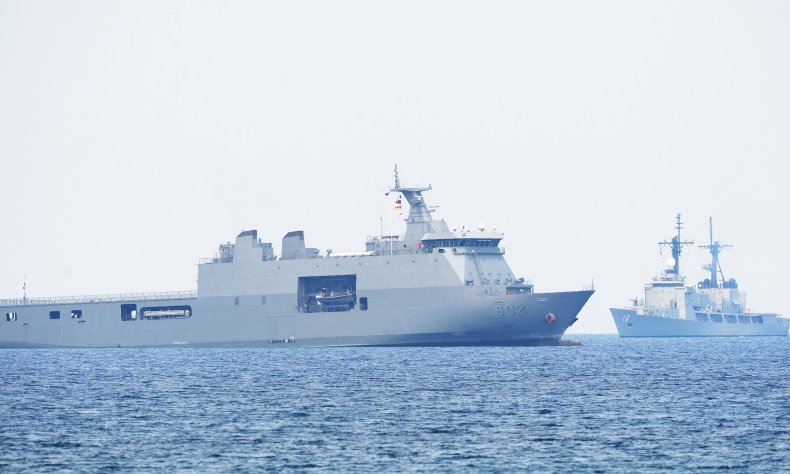 In response, Wenbin said, "China enjoys sovereignty over Nansha Islands, including Zhongye Island and Zhongsha Islands including Huangyan Island and their adjacent waters, and exercises jurisdiction in relevant waters."
"We urge the relevant side to respect China's sovereignty and rights and interests, and stop actions complicating the situation and escalating disputes," Wenbin added.
Earlier this month, the Philippines filed several diplomatic protests to China, accusing them of illegally fishing and having over 240 boats in the Philippines territorial waters. The Philippines described the Chinese boats as "swarming and threatening" according to Reuters.
"The continuous swarming of Chinese vessels poses a threat to the safety of navigation, safety of life at sea, and impedes the exclusive right of Filipinos to benefit from the marine wealth in the EEZ," a Philippine government task force said in a statement earlier this month, according to Reuters.
Shortly after the diplomatic protests were filed against China, Philippine President Rodrigo Duterte said that he was prepared to send military ships to the South China Sea.
"I'm not so much interested now in fishing. I don't think there's enough fish to quarrel about. But when we start to mine, when we start to get whatever it is in the bowels of the China Sea, our oil, by that time I will send my gray ships there to stake a claim," Duterte said. "If they start drilling oil there, I will tell China, 'Is that part of our agreement? If that is not part of our agreement, I will also drill oil there.'"
Newsweek reached out to the Philippine Department of Defense and the Chinese Foreign Ministry for comment but did not receive a response in time for publication.