Philippines' Top Diplomat Says 'F*** the International Community' Over Manila's Spat With China's 'Hit-And-Run' At Sea
The Philippines' foreign secretary has curtly dismissed calls for international help in resolving a spat over the alleged sinking of a Filipino fishing boat by a Chinese ship.
Tensions between Manila and Beijing over the contested waters in the South China Sea were ramped up after an anchored Filipino fishing vessel was allegedly rammed by a Chinese ship near Recto Bank last Saturday.
The Chinese ship reportedly left the vessel to sink and its 22 crew members to the elements. The sailors were eventually rescued by a crew aboard a passing Vietnamese ship.
Regional military spokesman, Lt. Col. Stephen Penetrante, said the incident appeared "like a hit and run," the Associated Press reported.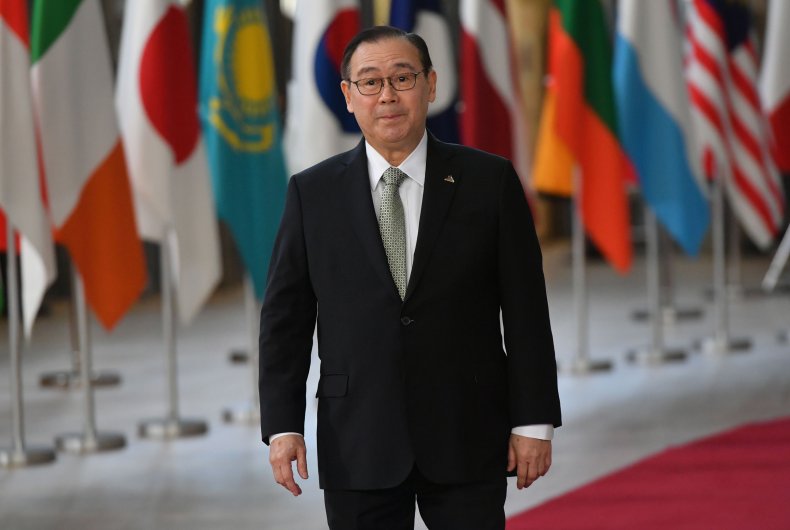 Philippines' Foreign Secretary Teodoro Locsin Jr had earlier condemned the Chinese vessel's actions as "contemptible and condemnable" and called for an investigation.
And in language as salty as the sea where the incident took place, he rejected calls for support from the international community in settling its dispute with China over the West Philippine Sea.
"F*** the international community. It can be bought. This is our fight and in the end ours alone," he said on Twitter, in response to a tweet calling for a multilateral approach.
One senator, Ana Theresia Risa Hontiveros called on President Rodrigo Duterte "to immediately order the recall of our ambassador and all our consuls in China," the Manila Times reported.
Fishermen were among protesters who marched in Manila on Wednesday, calling on Filipinos to defend their country's sovereignty and for Duterte to toughen his stance against the Chinese leader, Xi Jinping, the New York Times reported.
The South China Sea is considered to be a flashpoint with neighboring countries unhappy that China has transformed seven disputed reefs into islands which can serve as military bases.
Chinese ships have previously blocked Philippine military and civilian vessels at Reed Bank and nearby Second Thomas Shoal, the AP reported.
The waters are strategically important and Manila calls the area the West Philippine Sea. An international tribunal in The Hague ruled in 2016 that it was in the country's exclusive economic zone.
The Philippines' former solicitor general, Florin Hilbay, told the South China Morning Post that the government should take a tougher line in trying to enforce that ruling.
He said that this did not mean "sending out the navy, but maybe to send the Philippine coastguard.
"Complain in public forums or even complain to the United Nations. I cannot imagine that leading to a shooting war with China," he said.