Typhoon Kammuri Hits Philippines as More Than 300,000 Evacuated, Flights Cancelled
More than 300,000 residents in Luzon—the largest and most populous island of the Philippines and home to the capital city Manila—have been evacuated following a powerful typhoon that hit the region on Tuesday.
Typhoon Kammuri (locally known as Tisoy), which first touched down in the country on Saturday, reached the Oriental Mindoro province on Tuesday, with sustained winds of up to 140 kilometers per hour and wind gusts of up to 195 kilometers per hour, bringing violent winds and continued heavy to intense rainfall over Romblon, Marindque, the Mindoro provinces and the Calabarzon region.
Occasional to frequent rainfall and intermittent heavy rains are expected to remain through late afternoon on Tuesday (local time) over the Metro Manila, Bicol region and Central Luzon regions of the country and the northern provinces, according to the latest severe weather bulletin issued by the National Disaster Risk Reduction and Management Council (NDRRMC) of the Philippines.
Several areas are under an extreme flood advisory including the Eastern Visayas, Bicol and Calabarzon regions, according to the latest official data by the Philippine Atmospheric, Geophysical and Astronomical Services Administration (PAGASA) of the country's Department of Science and Technology.
The storm is predicted to surge up to 3 meters over the coastal stretches in Marinduque, the Mindoro provinces, Romblon, Cavite and Batangas, while Tropical Cyclone Wind Signals have been placed over selected areas in Luzon, Visayas and Mindanao, with winds of up to 121-170 kilometers per hour expected in some parts.
The rare late-season typhoon was predicted to strengthen to the equivalent of a Category 3 hurricane by Tuesday morning, according to the U.S. National Oceanic and Atmospheric Administration.
It is currently moving west and forecast to land 670 kilometers west of Subic in the Zambales province on Thursday morning and 745 kilometers west of Coron in the Palawan province, according to the NDRRMC.
Nearly 340,000 locals have been evacuated in the central Bicol region as the strong typhoon lashed across the area, blowing off the roofs of homes, smashing windows and knocking down trees and power poles, Agence France-Presse (AFP) reports.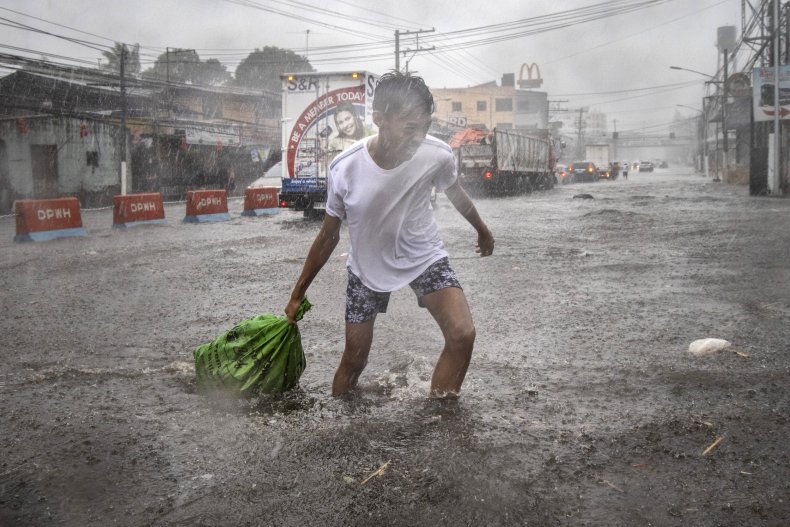 Eighteen local disaster councils have been deployed from Sunday to facilitate mandatory evacuation procedures of all residents of the low lying areas, especially near the river channels connecting to the Mayon Volcano which are especially prone to heavy mudflow, according to the Provincial Disaster Risk Reduction and Management Council (PDRRMC) of Albay in the Bicol region, the Philippine News Agency (PNA) reports. reports.
Around 307,493 persons living in 484 villages in 15 towns across 3 cities are at risk due to flooding, according to the Albay Public Safety Emergency and Management Office (APSEMO), the PNA reports.
Frequent to continuous heavy rainfall is forecast from late afternoon Tuesday to Wednesday morning (local time) over the Mindoro provinces, the Metro Manila, Central Luzon, Rizal and Northern Quezon areas including the Polillo Islands, while occasional heavy rains are expected in other parts including the Cagayan Valley and Marinduque, with intermittent heavy rain in the Calamian Islands, the NDRRMC warns.
Residents living in areas deemed "highly or very susceptible to flooding and rain-induced landslides are advised to take appropriate action, coordinate with local Disaster Risk Reduction and Management Offices," the NDRRMC warns, and to continue monitoring the PAGASA website for any relevant weather advisories.
Manila's Ninoy Aquino International Airport was closed Tuesday from 11 a.m. (local time) due to safety concerns and is scheduled to remain closed until 11 p.m. (local time), the Manila International Airport Authority (MIAA) announced.
However, the closure may be extended beyond the scheduled 12-hour window depending on the status of the weather conditions, MIAA general manager Ed Monreal confirmed, PNA reports. Once operations resume, flights scheduled to depart from 11 p.m. (local time) onwards will be prioritised, he added.
"MIAA has declared the closure of MNL Airport from 11:00AM to 11:00 PM 03DEC2019 in preparation for the expected onslaught of #TyphoonTisoy (KAMMURI). Passengers whose flights are originally scheduled to depart within this period are urged not to proceed to the airport," Philippine Airlines (PAL), the country's national carrier, said in a post on its official Twitter account.
The airline has canceled several domestic and international flights scheduled for Tuesday and Wednesday, including flights to New York City, Los Angeles, and San Francisco on Tuesday and departures from New York City on Wednesday, the airline announced on its official Facebook page.
Passengers affected by the flight cancellations will be informed by an email, a phone call or text message, if their contact details have been stored with their flight booking records.
"PAL shall endeavor to rebook you on the next available flights. You have the option to rebook on the flight of your choice within 30 days from original travel date with rebooking service fees waived. You also have the option to refund your ticket cost within 30 days from your original flight date with refund service fees waived. Rerouting is allowed, subject to certain conditions. For more information, you may call PAL hotline (02) (+632) 8855-8888, visit the PAL Website or the Official PAL Facebook page," the airline advised.
"We ask our passengers to reconsider their travel plans to and from affected areas for the coming three days, as we expect there to be more cancellations or delays. Even after the typhoon recedes and weather improves, it will take some time for PAL to be able to restore normal schedules...
"PAL will closely monitor the typhoon situation and will provide updates on any further changes in schedules," the airline noted.
Passengers are advised to monitor the status of their flight at the PAL website 48 hours before their scheduled departure time as well as the official PAL Facebook page for any announcements.
Twelve road sections in the Cordillera Administrative Region (CAR), Cagayan Valley, Ilocos Region, Calabarzon, Bicol Region and Eastern Visayas were reported to be "not passable to all types of vehicles due to the impact of Typhoon Tisoy," and vehicles are not allowed in these section but clearing operations are in place, the Department of Public Works and Highways (DPWH) confirmed, PNA reports.
"The DPWH 24/7 Call Center Hotline 165-02 is open to receive reports and concerns regarding requests for road clearing operations and assistance due to Typhoon Tisoy. For concerns please call our hotline or contact us through our official Social Media Accounts, Facebook: facebook.com/dpwhph and Twitter: @DPWHph," the DPWH stated on its official Facebook page.
The Philippines is currently hosting the regional Southeast Asia Games, which began on Saturday, but contingency plans are in place for bad weather, according to Ramon Suzara, the chief operating officer of the event's organizing committee, the AFP reports.
"Everything is set," Suzara said. "For contingency, all venues, all competition managers, technical delegates are ready," he stated at a press conference.