Philippines War on Drugs: Duterte Targets Fake Medicines
Updated | Philippine President Rodrigo Duterte has added a new target to his controversial war on drugs—fake over-the-counter prescription medicines.
Duterte's chief presidential legal counsel, Salvador Panelo, said that the new policy is designed to stop the spread of fake acetaminophen—or paracetamol—painkillers, Reuters reported.
Panelo explained that the president had ordered police to arrest anyone found selling the drugs. It is not yet clear if those arrested will face the same summary executions as those suspected of selling or using illegal recreational drugs.
"They do not only undermine or weaken the national economy by hitting a large-scale industry," Panelo claimed, "they also threaten national security by endangering the health of a vast majority of the people." Panelo said that such drugs are also contributing to the spread of antibiotic resistance and could undermine future life-saving medicines.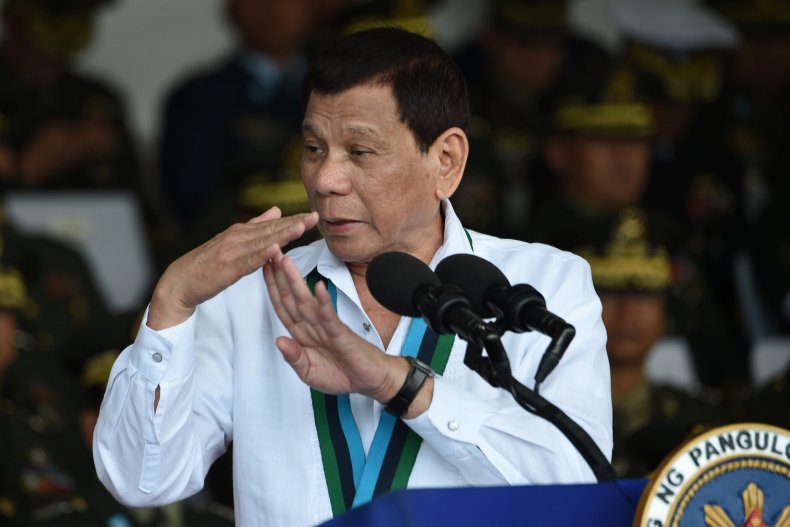 In November 2017, the World Health Organization (WHO) said that around 1 in 10 medical products in low- and middle-income countries is substandard or counterfeit.
"Substandard or falsified medicines not only have a tragic impact on individual patients and their families, but also are a threat to antimicrobial resistance, adding to the worrying trend of medicines losing their power to treat," said Dr. Mariangela Simão, assistant director-general for access to medicines, vaccines and pharmaceuticals at WHO.
The WHO warned that globalization is muddying regulatory waters and making it easier for criminals to counterfeit medicines. Falsifiers can make and print packaging in one country, and sent components to a different destination for assembly and sale. "Sometimes, offshore companies and bank accounts have been used to facilitate the sale of falsified medicines," the organization said.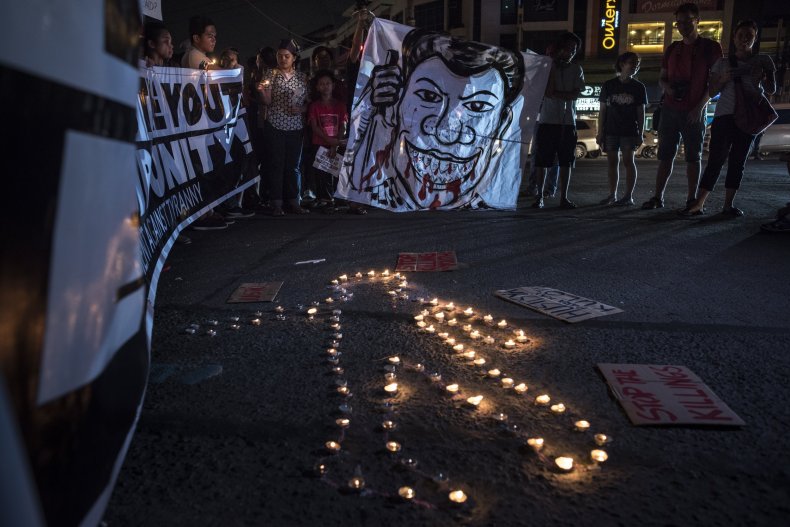 Human Rights Watch claimed that 12,000 people have been killed in Duterte's drug crackdown since he took office in 2016. Of these, around 4,000 were killed by police and the rest by "unidentified gunmen." Duterte has openly encouraged vigilantism and accusations of drug selling or use have become easy ways to justify score-settling and murder.
Authorities claim that all killings carried out by police were a result of armed suspects resisting arrest. Human rights groups dispute this, arguing that most of the killings are police executions.
Phelim Kine, deputy Asia director at Human Rights Watch, told Newsweek, "Fake pharmaceuticals are a serious health problem in the Philippines and require a lawful government response in order to ensure that Filipino consumers are not prey to the inherent risks of fakes. But addressing the threat of fake pharmaceuticals should not provide the Philippine National Police the pretext to apply the same murderous modus operandi that has created the human rights calamity of the Duterte 'drug war'."
The International Criminal Court (ICC) has opened a preliminary investigation of Duterte for crimes against humanity committed during his war on drugs. The populist leader has been bullish in his response, telling police not to cooperate with investigators and threatening to withdraw his country's membership of the court.
Harry Roque, Duterte's spokesman, said the ICC investigation constitutes "baseless, unprecedented and outrageous attacks" against the president. After a U.N. investigator was added to a list of communist rebels, High Commissioner for Human Rights Zeid Ra'ad al-Hussein suggested that Duterte "submit himself to some sort of psychiatric evaluation."
Critics have accused Duterte of hypocrisy given his own use of fentanyl, a powerful opioid painkiller. His son Paolo has also been accused of crystal methamphetamine trafficking. Duterte said he would order his son killed if the allegations were proven.
This article has been updated to include a comment from Human Rights Watch.