Phillipines History to Shine at Asia Society Museum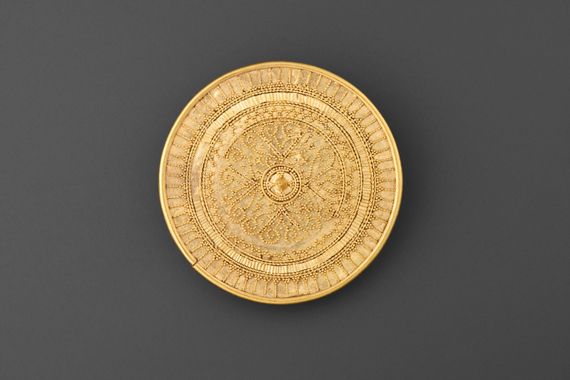 Updated | Gold was the material of choice among artisans in the Philippine kingdoms that predated Spanish colonization in the 16th century, and many of their works will never be seen because the colonizers sent them back to Europe to be melted into gold bullion. Locals also pilfered antiquities for quick money.
Thankfully, not everything fell prey to thieving hands. A forthcoming exhibit at the Asia Society Museum, Philippine Gold: Treasures of Forgotten Kingdoms, will showcase some 120 pre-colonial artworks, most of which have never been on display outside the Philippines.
The goldworks, dating from the 10th to the 13th century, include jewelry, weapons and masks, among other ceremonial items. They "highlight the prosperity and achievements" of the Philippine kingdoms and give insight into their history and culture, the museum says.
Many of the objects were discovered between 1960 and 1981, and most are on loan from the Ayala Museum and the Bangko Sentral ng Pilipinas Gold Collection. Scholars still know little about these kingdoms, explains Adriana Proser, co-curator of the exhibit.
She calls a sacred shoulder sash "one of the stars of the show." The sash is made of "loop-in-loop goldwork" and weighs over 7 pounds.
The design bears similarity to a Hindu "Sacred Thread." As explained by the BBC, there are "three strands of the sacred thread which represent three promises (vows) [a young boy] makes: to respect the knowledge, the parents and the society." It was often worn around across the chest.
Another "star" of the show is called a kinari.
"It's this half-bird, half-humanlike form. It is a sculpture—it is hollow, and it has an opening," Proser explains. Scholars have speculated this kinari might have served as a lantern—like kinari from Java—but can't say for sure because it doesn't hang like those specimens.
Seen on many of the goldworks, including jewelry and funerary masks, are "orant figures" that reach upward with their hands, Proser says.
"They have some kind of religious significance," she says, "A lot of the imagery is recurring, like images of the orant figures, and because there have also been numerous of these funerary masks and orifice covers that have been found, we know that clearly there was interest in what happens to the spirit and/or the body after death.
"So it's clear that there is some kind of strong system of belief there."
Proser believes the dearth historical details is part of the goldworks' allure.
"There's so much mystery surrounding all of this—there's an Indiana Jones aspect to all this material," she says. "While there are some forms that relate to works that we have seen in other places in the world, there are many other things that are certainly unique to the Philippines.
"When people come in and see these works, it's just going to blow their minds."
Philippine Gold: Treasures of Forgotten Kingdoms runs from September 11 through January 3 at the Asia Society Museum (725 Park Ave., New York City)
Correction: An earlier version of this article incorrectly referred to the first name of the exhibit's curator as Adrian. Her first name is Adriana.